Delta Electronics Inc., a power electronics and energy management solution provider based in Taiwan with sales, R&D and manufacturing points worldwide, recently announced having tied up with different partners to jointly provide electric vehicle (EV) charging solutions in China. The cooperation project plans to set up 15,000 EV charging poles in Shanghai and Beijing this year, to satisfy demand from increasing number of EVs in major Chinese cities, according to Herman Chang, president of Delta's e-mobility and cloud power solution business division.

The other three partners in the project include American automaker Ford Motor Co., Trina Solar Ltd. of China (a Jiangsu Province-based photovoltaic (PV) firm with branches in the U.S., Europe and Asia that is listed on the NYSE), and major Chinese home appliance vendor Haier.

In the just-ended CES Asia 2015 consumer-electronic show held in Shanghai, China, Ford launched the MyEnergi Lifestyle pilot program for the mainland Chinese market seen to pack vast potential, which aims to increase take-up of renewable energy sources and efficient vehicles while reducing power bills by as much as 60 percent for Chinese families. While the MyEnergi program has been in pilot stages in the United States since 2013, the move marks a major shift into the mainstream for Ford's energy-efficiency program. The Ford-led MyEnergi Lifestyle collaboration showcases how combining renewable energy generation with time-flexible loads optimizes energy consumption across a plug-in electric vehicle and home appliances.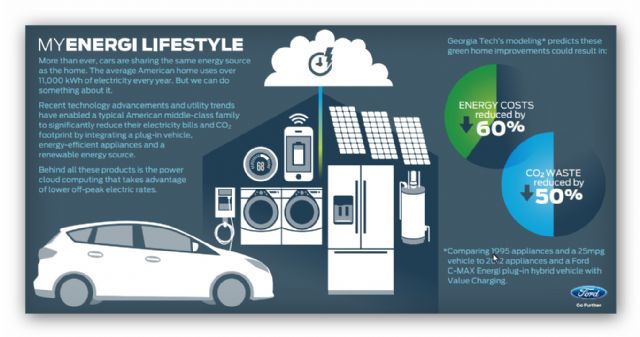 American automaker Ford's MyEnergi Lifestyle program. (photo from Ford)
Alongside the 30 percent-plus growth in EV ownership in China, Chang pointed out, the EV-charging equipment demand is also expected to increase at the same rate every year. In 2015, he added, Delta will launch 5,000 family EV charging devices, as well as 5,000 to 10,000 DC rapid-charging poles in China, to enable Delta to likely take gradually higher market share in China over the next three to five years.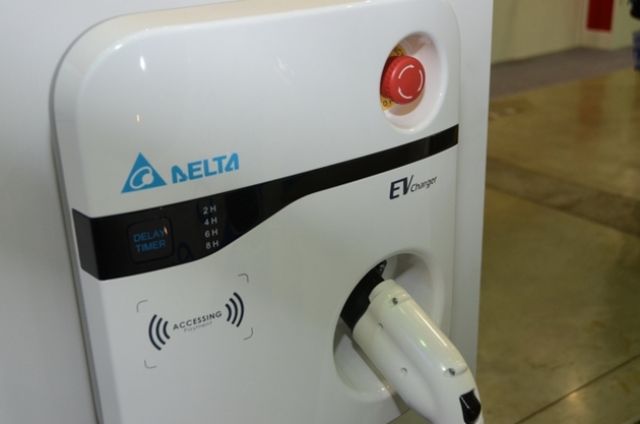 Delta's wall-mounted family EV charger.
Regarding major competitors, Chang said that in Taiwan, various international automakers have partnered with Delta, including Volkswagen, Volvo, BMW, etc., with Delta's major competitors in China being the ABB Group, and that several major players are sharing the big Chinese market currently, to make very important the goal for Delta to win a higher market share.
According to Chang, Delta's tie-up with Trina Solar will be symbiotic, with one party supplying inexhaustible "green" solar power, backed up by Delta's charging equipment to offset the instability of solar power.
Chang said Delta showcased at the CES Asia 2015 a wall-mounted charger, which can recharge Ford's Fusion hybrid sedan at home. Delta says the wall-mounted charger has state-of-the-art design featuring stylish and compact styling, being also CQC/SRRC-approved, weather-proof, and protected against voltage surge and extreme temperature. With a built-in RFID chip reader, the charger identifies users and has built-in telecommunication functions to connect with various charging-station systems.