ulon Group, a major automobile manufacturing conglomerate in Taiwan, recently claimed that the group's companies listed on the Taiwan Stock Exchange (Taimex) are expected to together generate profits of about NT$13 billion (US$433.33 million) this year, according to Yulon's president Yao Chen-hsiang.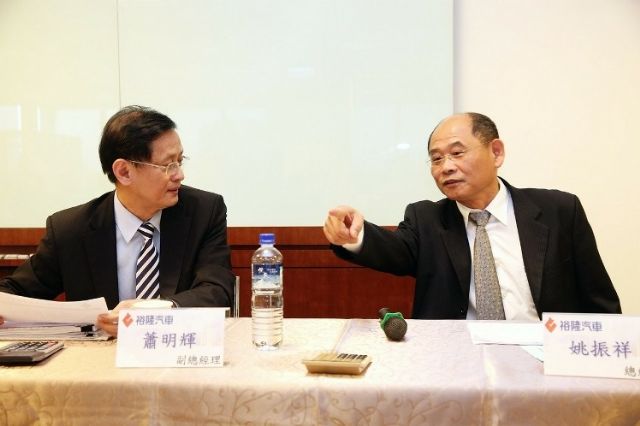 Yulon president Yao Chen-hsiang (right) and vice president Hsiao Ming-hui at the group's recent shareholder meeting. (Photo from UDN)
The three Taimex-listed companies include group flagship firm Yulon Motor Co. (an automobile assembler for various car brands), China Motor Corp. (CMC, the local assembler and vendor of Mitsubishi cars and commercial vehicles, as well as maker and vendor of its CMC own-brand commercial vehicles), and Yulon Nissan Motor Co. (a joint venture between Yulon and Nissan Motor Co. of Japan in charge of selling Nissan cars in Taiwan).
Yao made the statement at Yulon Group's recent shareholder meeting. He explained that Yulon's business operations in Taiwan and China have been growing steadily, while the group's investment in Chinese automaker Dongfeng has been generating strong returns. In addition, Dongfeng Yulon Motor Co., Ltd., a joint venture between Yulon and Dongfeng in China to locally assemble and sell Yulon's LUXGEN own-brand cars, is expected to turn profitable for the first time in 2015.
Regarding the overall automobile market in Taiwan, Yao said that new-car sales on the island are expected to maintain stable at about 420,000 units or higher this year, thanks to the 10-year replacement cycle. The stable domestic demand will provide a tailwind for auto sales by Yulon Group companies.
In addition, the land development project at Yulon Motor's old plant in Taipei has passed initial inspections by the government, with the construction license expected to be issued in the first quarter of 2016. Three big residential buildings and one commercial compound building are planned for the site.
According to Yao, Yulon Nissan reported core-business earnings of NT$800 million (US$26.7 million) in 2014, and the value is expected to rise to some NT$1 billion (US$33.3 million) this year, helped by sales of the new, locally assembled Nissan X-trail sport utility vehicle (SUV) model. However, Yulon Nissan's reinvested Chinese-Japan auto venture in China, Dongfeng, is forecast to sell more than one million new cars in China this year, contributing strong returns to Yulon Nissan.
Sales of Yulon's own-brand LUXGEN cars in Taiwan and China are expected to hit a record high of 87,000 units, though the group has decided to halt its investments in Russia. (Photo from LUXGEN)
Another factor expected to lead to Yulon's earning growth this year is the increasing sales volume of LUXGEN own-brand cars in Taiwan and China. Last year, Yao said, Yulon sold about 16,000 LUXGENs in Taiwan and about 50,000 in China. In 2015, total LUXGEN sales on the both sides of the Taiwan Strait are expected to top some 87,000 units, a 26.5% increase, thanks to the introduction of the new U6 Turbo Eco Hyper crossover model, which was detail tuned by Mizuno Kazutoshi, the so-called father of Nissan's super sports car the GT-R.
CMC president H.T. Liu pointed out that his company aims to sell 45,000 to 50,000 four-wheel cars and commercial vehicles in Taiwan this year (the firm is also the largest e-scooter maker on the island). CMC's Chinese affiliate South East (Fujian) Motor Co., Ltd. (SEM), a joint venture between Fujian Motor Industrial Group (FJMG), CMC, and Mitsubishi Motors of Japan, aims to sell about 100,000 new cars this year, compared to about 68,000 units in 2014.
Hitting the Breaks on Russian Investment
To develop sales of LUXGEN cars in other countries, Yulon last year formed a joint venture with a Russian partner, Derways, to locally assemble the Taiwanese group's own-brand cars. However, the recession in Russia has led to at least a 25% volume drop in the Russian automobile market.
In view of the changed market landscape, Yulon decided to stop further investments in the Russian market and listed an investment loss on the company's financial report in 2014. Industry sources say that Yulon made the decision after the group deemed it should put resources into other potential markets rather than one filled with uncertainties ahead.
Without the Russian investments, Yulon's LUXGEN operation is expected to face fewer uncertainties this year. Expected growth in sales following the debut of the new U6 crossover has further increased the group's optimism about the own-brand line.
Yulon's Chinese affiliate Dongfeng has been the major earning contributor to the Taiwanese group in recent years, while its Chinese venture Dongfeng Yulon is expected to turn profitable three years after its establishment.
Yao said that to escape Japanese automakers' control, Yulon has spent about 10 years developing and selling its own-brand vehicles. The strong new-car demand from China, the largest automobile market in the world, is shaping up as a good place for developing sales channels with the most efficient use of resources.