The global automotive landscape and industry continue to change structurally and rapidly, with Google already road testing its driverless car, Tesla mass producing an upmarket electric sports car that would have been inconceivable just a decade ago, top-end brands as Benz and BWM offering hybrids and fully-electric sedans, and a Bloomberg report of August 2014 saying that the Chinese central government is considering spending as much as RMB100 billion to build charging facilities and spur demand for new-energy vehicles; while the vigorous development of Internet of Things (IoT) enables cars to be connected to the outside world, to offer real-time information on weather, nearby amenities etc.

A recent report from Navigant Research examines the market for connected vehicles, with a focus on the key components of vehicle-to-external communications (V2X) technology and factors that may influence successful deployment.

The report says that automakers and governments are striving to meet consumer demands for safer cars with lower emissions and energy consumption. Such trends are driving the development of a number of crucial technologies, including electrification and automated driving systems that rely on real-time data to vehicles, drivers, and pedestrians, through connected vehicle systems as V2X.

Rising Revenue
According to the new report, worldwide revenue from connected vehicle systems is expected to grow from US$96.3 million annually in 2016 to US$36.6 billion by 2025.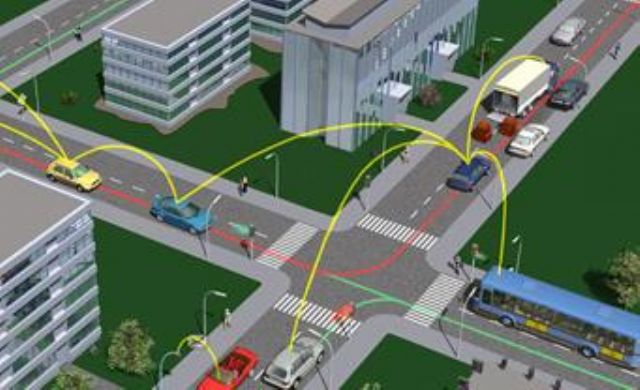 The concept of vehicle-to-external communication (V2X). (photo from Internet)
"According to the U.S. Department of Transportation, adding V2X communications could help prevent 70 to 80 percent of vehicle crashes," says Sam Abuelsamid, senior research analyst with Navigant Research. "Connected vehicles have enormous potential to provide drivers with increased situational awareness of upcoming hazards and congestion."
Connectivity is also a key enabling technology for plug-in electric vehicles (PEVs) and fuel cell vehicles (FCVs), according to the report. The limited electric driving range of most current PEVs makes it important for drivers to take advantage of opportunistic charging and be able to remotely monitor the battery charging status. Even conventional internal combustion engine vehicles can benefit from real-time information provided through connected vehicle systems, to help avoid congestion, saving time and energy.
Boom in Insurance Telematics
One of the major applications, and an application that is vital for making money, in the wide-ranging vehicle connectivity applications, is insurance telematics.
According to a new research report from the analyst firm Berg Insight, the number of insurance telematics policies in force on the European market reached 4.8 million in the fourth quarter of 2014. Growing at a compound annual growth rate (CAGR) of 42.4 percent, this number is expected to reach 28.1 million by 2019. The analyst firm also pointed out that Europe and North America have today signed up 9 million insurance telematics policies.
In North America, the number of insurance telematics policies in force is expected to grow at a CAGR of 50.6 percent from 4.2 million in the fourth quarter of 2014 to reach 32.5 million by 2019. The European insurance telematics market is largely dominated by hardwired aftermarket blackboxes instead of self-install onboard diagnostic (OBD) devices that represent the vast majority of all active policies in North America.
Berg Insight expects a shift towards a greater share of solutions based on smartphones and embedded OEM telematics systems in all markets in the upcoming years. The insurance telematics value chain spans multiple industries. Insurers with notable presence in the insurance telematics market include Progressive, UnipolSai, State Farm, Allstate, Generali, Allianz and Insure The Box. While renowned telematics suppliers active in the insurance field for example include Octo Telematics and Cobra Automotive Technologies (Vodafone Automotive) as well as Intelligent Mechatronic Systems, Baseline Telematics and Scope Technologies. Wunelli, Modus, MyDrive Solutions and DriveFactor are also notable players in the market.
Automotive OEMs are increasingly taking an active part in the ecosystem as well. Examples include BMW, Fiat, Citroen, Renault-Nissan, General Motors (GM) and Ford. In addition, mobile operators such as Vodafone, Telefonica, Verizon and Sprint have started offering insurance telematics solutions, commonly working with telematics partners.
The research firm adds that the nascent insurance telematics market is currently in a phase of strong growth which is expected to accelerate in the coming years. "Europe and North America so far represent the vast majority of all insurance telematics programs and active policies from an international perspective, and the front-running national markets include the US, Italy and the UK", said Rickard Andersson, Senior Analyst, Berg Insight, who adds that increasing uptake is expected also in other markets in the coming years.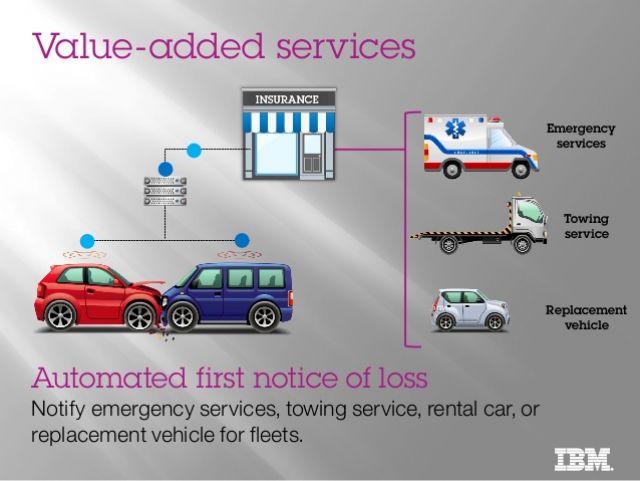 A sample of company's telematics services for the insurance market. (photo from Internet)
Differentiated telematics offerings are predicted for a broader range of segments, and insurers are increasingly expected to embrace usage-based pricing as well as claims-related insurance telematics and various value-added services. Key influencers that will boost the market include the proliferation of smartphone-based solutions and the connected car trend which pave the way for mass-market deployments. Positive developments are also expected in the field of data ownership and transferability. "Berg Insight anticipates a future scenario where data portability is supported, enabling policyholders to bring their driving data and associated risk scores to a new insurance provider similarly to a credit score", concluded Andersson.