Yulon Group of Taiwan, the original carmaker in Taiwan that began life as machinery maker and then automobile maker via partnership with Nissan, recently announced its two Chinese affiliates, including Dongfeng Yulon Motor Co., Ltd. and South East (Fujian) Motor Co., Ltd. (SEM), will launch alternative-energy cars in 2016 and 2018, respectively, in the world's biggest automobile market by sales volume.

Dongfeng Yulon is a joint venture between the Yulon Group flagship firm Yulon Motor Co. and Chinese automaker Dongfeng to produce in China  Yulon's Luxgen line, a brand developed in-house. SEM is a Chinese joint venture between Yulon's Taiwanese subsidiary China Motor Corp. (CMC and Taiwanese assembler of Mitsubishi), Mitsubishi Motors of Japan, and Fujian Motor Industrial Group (FJMG) to produce Mitsubishi and SEM's own-brand cars.

Yulon's plan calls for Dongfeng to produce a BEV or battery electric vehicle based on its existing S5 sedan platform, the S5 EV+, in 2016, with plans to also introduce a BSG (Belt-Driven Starter Generator) hybrid car as late as 2018.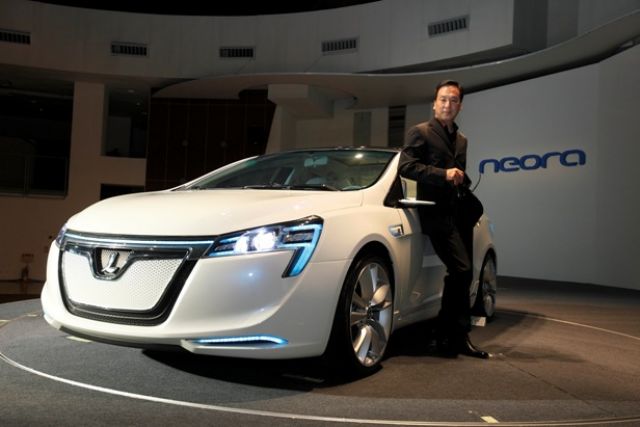 Yulon has showcased its Luxgen Neora concept BEV at auto shows in China and Taiwan for a few years. (photo from LUXGEN)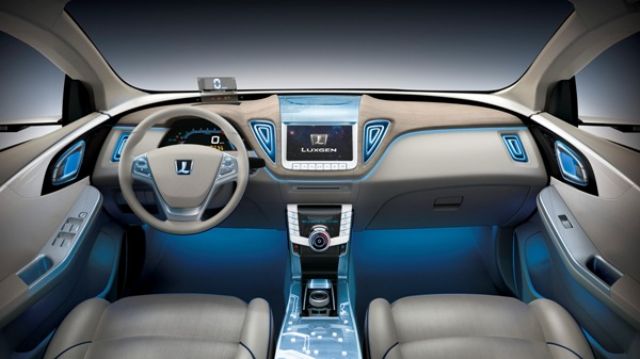 Such move, according to Yulon Group's president Yao Cheng-hsiang, is to match the Corporate Average Fuel Consumption (CAFC) standards mandated by the Chinese government. The CAFC, whose American equivalent being CAFE or Corporate Average Fuel Economy enacted by the U.S. Congress in 1975 after the Arab Oil Embargo, is a metric that describes average fuel consumption of all cars produced by a manufacturer. In the March 2013 announcement, CAFC Accounting Method for Passenger Cars confirmed the limit of 6.9 L/100km for 2015; while the new limit of 5.0 L/100km has been confirmed to be achieved by 2020 in China. In comparison, a 2015 Toyota Camry, says toyota.com, with a 4-cylinder is rated at 6.7L/100km on highways or 9.5L/100km in cities.
Senior executives of both Yulon Motor and CMC have been warning that the 2020 CAFC standards will sideline some Chinese automakers, especially those making budget-priced cars with entry-level technologies, but on the other hand help technologically-superior makers expand their market shares. Major carmakers invest vast sums to develop hybrids and tweak engine parts and change steel body parts to lighter, more costly aluminum and carbon-composites to reduce fuel consumption.
Yao's statement regarding the development of the BEVs was made at Yulon Group's shareholders meeting for three of the six Taiwan Stock Exchange (Taiex)-listed affiliates, including Yulon Motor, CMC and Yulon Nissan (Taiwan's agent of Nissan and Infiniti).
Yulon forecasts new-car sales in Taiwan and China to increase modestly this year, to a 10-year high of about 420,000 units in Taiwan, and a new record of about 25 million in China. With cautious optimism towards markets on both sides of the Taiwan Strait, the above-mentioned three affiliates in the shareholders meeting expect better operations this year.
In order to meet the CAFC standard in China, to  continue becoming increasingly stringent from 6.9 L/100km this year to 5.0L/100km by 2020, industry sources say that automakers in China have to constantly upgrade fuel efficiency, increase sales proportion of small-displacements models, or introduce new-energy vehicles such as plug-in electric vehicles (PEVs)–including plug-in hybrid electric vehicles (PHEVs) and battery electric vehicles (BEVs), with each strategy calling for  Chinese automakers to spend massive sums on  R&D or acquisition of foreign technologies.
R&D Paying Off
Reaping efforts from several years of devotion to R&D, Yulon Group started in early 2014 selling its own Luxgen BEVs in the domestic market. To make the BEV, the M7 EV+ (based on its M7 multi-purpose van (MPV) platform), more popularly priced, Yulon directly sells the vehicle to take a page from Tesla's handbook, as well as provides battery-leasing service with low monthly installment.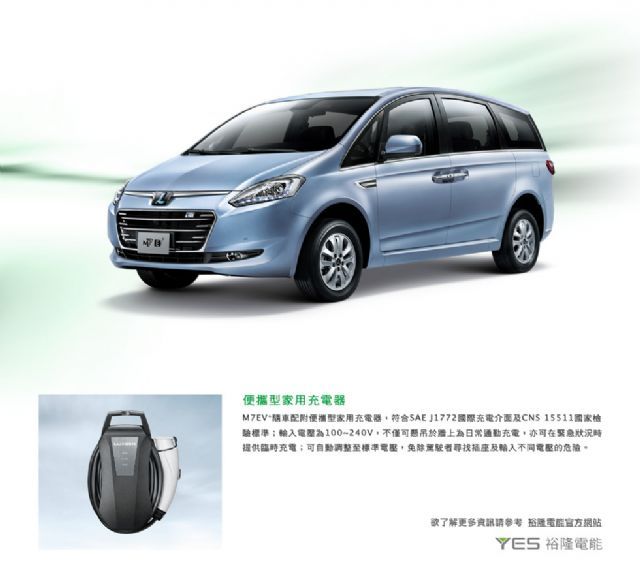 Yulon Group has abundant experience in manufacturing electric cars, such as the Luxgen M7 EV+ developed, made by Yulon, and its portable home charging port. (photo from Luxgen Motor)
The Luxgen M7 EV+ utilizes advanced core technology to achieve both high performance and extended driving range, with 150KW motor capable of 201HP and 220Nm of torque, outperforming similar-class, gasoline engine vehicles. Authorized for use on public roads and highways, the M7 EV+ makes Luxgen the first auto brand in Taiwan to offer government-certified BEVs for multi-applications to set a milestone in EV development.
As early as early 2014, Yulon had already announced to meet Chinese central government's policy goal to promote EV adoption throughout China, with plans to assemble the M7 EV+ by its Chinese subsidiary Dongfeng Yulon in 2016.
Yulon Group has in the past few years launched five BEV models under two own-brands, Luxgen and tobe, having produced the BEVs on its EV-specific production lines at its factory in central Taiwan, with most of the BEVs being run in EV pilot projects throughout the island.
Yulon opted to sell separately the vehicle and battery to build consumer acceptance of its BEVs. An M7 EV+ was originally priced higher than NT$2 million (US$66,666), but retails without battery pack about NT$1.3 million (US$43,333), only NT$100,000 (US$3,333) costlier than a gasoline-powered M7. The lithium-ion battery pack retails for NT$976,000 (US$32,533) or is available for lease monthly at NT$10,000 (US$333), without burdening the lessee with cost of battery appreciation and malfunction.
The M7 EV+ cruises steadily at 100 kilometers per hour for about 110 kilometers, costing per-kilometer of charging about NT$0.76 (US$0.03), versus NT$3.7 (US$0.12) of the gasoline-engine version, resulting in up to four-fifths saving in total fuel cost, says Yulon. Seasoned drivers in North America and China would find 110-kilometer driving range inadequate for extended inter-city commutes for many larger cities in both continents are separated by a few hundred miles, a problem further exasperated by lack of prevalent recharging or batter-swapping facilities.
Yulon has also demonstrated the Luxgen Neora concept BEV, built on the S5 sedan platform, at various Chinese auto shows starting a few years ago.