Aleees Eco Ark Co., Ltd. of Taiwan, a company dedicated to developing LFP-NCO (Lithium- Ferrous-Phosphate Nano Co-crystalline Olivine) batteries and electric vehicles (EVs), recently said it is scheduled to launch a pure electric bus model with parallel power supply module (supporting both plug-in charging and battery-swapping systems) by the end of this year.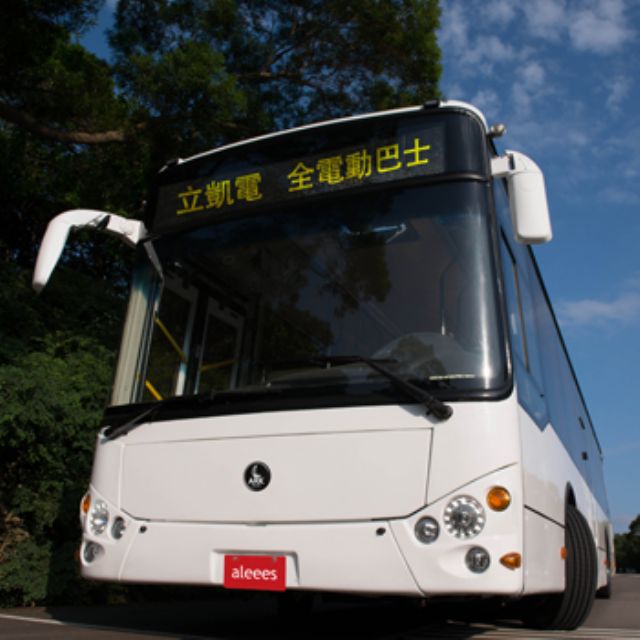 Aleees' pure electric bus with parallel power-supply module that is scheduled for shipment starting 2016. (photo from Aleees)
J.W. Wu, president of Aleees, pointed out that if all goes as planned, his company will kick off shipments of the new bimodal-charging e-bus starting early 2016, with some 2,000 to 3,000 units to be expectedly sold annually over the next three to five years.
Aleees, a subsidiary of Advanced Lithium Electrochemistry Co., Ltd. that is principally engaged in the provision of lithium battery cathode materials, has been mainly supplying China's e-bus market. The company said that in 2014 more than 10,000 e-buses were licensed in China, a market that Aleees has entered by in-turn signing cooperation agreements with Chinese partners such as Bonluck Bus Co., Ltd. Aleees handles e-bus design and development, as well as order-taking, while Chinese partners local production of the EVs.
Wu pointed out that serious air pollution in China has been driving demand for e-buses, with smog in major cities as Shanghai and Beijing sometimes thick as fog. The ultimate goal that is also the most marketable feature of Aleees' e-bus solutions is, the president said , the firm's plans to launch e-buses with similar costs as traditional internal combustion engine (ICE) counterparts.
The breakthrough design of Aleees' e-bus is essentially the world's first parallel power supply module, whose many key parts and systems were developed by the firm through international partnerships, which also created the exclusive high-speed battery swapping service. In addition, Aleees said that it is one of the few companies able to supply total e-bus solutions from advanced lithium-ion battery technology, including assembled e-buses and battery-charging solutions.
Advanced Lithium focuses on developing comprehensive solutions for LFP batteries and e-bus, having successfully launched high quality, high price-to-performance ratio and high lifecycle   LFP cathode materials. To date, the firm's cumulative shipment of such cathode material is over 5,000 tons, making it a leading supplier in the business.
Backed by the high performance/cost (C/P) value of Advanced Lithium's LFP-NCO product, the company tied up with Siemens in 2010, and signed a cooperation memorandum of understanding (MOU) with leading lithium-battery brand Sony of Japan in 2014.