It is part of its ambition to consolidate leading status as world's No.1 LED packager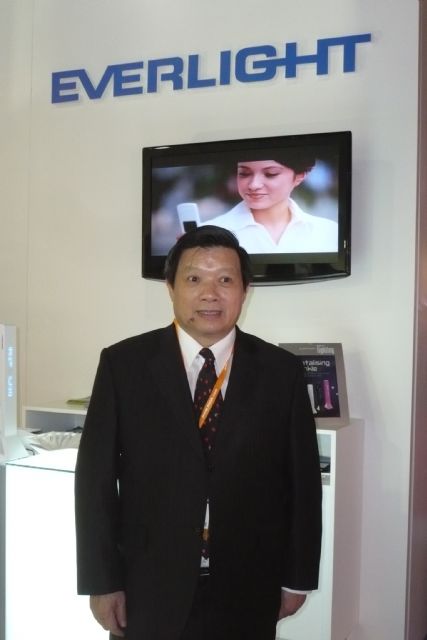 Raymond Yeh says his company is differentiating itself from mainland Chinese competitors by developing a range of niche products.
Everlight Electronics Co., Ltd. Chairman Raymond Yeh says his company, currently the world's No.1 light emitting diode (LED) packager by volume, is developing several products that he thinks will differentiate its market from that of mainland Chinese competitors.
Such products include LEDs used in infrared (IR) sensors, ultraviolet (UV) disinfection lamps, Internet of Things (IoT) devices and autonomous (self-driving) vehicles.
The company is working with chipmaker Epistar Corp. to develop infrared LEDs for special applications. Yeh says his company has expertise in IR LEDs, especially for power management and security-control applications.
Both companies exhibited IR products at an optoelectronics-technology trade show recently held in Taipei, with Epistar promoting several high efficiency chips.
Epistar will begin volume production of the chips sometime in the second half of this year to fill orders from suppliers of automotive, night-vision, security-control and medical applications. The IR chips command gross margin of at least 40 percent, according to the company.
Epistar spokesman S.S. Chang points out that the company's IR chips have the world's best photoelectric transformation efficiency of their kind, with wider wavelength spectrum allowing these chips to be applicable to fingerprint recognition and retina recognition.
Chang points out that IR LEDs have wide range of applications and have generated considerable revenue worldwide with applications as laser system, security control, horticultural lighting, and automotive lighting.
At this show, Everlight exhibited its IR LEDs for a wide range of applications, including mobile devices, digital cameras, security monitors, IoT-based lighting, and ultraviolet disinfection systems. The IoT-based lighting is integrated with Bluetooth and Wi-Fi technologies to enable users to control the lighting fixtures from afar on Internet-connected mobile devices.
Yeh says IoT-based lighting fixture is the future of the lighting industry and his company will find a model to enable revenue generation in the business.
Yeh says Taiwan's LED makers must pick several products with high market potential like IR LEDs and UV LEDs to develop so as to distinguish themselves from mainland Chinese manufacturers, who he says have forced Taiwanese makers into wild underselling competition. He notes that Taiwan is still leading the mainland in LED technology to enable Taiwanese manufacturers good foundation for developing niche products.
While developing profitable products, Everlight is also working to revamp its output efficiency by examining costs and materials as well as mechanical designs used on its products.
Yeh estimates the company's sales and earnings for the second quarter to fall short of expectations mainly because of weak market for LED backlights, adding that the company is already the world's No.1 supplier of backlights for billboards, which the firm is trying to thin the thickness of backlights to 0.2 millimeters from 0.3mm.
Yeh is confident of the company's sales in the near future, forecasting its revenue for the third quarter to outshine that in the second quarter thanks to scheduled rollouts of several new products in the second half. The company made better than expected NT$1.31 per share in earnings per share in the first quarter.
The victory in April in the patent lawsuit against Nichia Corp. announced by a federal court in Michigan will further boost Everlight's global sales. Yeh says his customers are gratified to see the litigation victory because they need a supplier in the LED lighting sector who can supply less expensive devices in volume.