Changs Ascending Enterprise Co., Ltd. (CAEC), a supplier of lithium-iron phosphate oxide (LiFexMyPOz) cathode materials, and a Taiwan Stock Exchange (TWSE)-listed firm, recently claimed that it will copy its successful Japanese market business model to new markets this year, including Europe, the U.S. and China, according to company president Chang Chun-yu.

CAEC tapped into the Japanese market in 2014 in partnership with Japan's Toyota Tsusho Corp., Chang explained. CAEC has recruited a veteran expert who previously worked for GE to help it explore the huge U.S. market. Currently, Chang added, CAEC is planning special projects and sales through hypermarket chains. Initial trial production will kick off in the fourth quarter.

Chang also said that his company has been receiving numerous inquiries from potential customers in Europe and the U.S. CAEC has invested in and authorized a local power-cell maker to supply un-interrupted power supply (UPS) systems to international customers. The reinvested company has mapped out a plan to expand production soon, he said.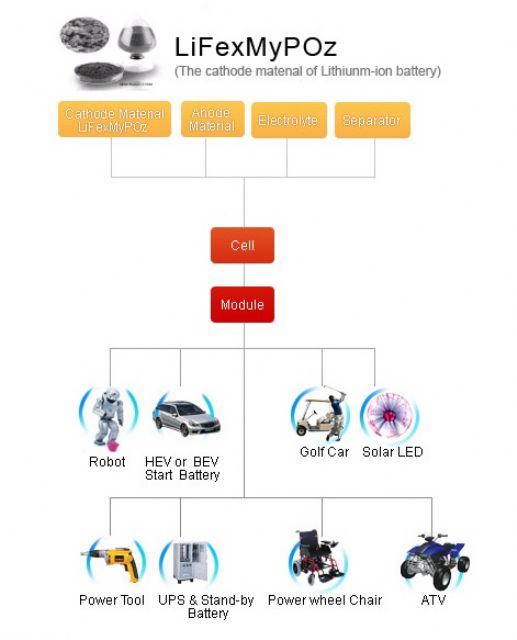 Major applications of CAEC's lithium-iron phosphate oxide (LiFexMyPOz) cathode materials. (Photo from CAEC)
CAEC has supplied UPS systems to Japan's top-five automakers' automobile producers, as well as provided high-voltage UPS systems for nuclear power plants. In Taiwan, the company accounts for about 30% of the golf-cart Li-ion battery market.
CAEC just announced the signing of a cooperation memorandum of understanding (MOU) with Qingdao Jiuzhou New Energy Car Co., Ltd. of China. The two parties plan to cooperate on automotive batteries. Chang said other such projects would be announced in the future.
Hiroca
Hiroca Holdings Ltd., another TWSE-listed company specializing in automobile accessories, recently announced that it has won big-ticket orders from American automaker Chrysler for vehicle trims for new car models. The company is scheduled to begin shipping such items from the third quarter this year and in early 2016 (for different models).
With the new order from Chrysler, the company now serves all of the top-three American automakers, helping the company to reduce dependence on Japanese customers and potentially tap orders for the overseas plants of American automakers.
Hiroca posted revenue of NT$684 million (US$22.8 million) in May, down 0.16% from the previous month and down 6.77% from the same period of last year. The company attributed the monthly revenue decline to structural changes in its product line, in which profits on lower-margin items have been decreasing while the higher-margin, trans-printing interior decor items have been increasing. In the first quarter, Hiroca said, revenue growth was flat but profitability gained strongly.