Volkswagen Taiwan, the wholly-owned subsidiary on the island of Volkswagen Group of Germany and the 28th overseas sales subsidiary directly controlled by the German headquarters, recently launched its first full-sized imported sedan, the new VW Passat after its introduction in March this year.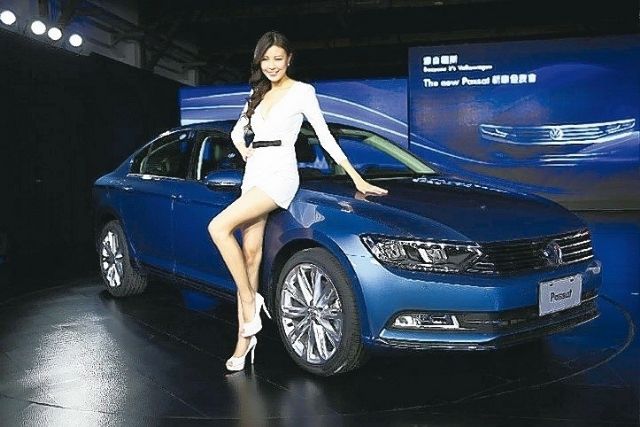 Volkswagen Taiwan, the wholly-owned local subsidiary of Volkswagen Group of Germany, recently launched the new Volkswagen Passat as its first model after its introduction in March. (photo from UDN)
The new Passat is one among all the imported Volkswagen models sold in Taiwan, priced NT$1 million to NT$1.5 million (US$33,333 to US$50,000) in the imported-sedan segment, a niche without too many competitors. Before the launch in Taiwan, Volkswagen Taiwan had in fact accepted about 300 firm orders, to nearly have reached its annual quota of 500 units.
The new Passat, priced NT$1.34 million to NT$1.52 million (US$44,666 to US$50,666) in Taiwan, fills the niche between the locally-assembled Toyota Camry sedan, and the imported Mercedes-Benz C-class and BMW 3-series. So the new import targets potential consumers who drive a locally produced car but is looking to step up to an import with higher budget, without straying from the proven Volkswagen motto that has been the carmaker's formula for success globally: offer more luxury equipment at more affordable prices.
Regarding the complaints regarding relatively-high repair and maintenance costs for Volkswagens in Taiwan, a barrier to higher sales volume on the island, Chen said that his company will provide four-year, unlimited-mileage warranty to new-car buyers; free overall vehicle checks four weeks after delivery; and 15,000 km free maintenance. In addition, his company is also evaluating different post-warranty value-added services, hoping to attract more new-car buyers to address the said complaint by lowering vehicle-maintenance costs.
Volkswagen Taiwan targets to sell 11,000 Volkswagen passenger cars in Taiwan this year; 6,000 Audis, and 3,000 Skodas, with the aim of gaining market share incrementally to reach the global average of 10 percent.
Buoyed by smooth sales of its own brands such as Audi and Skoda, Volkswagen Group's total new-car sales volume in Taiwan is expected to top about 20,000 units this year. Currently, Volkswagen Taiwan operates four group vehicle brands, including Volkswagen, Volkswagen Commercial Vehicles, Audi and Skoda. Volkswagen Group sold about 10 million vehicles in 2014 to be the No. 2 automaker in the world, with a portfolio of 12 vehicle brands, including Skoda, Audi, Seat, Bentley, Bugatti, Lamborghini, Porsche, Ducati, Scania, Man and VW Commercial Vehicles, as well as its own brand.
P.J. Chen, Volkswagen Taiwan's sales director, pointed out that his company's operation in Taiwan focuses mainly on "brand competitiveness," or specifically to offer comprehensive product lines and stable pricing policy to  build strong brand image, rather than win by price-cutting competition. He said the new Passat will be turning point for Volkswagen Taiwan's sales strategy on the island.
The taking over of the agency in Taiwan by the German headquarters, Chen said, resulted in cessation of sales of the Passat sedan for more than one year on the island, which also drove many original Passat owners to turn their focus on other vehicles. The relaunch of the new model, Chen stressed, will see  Volkswagen Taiwan try as hard as possible to bring back the old customers.