Mainland China's light emitting diode (LED) packaging market grew 19 percent year on year, to US$8.6 billion in 2014, mainly driven by demand from the lighting sector, according to market consultancy LEDinside, a subsidiary of the Taiwan-headquartered TrendForce Corp.

The market organization's studies show that the top-10 packagers in the mainland together dominated a 45.6 percent share of the mainland's market last year, gaining two percentage points from the previous year.

Also the studies show, while rankings keep reshuffling in the China market, the market is becoming an oligopoly or one whose market share is dominated by a few top players. Last year, Nichia Corp. of Japan and Everlight Electronics Co., Ltd. of Taiwan remained the top-two players, MLS Co., Ltd. of the mainland emerged as the No.3, and Cree, Inc. and Philips Lumileds Lighting Co. came in fourth and fifth, respectively.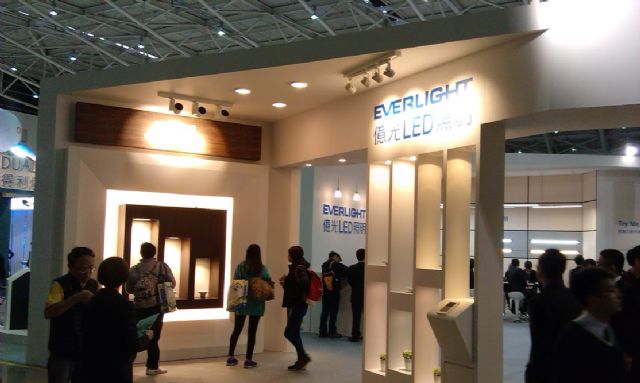 Everlight ranked the No.2 LED packager in 2014 in China.
LEDinside's studies indicate that the rapid penetration of LED in the mainland's commercial and residential lighting sectors was pivotal to drive up China's LED packaging demand last year.
The mainland's market for packages used in mid-sized and large backlights for TVs has slowed mostly due to improved technologies that enable fewer LEDs to generate more light. But the mainland's demand for the packages used in small-sized backlights for mobile devices has continued climbing as a result of the increased share commanded by homegrown smartphone brands in China's market.
LEDinside's mainland China-headquartered market analyst, Yu Bin, points out that in 2014 Western LED packagers raked in total revenue of US$2.35 billion, increasing 17 percent year on year, which was clearly down from the 40 percent annual rate they had in 2013.
Compared with the Western manufacturers, Taiwanese packagers' sales in China rallied 16 percent in 2014 to a total of US$740 million after a year-on-year recession of 1 percent in 2013.
However, the market share of Taiwanese packagers in the mainland overall is on a downtrend because of their comparatively low cost-performance (C/P) ratio and the rapid rise of the mainland's competitors.
But LEDinside points out that last year some Taiwanese packagers adjusted their strategy to release inexpensive products with quality warranty in an effort to boost C/P ratio. The manufacturers include Everlight and Unity Opto Technology Co., Ltd., which have so far fared pretty well in China's LED backlight market with the new strategy.
The mainland's homegrown packagers have steadily grabbed bigger share of the mainland market, ending 2014 with total sales of US$5.49 billion, a gain of 21 percent from the previous year. The mainland's first-tier homegrown packagers, such as MLS, the Foshan Nationstar Optoelectronics Co., Ltd., the Guangzhou Hongli Optoelectronics Co., Ltd., the Shenzhen Jufei Optoelectronics Co., Ltd., and the Shenzhen Refond Optoelectronics Co., Ltd. have maintained annual sales growth of over 30 percent.
LEDinside's studies indicate that Western manufacturers have made most of their advanced technologies, patents, and brand names to dominate the high-end share of the European and American markets, but their advantages are diminishing and they are losing some markets to Taiwanese and mainland Chinese competitors, whose technologies have improved considerably.
Yu points out that given technology and patent have been the primary hurdle to entry into the high-end market in America and Europe, many mainland Chinese manufacturers are eagerly seeking collaboration with international players. For instance, Shenzhen Refond and Shenzhen Jufei signed agreements respectively early this year to be licensed to use Toyoda Gosei Co., Ltd.'s white LED patent.
He expects to see more mainland Chinese packagers enter into patent and technology deals with international players to realize their goals to tap Western high-end markets.