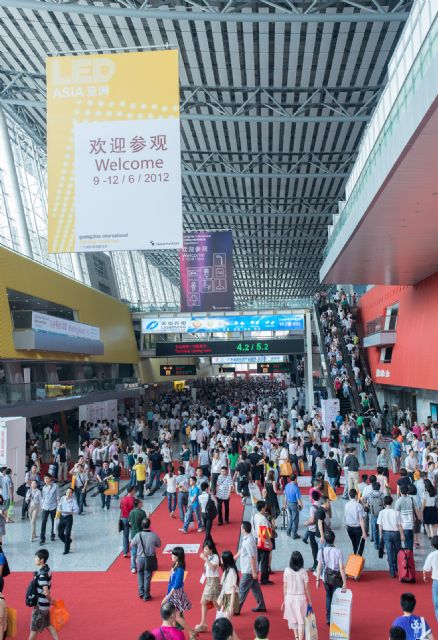 Five trends are predicted in mainland China's LED industry in 2015. (Pictured is an LED trade show in Guangzhou.)
Mainland China's light emitting diode (LED) industry will manifest five trends throughout 2015: electronic commerce will emerge as a retail channel, indoor lighting demand will sustain the rapid growth of the industry, competition among manufacturers will further intensify, international players will stay more focused on their specializations to survive the market, and consolidation and reorganization will remain prominent strategies, said Lee Jian-nan, general manager of Everlight Lighting Co., Ltd., at the LEDforum regarding trends in China's LED market and lighting industry recently held by LEDinside, CNLEDW.com, and the Guangzhou International Lighting Exhibition.
Lee's firm is a subsidiary of Everlight Electronic Co., Ltd. of Taiwan, recognized as the No.1 LED packager worldwide and the No.2 in mainland China.
He pointed out that every industry grows from infancy through competitive stages and the mainland's LED-lighting industry is now undergoing transformation to a general lighting industry from one trying to supplant a traditional lighting industry.
Lee pointed out that China's LED-chip sector is seeing a snowballing effect where the big players inevitably expand production capacity to grow ever bigger. The mainland's metal organic chemical vapor deposition (MOCVD) chambers, essential tools for making epitaxy wafers carrying the chips, are estimated to increase to 250 systems this year, along with the manufacturers ramping up production of flip chips for some applications. China's manufacturers show polar performances to rack up extreme loss or profit, he noted.
The mainland's LED-packaging industry, Lee estimated, has 2,000-plus manufacturers now and the Chinese market will sustain steady growth in 2015. Mid-power packages, namely the 5.6mm x 3.0mm, 3.0mm x 3.0mm and 2.8mm x 3.5mm packages, are projected to account for 52 percent of China's market of LED packages this year by combining light tubes, light bulbs, recessed lights, and ceiling lamps.
Flip chip-type chip on board (COB) package and integrated module encapsulation will also be two crucial LED packaging technologies in the mainland, Lee noted. He pointed out that gross margin ratio of the mainland's LED packagers, those supplying products for lighting applications in particular, are declining as a whole because of excessive competition. However, their profitability for 2015 is estimated to be promising due to the sharp increase in total demand volume of lighting LEDs.
Lee believes that indoor lighting to remain the primary driver of the mainland's LED application market throughout 2015 in consideration of the huge demand from retrofit lighting projects and new build projects. For instance, Beijing's new urban renewal measure announced on March 30 this year has effectively reinvigorated the mainland's real estate market, to also provide the residential lighting industry with ample business opportunities.
The mainland's LED makers are consolidating among themselves to cope with dwindling profitability mostly caused by plummeting prices of lighting products. Lee estimates that many lighting manufacturers will be weeded out the mainland market over the next three to five years due to fierce competition, to create an oligopoly or a market dominated by a few big-name players.
International big-name LED lighting manufacturers like Philips, Samsung and Osram have eliminated of some products in the Chinese mainland market to focus more on profitably products, which Lee feels could be a savvy move in 2015 for lighting manufacturers to follow for survival in the mainland.
Lee estimates at least 30 percent of the mainland's LED makers will be winnowed out of the competition due to deficiency of innovation and reckless underselling competition.
With regard to the future of smart lighting, Lee feels that the technology still has ample room for improvement because lighting has evolved to not only enable color changing but also be integrated with wireless tech to be remotely controlled by apps in mobile devices.