Driven by robust sales of new-car models, two Taiwan Stock Exchange (TWSE)-listed automotive companies, including Yulon Motor Co. (maker of own Luxgen line and assembler of Nissans) and Hotai Motor Co. Ltd. (Taiwan's agent of Toyota and Lexus) posted record June revenues in company histories.

Yulon pointed out that it launched the Eco Hyper (with higher engine output but better fuel economy) upgraded-versions of Luxgen U6 crossover and M7 multi-purpose van (MPV) in Taiwan, as well as the S5 sedan in China starting May, winning encouraging market responses on the both sides of the Taiwan Strait. The company registered June revenue of NT$10.79 billion (US$359.6 million), compared to about NT$8 billion (US$266.7 million) in March and April. As the sole contract assembler for Yulon Nissan Motor Co., Yulon has enjoyed clear revenue growths in the past few months, driven by impressive sales of the Yulon-assembled new Nissan X-Trail SUV, the best-selling SUV of its kind in Taiwan.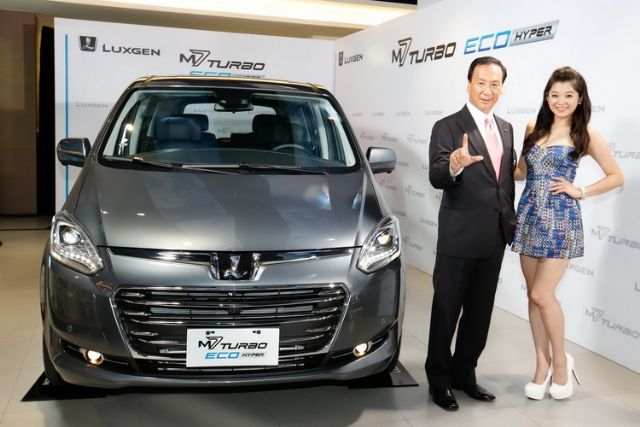 The Luxgen M7 Eco Hyper MPV produced by Yulon. (photo from LUXGEN)
The automaker reported accumulated consolidated revenue of NT$59.88 billion (US$1.99 billion) in the first-half, up 10.14 percent year-on-year (YoY). Yulon said that its Chinese subsidiary, Dongfeng Yulon Motor Co., Ltd. (a joint venture with major Chinese automaker Dongfeng Group to make and sell Yulon's own Luxgen line in China), anticipates to produce and sell some 70,000 Luxgens in China this year, up 30 percent from a year earlier. As a result, some institutional investors forecast Yulon's 2015 consolidated revenue to likely outstrip the NT$120 billion (US$4 billion) registered in 2014.
As its distributors are entering into the key period of the summer-vacation sales competition in June, Hotai's consolidated revenue jumped to NT$15.94 billion (US$531.3 million), an 18.7 percent YoY increase for the highest YoY growth this year.
Hotai's two "star" models, the locally assembled Toyota Altis compact sedan and imported RAV4 SUV, continued to see eye-catching sales, with 4,152 and 2,055 units sold, respectively. In June, Hotai also won a 33.2 percent share in the domestic automobile market, the highest this year.
Hotai executives attribute the high YoY revenue growth in June to the advanced deliveries of new cars to distributors, to meet the upcoming strong demand stimulated by promotions related to sales competitions among distributors.
Institutional investors point out that most listed automakers and vendors book their additional spending related to summer-vacation sales competition after July, hence reducing outlays in the first half to render operational results in the same period more attractive.