Commercial fishing and sport fishing supplies, equipment, safety gear, marine hardware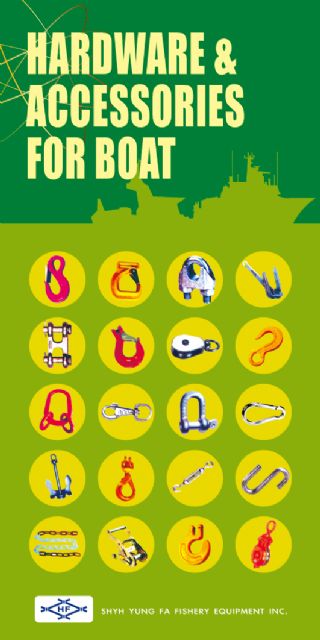 Shyh Yung Fa supplies a wide range of marine and fishermen's hardware and accessories.
Recreational fishing, or sport fishing, is not just a pastime that allows participants to enjoy nature and thrill of the chase, but a sizeable business that can contribute as considerably as commercial fishing to an economy.
According to a report issued by U.S.-headquartered Statista Inc., a market research firm, an estimated more than 55 million Americans took at least one fishing trip in 2013, and the outdoor activity saw anglers of both old and young that ranged 6 to 70s, with the latter making up nearly 10 percent of the total.
Sport fishing also creates relatively high economic value in the U.S., as shown by Statistia's statistics that indicate around US$41.77 billion were spent on recreational fishing-related expenditures in the country in 2011, along with US$15.47 billion on recreational fishing equipment, including US$6.27 billion on transportation. The average spending per angler reached US$1,261. The country's imports of fishing tackle equipment, including fishing reels, fishing rods, etc., have also remained stable, and neared US$600 million in 2014.
The report "
2011 National Survey of Fishing, Hunting and Wildfire—Associated Recreation
" posted on the website of the American Sportfishing Association also says that American anglers generated over US$48 billion in retail sales as whole with a US$115 billion contribution to the nation's economy. Another report authorized by the NOAA (National Oceanic and Atmospheric Administration) on comparison of economic data between recreational and commercial fishing in 2013 points out that the recreational sector added US$152.2 to GDP for every pound of fish landed, higher than the commercial sector's US$1.54.
For businesspersons interested in tapping the lucrative niche market of recreational fishing, Shyh Yung Fa Fishery Equipment Inc. from Taiwan is an ideal partner able to provide quality products and all-around services.
A Seasoned, Versatile Supplier
Shyh Yung Fa, located in Kaohsiung City, southern Taiwan where a number of shipbuilders and related subcontractors are clustered to form a thorough supply chain, is a seasoned, versatile supplier of fishing equipment.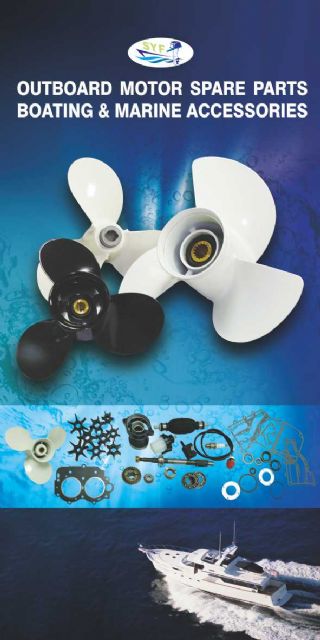 Shyh Yung Fa also offers outboard motor parts, as well as boating and marine accessories.
The firm began in 1956 by producing nets and ropes that were widely used in a broad range of applications, including commercial fishing, sports, safety equipment, agriculture, watercrafts, towing and hauling, etc. With its products gradually recognized by professionals and buyers worldwide, the maker started to introduce advanced production equipment in 1970 to further expand capacity and business scope.
To date, Shyh Yung Fa's products are categorized into sport fishing equipment and marine hardware, covering recreational fishing tackle, fish farming equipment, equipment used on vessels, fishing boats and yachts, life-saving equipment, marine hardware and accessories, marine propellers, stainless steel hardware, etc.
Moreover, this company has also ventured into developing and manufacturing OE and aftermarket parts for outboard motors, jet skis, all-terrain vehicles, motorcycles and snowmobiles mainly through cooperation with well-established partners in those fields.
Backed by decades-long expertise in production and various material properties, the company capably provides not only quality-approved products with speedy delivery, but also value-added manufacturing service and technical support to help customers shore up their businesses. Besides, the supplier's extensive knowledge of fishing and marine equipment also makes it a reliable, competent supplier for foreign buyers in need of one-stop purchasing of high-quality products at competitive prices.
A recognized supplier, the company has exported products worldwide, including Japan, Turkey, France, Kenya, South Africa, the U.S., Dominica, Mexico, Panama, El Salvador, Australia, New Zealand, Germany, Denmark, Spain, the U.K., Canada, Brazil, and many others.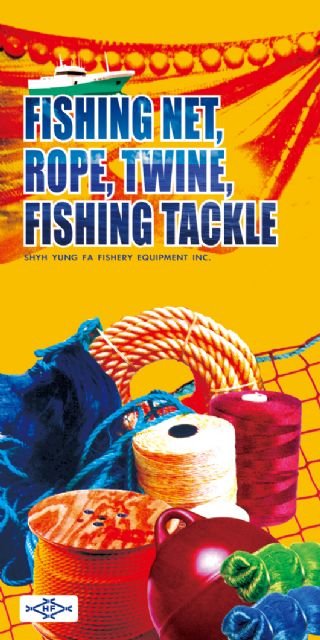 Shyh Yung Fa is a recognized supplier of fishing nets, ropes, twines, and fishing tackle.