Chang Loon's ratchet wrenches are noted for color rings embedded into heads for added value.
Chang Loon Industrial Co., Ltd. believes that the development of wrenches has not yet reached its apex, despite their evolution over hundreds of years of use, and has constantly worked to add more value to its wrenches ever since its establishment in 1978.
The company has been developing and producing hand tools for almost 30 years, and is today one of the top makers of its kind on the island. Starting out in business as an OEM (original equipment manufacturing) producer, the company has accumulated a rich store of metalworking know-how and claims to be Taiwan's largest exporter of wrenches.
A single-minded focus on quality improvement, with a constant expenditure of time and money on improving production capability and introducing advanced inspection techniques and equipment to keep the defect rate to a minimum, has contributed to Chang Loon's success. With products that exceed international standards such as ANSI and DIN in terms of durability and torque, the company has built a strong image among international buyers.
Practical R&D
What really sets the company apart from its Taiwanese counterparts is its dedication to enhancing the value of seemingly mundane wrenches through extensive R&D. In developing a new product, the firm always makes sure that it truly meets the needs of users. Each manager and supervisor takes an active part in every R&D decision to assure that it is properly carried out in line with the latest information and market trends.
Besides, the company's tests of newly-developed hand tools are based on user feedback and real experiences; rough edges that are discovered in actual use are repeatedly smoothed out until the new tools are perfect and ready for launch. This process may be costly, the company says, but it gains the respect and trust of clients.
Chang Loon's constant fine-tuning process makes sure that its ratchet wrenches are function-oriented. All of the wrenches are made of high-grade chrome vanadium, and are hot drop-forged and heat-treated for prolonged life and a good appearance. A built-in, precise 72-tooth ratchet mechanism that took a great deal of time and resources to develop enables the wrenches to outperform competing models.
With the improved ratchet mechanism, each small turn of the wrench moves precisely through five degrees, allowing users to work in confined spaces and making the wrench more efficient and energy-saving. The company claims that its ratchet wrenches are perfect for auto repair, plumbing, and machine maintenance. Their sophisticated structural design and extremely precise tolerance help make these wrenches extremely practical.
Chang Loon's 72-tooth gear wrench features each turn at surefire 5 degrees to attain effortless operation and torque accuracy.
Value Enhancement
Chang Loon is also known for providing another surefire solution for value enhancement: packaging. According to Chang, the company is inspired by new trends in different fields, including fashion and stationery, to design eye-catching, practical packaging. This has proven successful in increasing the marketability of products on the shelves of retail stores and wholesalers.
The company keeps its eye on the growing global concern for environmental protection, and is designing materials-efficient packaging made of reprocessed corrugated paper without any ecologically harmful materials. This packaging is especially popular with European buyers.
In addition to offering innovative design and eye-catching packaging, Chang Loon has also taken steps to differentiate its hand tools. For example, the heads of its ratchet wrenches are thinner and lighter than those of competing models, making them readily recognizable. Another patented design that is incorporated into the ratchet wrenches is a colored ring embossed on the head that clearly shows the size of the wrench in Imperial or metric units.
Chang Loon attributes its solid reputation in Europe, Southeast Asia, Latin America, Canada, and the United States to persistent hard work on R&D. The company considers devotion to R&D as its bread and butter, and its only route to survival in the increasingly competitive and challenging market.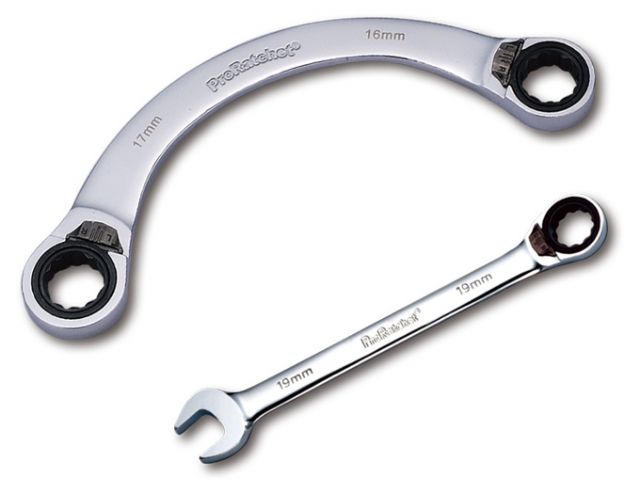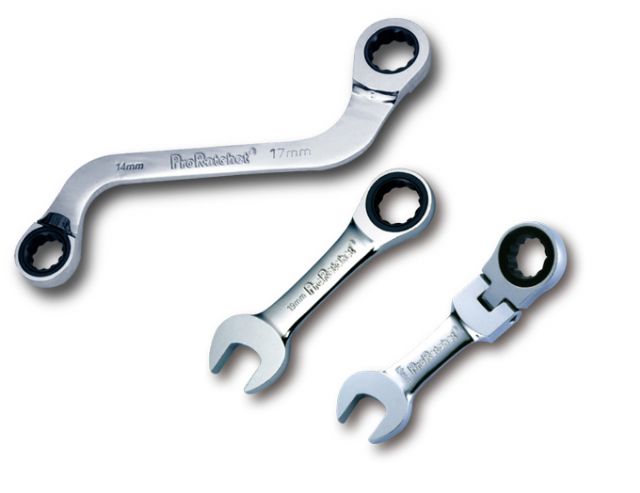 Chang Loon supplies a verity of combination and ratchet wrenches that meet DIN standards.