Internal combustion engine pistons, heavy-duty diesel engine pistons, piston pins, piston kits etc.
Founded in 1973, Cheng Shing Piston Co., Ltd. is one of the most experienced companies in Taiwan specializing in development and manufacturing of quality, precision pistons for virtually all kinds of internal combustion engine applications, as well as heavy-duty diesel engine pistons. In conjunction with continued and stable business growth in over 40 years, Cheng Shing is one of the top-3 engine-piston suppliers in Taiwan, and one of the leading players in the global market in terms of product comprehensiveness.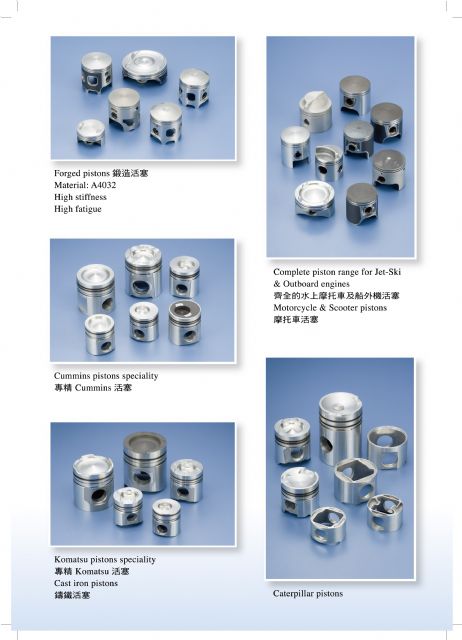 Samples of Cheng Shing's product range.
The piston maker is an ISO/TS 16949-certified company with full capability in meeting stringent qualitative requirements from global vehicle manufacturers; as well as a company with numerous qualified-supplier certifications from various top-notch international vehicle, engine, and machinery makers.
Cheng Shing's pistons are widely adopted in both gasoline and diesel engines for wide-ranging applications and industries, including motorcycles, motor scooters, passenger cars, trucks and buses, agricultural equipment, construction machines, marine vessels, compressors, among many others.
The company globally markets its quality pistons under it own "CS" brand, also supplying different international engine manufacturers, tier-1 parts vendors, and big names in global automotive and PTW replacement aftermarkets.
Cheng Shing ships products to customers worldwide, especially those in industrially advanced nations and regions such as Japan, the U.S., the U.K., Italy etc., as well as emerging markets like Latin America, Africa etc., thanks to strong competitiveness in quality and cost control.
Unmatched Product Comprehensiveness
Alongside its continuous, dedicated efforts in product development, Cheng Shing now supplies a range of more than 6,000 piston models, covering most combustion engines currently in use worldwide, making it one of the most comprehensive suppliers of its kind in the world.
The firm is known for consistent product development, partly built on its long-term, close partnerships with global vehicle and engine manufacturers, who always first contact Cheng Shing with plans to launch new products, as well as the piston maker's determination to expand its product comprehensiveness to upgrade global competitiveness. On average, the company develops 20 to 30 new piston models every month, or 300 to 400 per year.   
A senior manager of Cheng Shing justifies the company's focus on every step of product development by saying that the piston is a critical part of an engine. In addition to careful discussions with customers about product specifications, functions and performance, the maker taps its accumulated know-how and expertise to help customers develop newer and better pistons meeting or outstripping their expectations.
Big-name Customers
As a seasoned parts supplier in Taiwan, Cheng Shing kicked off business by being an original equipment (OE) piston supplier to local powered two-wheeler (PTW) makers. After years of growth in the PTW parts industry, the company is not only the dominant OE-piston supplier to all Taiwanese PTW and ATV/UTV makers, including the top-3 vendors KYMCO, Yamaha Taiwan, and SYM, by commanding over 95 percent of the domestic market, but also an important player in many international PTW brands' supply chains.
Reflecting its diversification in the business, PTW pistons now account for less than 40 percent of Cheng Shing's overall revenue, with sales to international vehicle and marine-vessel engine manufacturers, as well as other equipment applications for various industries, having been steadily increasing.
In addition to sales on OE basis, Cheng Shing is also a key supplier in the global replacement aftermarket (sales of AM parts account for about 50 percent of its revenue), with all kinds of pistons and piston kits for combustion engines worldwide.
Global Division-of-labor Manufacturing 
After steady and stable business advancement over more than four decades, Cheng Shing has set up a well-established division-of-labor global manufacturing scheme in different nations.
The company's headquarters includes a factory in southern Taiwan with over 210 employees and annual production capacity of about three million pistons. To maintain its leading position, Cheng Shing steadily upgrades and installs all kinds of equipment to further improve product quality and production efficiency.
Cheng Shing has also set up production bases in Thailand, China and Vietnam, with a flexible manufacturing system able to meet global customers' different requirements, such as small-batch, large-variety orders, or big-volume shipments with lower prices. Such global division-of-labor scheme, Cheng Shing says, gives the company stronger competitiveness in winning orders from global customer across all industries, no matter big or small.
Core Competitiveness
Cheng Shing stresses that its core competitiveness lies in its leader-of-the-pack, integrated R&D and manufacturing capability, as well as unmatched know-how, fast-response capability built up over the years from interacting with big global customers, including assembled vehicle makers, engine suppliers, etc.
The increasingly stringent requirements for more environmentally-friendly but higher output of internal combustion engines continue to drive powertrain technology advancement, a trend of which Cheng Shing claims to always stay in front. 
Cheng Shing Piston Co., Ltd.
No. 1455-1 Chungshan Rd., Luchu District, Kaohsiung City., Taiwan 821
Tel: 886-7-696-2214
Fax: 886-7-696-1659
E-Mail: cspist7@ms4.hinet.net
Website: www.piston.com.tw