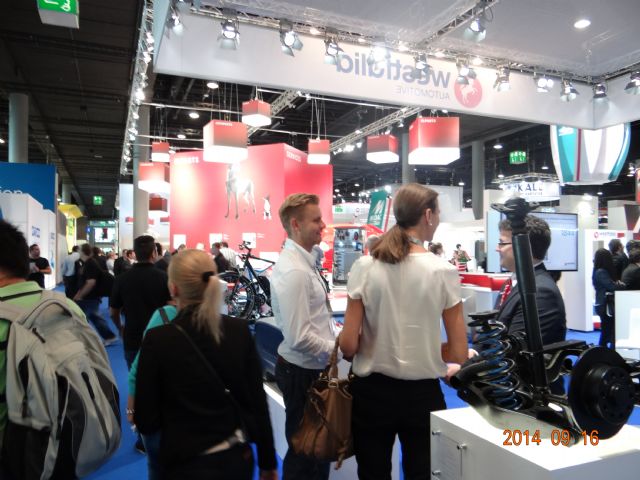 Automechnika Frankfurt has well recognized as world's most important trade fair for the global automotive service industry.
Scheduled September 13-17, 2016, in Germany's Frankfurt, the next Automechanika Frankfurt will again live up to world's most conspicuous trade fair for the global automotive service industry, reflected by the fact that so far more than 1,700 exhibitors from 59 countries have registered and 65 percent of the exhibition space is already taken, even if the exhibition is still over one year away from now.
On the brisk participation in the biennial exhibition, Olaf Musshoff, director of Automechanika Frankfurt, explains on the latest press release by show organizer Messe Frankfurt Exhibition GmbH: "The high level of demand and internationality at this early point in time underscore the significance of the fair for our customers who use Automechanika as an innovation platform for their business, and for making new contacts and networking. Thus, visitors can look forward to a very large and wide-ranging spectrum of products and services, giving them an unrivalled overview of the worldwide market."
A large number of globally prestigious suppliers and manufacturers from the equipment, parts, accessories, management and service segments have already registered their participation in the exhibition, including Bosch, Brembo, Continental, Christ, Denso, Hella, Istobal, KAW Kiehl, Maha, Mahle, Schaeffler, Wabco and ZF, with around 25 percent of exhibitors to present products and services for the truck sector, reports the organizer, who adds the early-booking rate is valid until August 2. 2015. (For further information for exhibitors and registration details, please see the Automechanika Frankfurt website at www.automechanika-frankfurt.com)
Today, more than ever before, Automechanika is an important platform for innovations and future-oriented solutions and trends and, for the first time, will present the after-sales world of the future as 'Tomorrow's Service & Mobility' in the 'Festhalle' of Frankfurt Fair and Exhibition Centre. Accordingly, visitors will have the chance to see the workshop of the future, as well as products and solutions for the connectivity, alternative drive trains, automated driving and mobility services segments.
As in the past, the subject of basic and advanced training will be one of the most important focal points in 2016. Aimed primarily at workshop employees and proprietors, the range of free certified workshops and training courses, some of them in English, will also be expanded. Automechanika Frankfurt also gives companies and potential trainees the opportunity to meet at the fair. Additionally, the Automechanika Academy is a unique information platform with numerous lectures by renowned experts.
The Automechanika Innovation Award honours the most innovative products and solutions in nine categories with a tenth being added in 2016: the 'Green Award', which goes to the most sustainable product among all those entered. All award-winning products will be on show at a special exhibition throughout Automechanika Frankfurt. 
For decades, CENS has spared no efforts on promoting Taiwanese auto parts and repair tools at the show by organizing exhibitor groups, circulating its industry magazines, including the 
Taiwan Transportation Equipment Guide (TTG)
and
the Guidebook to Taiwan Hand Tools
, hence well recognized by both Taiwanese firms and foreign buyers. CENS's TTG has particularly received high accolades from foreign buyers of auto parts worldwide.
Again, CENS will organize a large exhibitor group to the next Automechanika Frankfurt.
Review of Automechanika Frankfurt 2014
Automechanika Frankfurt 2014, spread over 300,000 square meters, hosted a total of 4,631 exhibitors from 71 different countries, compared to 4,597 in the 2012 edition, with the exhibitor number hitting a record high. China was the biggest participating country with 783 exhibitors at the show, followed by Germany and Italy.
With 471 domestic exhibitors, Taiwan was the fourth-largest participant among other countries.
During its four-day run beginning September 16, the show attracted over 140,000 visitors and professional buyers from all over the world.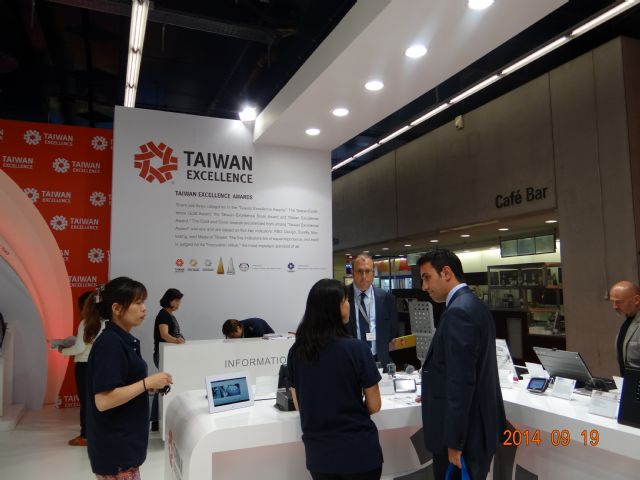 The Taiwan Excellence Pavilion set up in the 2014 edition drew intense attention from professional buyers looking for innovative, marketable products.
Among the show's features, the Tomorrow's Mobility exhibition area was full of future mobility concepts materialized in various vehicles demonstrated live by around 50 exhibitors, allowing visitors real-world experiences in smart, environmentally sustainable mobility that the global automotive industry is working on. With zero emission, eco-friendly mobility issues continuously driving the trend towards electric vehicles, and continuing development of smart cities worldwide drawing attention to developing personal mobility vehicles, such vehicles and related products with innovative functions therefore were a big hit with visitors at the area.
With ever more cars employing electronic components and systems to attain better monitoring of vehicle status, more comfortable and safer driving, and more diverse in-car entertainments, vehicle repair and maintenance are made ever more complex and time-consuming nowadays than in the past. Under this transition, a total of 926 exhibitors from the car repair and maintenance service sector attended Automechanika Frankfurt 2014.
Organized by Bureau of Foreign Trade under Taiwan's Ministry of Economic Affairs and implemented by Taiwan External Trade Development Council (TAITRA), a semi-official export promoter, the Taiwan Excellence pavilion also captured professional buyers' eyes by presenting a broad spectrum of excellent products with officially approved quality and functionality from the island's high-profile manufacturers, with exhibits ranging from Box PCs, in-vehicle embedded controllers, in-vehicle surveillance with fleet management computing boxes, all-in-one mobile data terminals, intellectual mirrors, full LED tail lamps, and OE replacement TPMS (tire pressure monitoring system), to digital torque wrenches, tires, rugged laptops, automobile navigators, air impact wrenches, ratchet wrenches, cameras, to high-power IC regulators, side airbag inflators, tie-downs, digital torque adaptors, On-the-go USB flash drives and solid state drives.
Holding three booths at the show, CENS deserved credit for organizing Taiwan's biggest exhibitor group of 230 Taiwanese companies there, which included lots of Taiwan's best-known suppliers of auto parts, such as Tong Yang Industry Co. (car body parts) and Depo Auto Parts Ind. Co., Ltd. (auto headlamps), effectively helping boost Taiwan's image and capabilities.
CENS's booth was full of foreign buyers interested in Taiwan-made, high-quality products.