Audi Taiwan, the wholly-owned local subsidiary of the German carmaker Audi AG, recently demonstrated the latest third-generation Audi TT and TTS coupes, models designed for well-heeled buyers looking for more performance than practicality in sub-compact dimensions. By the end of this year, the local subsidiary said, two other performance models will be introduced to the island to help further elevate Audi's overall sales in Taiwan, which targets 6,000 units this year.

To promote the new performance models, Audi Taiwan spent over NT$10 million (US$333,333) to set up a ski-slope-like stage in downtown Taipei with high-sky laser beams, showing the German brand's flair for showmanship as it aims to solidify its foothold in the domestic performance-car segment.


To highlight it brand image in the performance-car segment, Audi Taiwan set up an eye-catching ski-slope-like stage in downtown Taipei to promote the latest Audi TT/TTS coupes. (photo from U-Car News)
In conjunction with rapidly increasing sales of imported cars in Taiwan, whose market share hit a new high of nearly 40 percent in the first half, the performance-car segment in the local automobile market clearly saw launch momentum starting in 2014. Many buyers of luxury sedans who rely on chauffeur, however, have indulged instead in performance cars to reward themselves, with the list of options also lengthening to include marques besides traditionally popular BMW and Mercedes-Benz.
Having discovered a niche of buyers whose taste goes beyond the traditional, Audi Taiwan has been continuously introducing more performance-oriented models to Taiwan, including the S6 Sedan, S6 Avant, new RS6 Avant, new RS7 Sportback, etc., since early July, as well as the latest two coupes.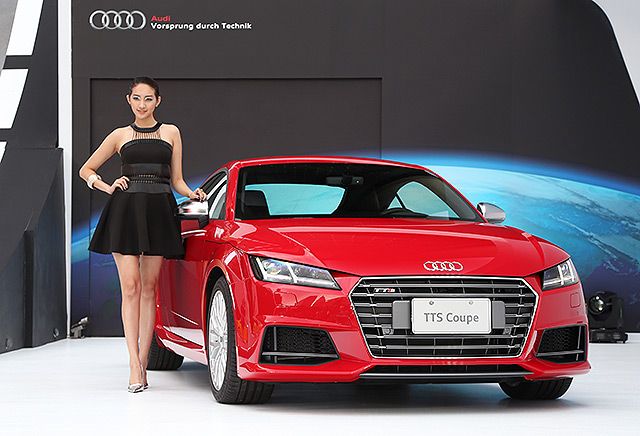 The new Audi TTS coupe just introduced in Taiwan. (photo of U-Car News)
Angelika Hilger, head of marketing for Audi Taiwan, said that Audi had kicked off vending the TT coupe in 1995, and the third-generation coupe was announced at the North America auto show in 2014. Based on ample inquiries from local consumers, she added, some 130 TTs are expected to be sold a year in Taiwan. Before the demonstration of the Audi TT in Taiwan, Hilger said, the company had won 30 firm orders, an unprecedented phenomenon; so the local subsidiary has decided to introduce two other performance models to win higher share in the domestic performance-car segment.
In tune to the introduction of more performance models, Audi Taiwan plans to expand its local services. By 2017, the company is scheduled to add three to five sales-and-service points on the island, also targeting annual sales goal of 10,000. Currently Audi Taiwan operates 12 showrooms and three dealers for selling certified used cars throughout Taiwan