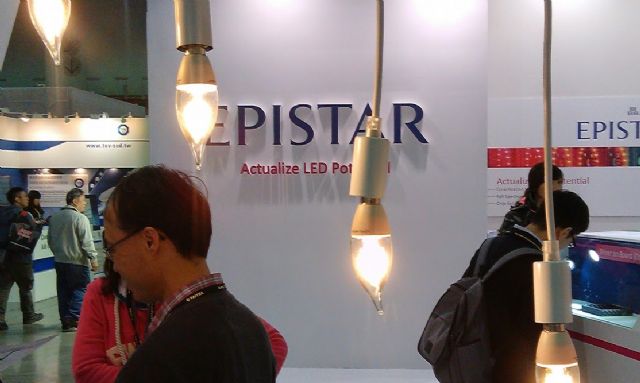 Epistar-KAIFA joint venture acquires American LED Maker BridgeLux.
The joint venture of Epistar Corp. of Taiwan, Shenzhen Kaifa Technology Co., Ltd. (KAIFA) of mainland China and Kaistar Lighting (Xiamen) Co., Ltd. has acquired American LED chipmaker BridgeLux Inc., opening a new chapter in cooperation between Taiwanese and mainland Chinese LED makers on overseas acquisition.
The joint venture is 47.88 percent held by KAIFA, a leading manufacturer of contract electronics products in mainland China, and 40 percent by Epistar, currently the world's No.1 LED chipmaker by production capacity. Both Epistar and KAIFA are publicly held companies.
Epistar's vice president and spokesman, S.H. Chang, points out that the joint venture spent US$130 million on the acquisition.
He adds that the deal sets a good example for the cooperation between LED makers on the two sides of the Taiwan Strait regardless of reportedly mounting anxiety among Taiwan's manufacturers in various industries about "red supply chains," a term obviously coined to refer to rising homegrown, integrated manufacturing capacity in mainland China purposefully promoted, encouraged by Beijing to reduce the nation's dependence on imports and to raise self-content ratio.
Chang rationally points out that there is no point for Taiwanese manufacturers to worry about the phenomenon of red supply chains, which also includes Taiwanese manufacturers, with his company, as example, supplying chips to KAIFA.
He notes that an added advantage of the acquisition is incidental ownership of BridgeLux's patents, which will spare Epistar, whose chips are used as backlights inside KAIFA's end-user products like TVs, from facing patent lawsuits in the United States. Protected by the patents, Epistar can look to explore new opportunities to ship more chips when KAIFA exports more products to the U.S.
Chang sees Taiwan's LED makers and the mainland's system-product manufacturers creating a win-win situation for themselves since Taiwan's LED makers have expertise in epitaxy, chip slicing and module making while the mainland's system-product manufacturers have built huge capacity to meet global market demands.
Taiwan's industry executives point out that the mainland's epitaxial-wafer makers and packaging providers in the LED industry are still qualitatively inferior to their Taiwanese competitors, but an increasing number of mainland Chinese heavyweight manufacturers make their contracts available to competition between mainland's homegrown manufacturers and Taiwanese manufacturers, but with the purpose of strengthening their compatriots. The mainland Chinese LED suppliers usually undersell products in an effort to win contracts, forcing their Taiwanese competitors to do likewise.