Manual and pneumatic oil and fluid extractors for engines of cars, motorcycles, generators, lawnmowers, etc.
Founded in 1991, Chaun Jiing Enterprise Co., Ltd. specializes in designing, developing and innovating various types of oil and fluid extractors for internal combustion engine (ICE) of cars, motorcycles, generators, lawnmowers, etc., as well as auto-repair tools and equipment.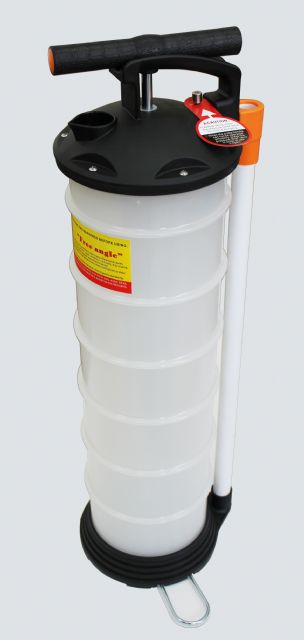 Chuan Jiing's oil/fluid extractor
The company's major product line includes high-speed fluid extractors, auto repair equipment, fluid exchangers, oil VACs, in/out extractors, discharge pumps, fluid changers, testing instruments, 2-in-1 pumps, brake fluid changers, utility extractors, and others. Chuan Jiing's quality and innovative products are widely popular among major customers in North America, Europe, Australia, Japan, etc.
The range of oil/fluid extractors are among the company's best sellers and are patented in seven countries (the U.S., Germany, the U.K., Australia, Japan, Taiwan and China) for improved functionality and innovations. All the extractors, pneumatically driven or manually operated, feature automatic stop and casters with stabilizers to facilitate extraction and dispensing of various fluids cleanly and easily, with attractive exteriors being an added bonus.
The maker says it continues investing vigorously in product innovation and improvement, so as to meet increasingly diversified requirements from global customers, backed by a strong in-house R&D team of talented and experienced experts with abundant know-how and experience in the industry. As result, Chuan Jiing says it provides customers unique and innovative products with excellent performance to satisfy all their needs.
A recent example of Chuan Jiing's strong innovative capability is the superior functionality of the CJ-series extractors, which automatically prevent overflow of fluid and fluid leakage from a tank. Other practical features include ability to dispense fluid without angle restriction, large base on all models coupled with caster stabilizers, operation without AC or DC power, three tubes as standard equipment, and excellent convenience and labor efficiency. 
The maker invites inquiries from all interested parties for more information and looks forward to cooperating with buyers who can expect prompt reply.
Chuan Jiing Enterprise Co., Ltd.
No.27, Lane 57, Fong Jheng Road, Wu Feng Hsiang, Taichung Hsien 413, Taiwan. 
Tel: 886-4-23394287
Fax: 886-4-23321429
E-mail: oilvac@ms6.hinet.net
Website: www.oil-extractor.com