Power inverters, battery chargers, jump starters, etc.
Founded in 2005, New Power Technology Co., Ltd. of Taiwan is an ISO 9001-certified developer and manufacturer specialized in high-tech electronic products.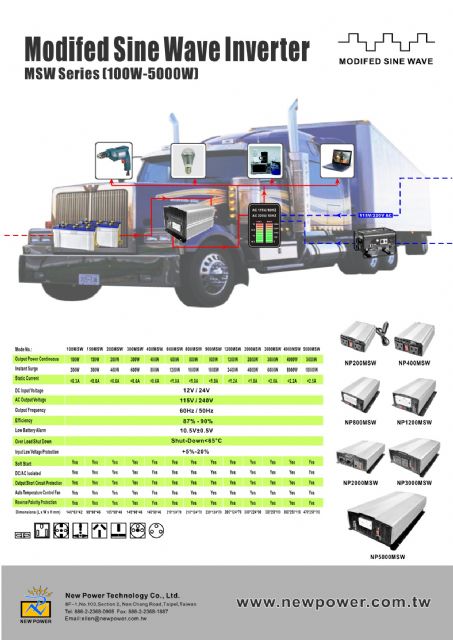 Modified sine wave power inverters supplied by New Power.
The young but ambitious enterprise boasts a very powerful product R&D team consisting of a group of talented and experienced technicians with key know-how in power inverter-related fields, such as mechanical, software, circuit design, etc. Currently the company has 30 software and hardware engineers, 20 management personnel, as well as a workforce of about 400 people. In the past 10 years or so, New Power's sales throughout the world have been rapidly increasing, thanks to its superior product quality and functionality. It also operates a sizable factory in China covering total area of about 5,000 square meters.
New Power claims that all the engineers in its R&D team have more than ten years of experience each in power inverter, which helps to achieve the highest quality and durability level, advanced functionality, and the best user interfaces for its line of power inverter products. Backed by such seasoned, in-house R&D capability, New Power is one of a small group of companies able to provide various pure sine wave power inverter models.
The inverter maker sells its quality products worldwide, especially in major markets such as the U.S., Japan and Europe. In addition to top-notch products, New Power stresses that its reasonable pricing is another core competitive edge to always attract increasing number of international customers. The firm's integrated competitiveness has helped it win many OEM and ODM orders from famous international brands, including JVC Japan, Astra Canada, etc.
New Power Technology Co., Ltd.
8F-1, No. 103, Section 2, Nanchang Rd., Taipei City, Taiwan 100
Tel: 886-2-2368-0905
Fax: 886-2-2368-1887
E-Mail: spring@newpower.com.tw
Website: www.newpower.com.tw