Founded in 2005, Just In Fitting Co., Ltd. specializes in developing and manufacturing various types of brass fittings for vehicular applications.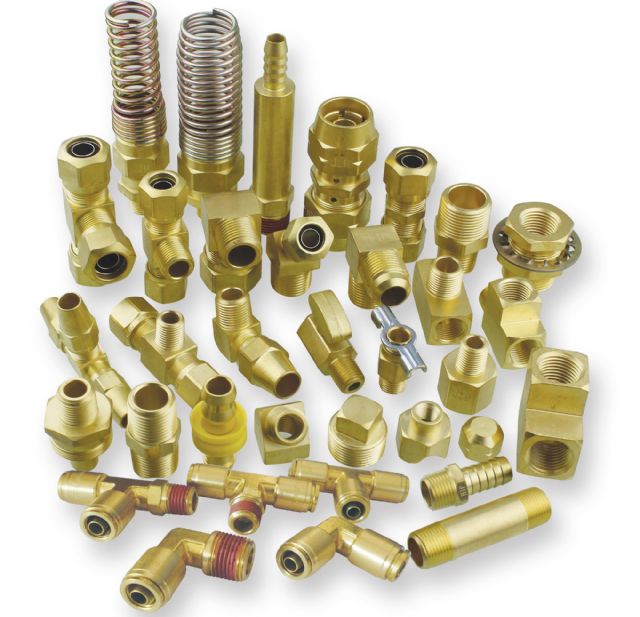 Just In supplies a wide range of DOT-approved air brake fittings for vehicular applications.
Thanks to steady investments in R&D, Just In supplies a complete line of DOT-approved air brake brass fittings, pipe fittings, and air compressor accessories. To further assure the highest quality level, in 2011 Just In relocated its production of SAE, DOT and OEM fittings from China to Taiwan, but still operates its main office in China.
Around 2011 Just In also kicked off development of nylon air brake hoses and related products in Taiwan, in addition to the technologically-mature PU hoses produced on the island.
The fitting maker notes that its DOT-approved air brake fittings are manufactured in compliance with SAE and FMVSS 106 requirements; while these high-quality fittings are widely used for heavy-duty trucks, trailers, passenger cars and other types of vehicles. All the company's fittings are certified by DOT-standard third-party labs in the U.S., as well as being covered by product liability insurance.
Just In claims that its major goal is to build close, strong and long-term relationships with customers, with the prerequisites for such achievement being undoubtedly offering high and stable product quality level. The company has registered DOT ID (JIH) and acquired DOT test approval in the lab run by Intertek of the U.K., as well as the ISO 9001:2008 certification as guidance for its internal quality and management control.
Regarding quality, Just In says it aims to develop, manufacture all its products and deliver services to meet or exceed customer needs; while it adheres to standards like SAE, FMVSS, ANSI, etc. as guide to R&D, production, and quality control.
In automotive related applications, Just In says that it is fully capable of developing customized parts from sample or drawing supplied by customer. The maker's facility is equipped with a comprehensive range of testing and inspection equipment, including projector, two-dimensional measuring instrument, leakage tester, tensile strength tester, plating thickness tester, and many others.
As for sales-related services, like consulting of product characteristics, logistic solutions, financing etc., Just In stresses that it can respond to customers within 24 hours to offer optimal solutions. The company invites buyers to email any inquiries related to products or specially customized products, stressing that it is dedicated to working towards partnerships to enhance mutual profitability.
Just In Fitting Co., Ltd.
No. 61, Sinyi N. Rd., Gueiren Dist., Tainan City, Taiwan 711
Tel: 886-6-230-9018, 330-4742
E-Mail: info@justinhardware.com
Website: www.justinhardware.com