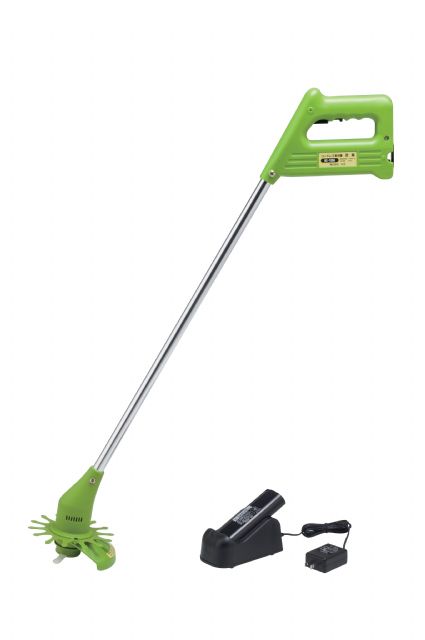 Taiwanese suppliers of garden tools and products have been reputed globally for strong R&D capabilities. (The photo of a cordless electric grass trimmer from Taiwan's Jinn Haur Industrial)
The U.S.-based Garden Media Group, a gardening market research firm, has issued  its
2014 Garden Trends Report
that pulls together findings from global market research firms, consumer media and experts within the home and garden industry to summarize several trends among consumers in the country, including growing concerns about responsible food waste management; increasing willingness to grow edibles and fruits in gardens and yards; more spending on dressing up gardens with simple elegance or exotic elements; rising attention to indoor greenery; the rise of the so-called fingertip gardens; and more participation of young people in nature.
The emergence of those trends points to the fact that consumers are spending more leisure time not just at home, but outdoors and decorating their gardens, a transition being driven by both social and societal trends, in which people are socializing more, hosting garden parties, lawn games and brewing events. Additionally, the report says that concern for the natural world and living a healthy life are impacting what consumers grow, what products they are investing in and how they live outdoors, while the shifting roles of the sexes are influencing how life is lived both outside and inside.
Under the scenario, the global market for gardening and outdoor living products is forecast in the report to keep expanding by 3.5 percent yearly through 2016, when overall demand will reach US$220 billion. With the number of DIY gardeners being estimated to have exceeded 85 million last year, food gardening has outpaced flower gardening as the major growth engine for the overall market.
Inevitably Taiwan stands to benefit from such trend and play an instrumental role in its growth, as the island boasts a thorough supply chain of gardening tools and equipment, having gained solid  manufacturing reputation among global buyers. Following years of promotion, Taiwan-made gardening products have proven sought-after worldwide, particularly in developed countries, mostly thanks to better quality and utility achieved by makers' steady focus on innovation that enable end-users easy, efficient gardening. Global gardeners can rest assured that the popularity to decorate, work gardens can proliferate as dictated by global trends and personal preferences as long as the island continues to supply the world its high-quality gardening tools and equipment.