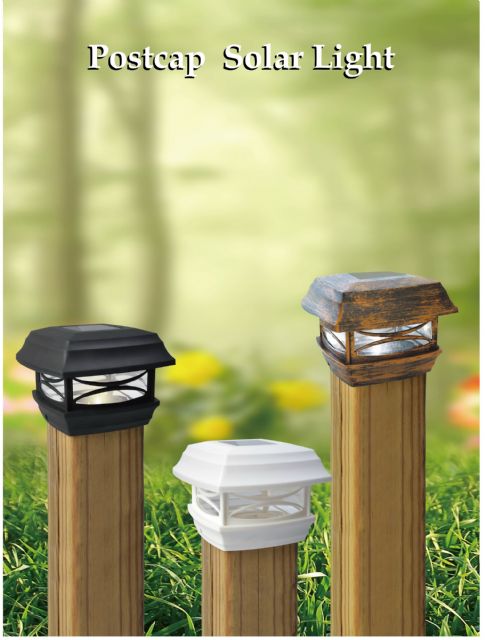 The post lamp is built by a Taiwanese supplier with solar cells and advanced power-storage technology.
Lighting has always been regarded  indispensable in any worthwhile gardening setting, especially when "Garden-tainment" has emerged as the latest trend among consumers who are looking for new ways to jazz up social activities in residences. 
The term "Garden-tainment" is coined by market observers to depict the consumer trend for moving parties outside from the home, as well as a way to personalize outdoor spaces for more purposes, especially when newly sold houses in the U.S. are getting smaller in size.
With the National Association of Home Builders predicting size of homes to shrink by 10 percent in 2015 on average, ever more people therefore go outside the home for not just holding parties, but dining, cooking and entertaining, observes Garden Media Group. Another interesting result in the
2014 Casual Living and Apartment Therapy Outdoor Decorating Survey
published by Casual Living also justifies the observation, showing that 62 percent of millennials, 46 percent of Generation Xers and 24 percent of Baby Boomers are spending more time outdoors. Also notable is that 85 percent of millennials polled in the survey rate outdoor rooms as "Very Important" or "Important," compared to 83 percent of Generation Xers and 74 percent of Baby Boomers.
With Americans gradually showing higher preference for outdoors rather than indoors for socializing, garden lighting is hence becoming more important as garden decoration, particularly lighting products with stylish exterior design that can be harmonized with and accentuate plants, flowers and lawns, with sufficient  brightness to allow outdoor activities to take place even at night, soft colors that  add to the charm of a garden, and low power consumption that help cut electricity bills.
Trying to capitalize on the trend, some Taiwanese lighting manufacturers have diversified into garden lighting, and worked out functionally impressive products that have proven sought-after by end-users worldwide. For example, a supplier on the island has launched a post lamp built with photovoltaic and power-storage technology, making the product a great solution for  energy-saving garden lighting without installing cables.