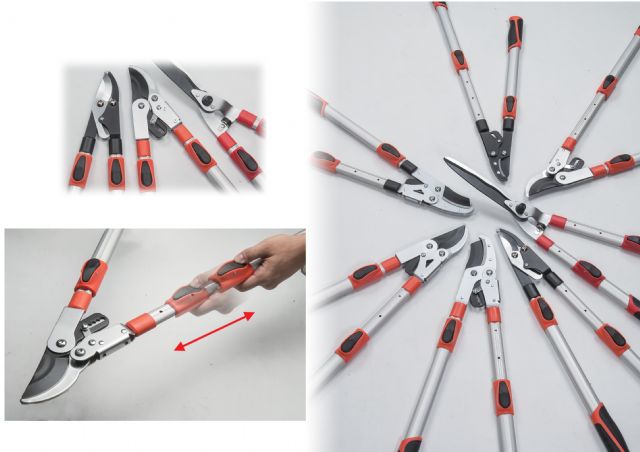 Garden cutting tools with light weight and user-friendly functions are popular with ordinary gardeners. (photo courtesy of Wise Center)
Gardening is increasingly associated with a healthy lifestyle, according to the "
2015 Garden Trends Report"
issued by Garden Media Group that says "People (in the U.S.) see both outdoor and indoor spaces as extensions of themselves and are making conscious decisions to use plants and garden products as tools to increase their overall well-being, lead a sustainable lifestyle and make positive impact on their communities and the planet."
With ever more consumers engaged in  leisure gardening to not only enjoy playing in dirt and nature, but to create healthy lifestyles and individualized spaces in their backyards, the so-called "Bed Head" garden style is therefore identified by the report as a growing, interesting trend among others.
The report indicates that the "Bed Head" style means the purposefully, casually non-styled outdoor spaces created from the result of intentionally working within the natural landscape, which calls for use of native plants to increase diversity, balance and ecosystems without too much water consumption in irrigation, primarily because gardeners with such preference tend to be inherently laid-back. Within this scenario, easy-to-hold, budget-priced garden cutting tools, including floral scissors, hedge shears, loppers, pruning shears and many others are likely to gain   more popularity in the near future.
For global buyers and entrepreneurs interested in the gardening product market, Taiwan has a sound reputation as an ideal source of high-quality, marketable floral scissors and hand pruners, with the industry going back many decades and boasting a considerable number of garden cutting tool suppliers clustered in Taiwan's central region covering Changhua and Taichung, where suppliers with exceptional production techniques and flexibility, as well as excellent R&D capability, have worked with global buyers to effectively help build sales and profitability. 
A few notable suppliers include such globally known names as Wise Center Industrial Group, Winland Garden Tools, Jiin Haur Industrial and Ho Cheng Garden Tools, all of whom have just launched new products to meet demand resulting from  the abovementioned trend.