Global Industry Analysts Inc. says U.S. outdoor furniture market to exceed US$5 billion by 2017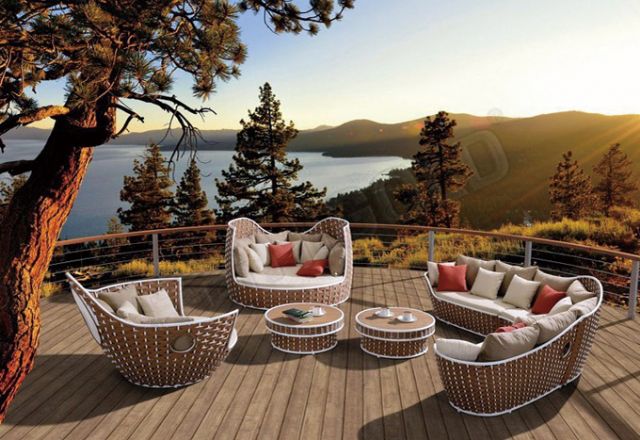 Deep seating sofas are widely used in outdoor spaces.
Outdoor furniture was once generally regarded as inexpensive furnishings with monotonous, frumpy styles and often distasteful tones, but no longer. Today alfresco furniture can have the same features as indoor furniture, mostly thanks to ever more consumers' changing lifestyles and entertaining habits, which inspire them to turn outdoor spaces into living areas as lavish, relaxing as indoor spaces, a transition confirmed by market observers and news agencies, including Miami Herald.
Under the scenario, outdoor furniture becomes a product with considerable growth potential, coupled with some interesting trends that are also seen in indoor furnishings. While the U.S. market for outdoor furniture is estimated by Global Industry Analysts Inc., a publisher of off-the-shelf research, to exceed US$5 billion by 2017 as one of the most aggressively growing segments of home design, Miami Herald points out that big size; modern styling achieved by use of synthetic weaves, performance fabrics and other materials as they are used in indoor furnishings; and vivid, bold colors as seen in indoor rooms and even apparel have become strong appeals in outdoor furniture to Americans.
While echoing Miami Herald's observation that vibrant, contemporary colors and patterns are increasingly applied in outdoor furniture to enhance feelings of enjoyment, warmth, comfort, relaxation and many others, Abe Abbas, a furniture expert, said in an article on About.com that hand-wrought aluminum, teak and wicker are among the most popular materials used in outdoor furniture, but for different reasons, including lightweight, good resistance against weathering, rot and insects, and friendly prices.
Also worth mentioning is that as outdoor spaces are treated by Americans as their living rooms, Abbas notes that more and more deep-seating sofas, stone and glass coffee tables and end tables are being used in gardens and backyards, which are also decorated with pillows, indoor and outdoor rugs, plants and containers. In short, conventional elements of indoor furnishings and interior design are finding their way into outdoor furniture for sure.