Planet Gear-integrated tools to help push the maker to No. 1 globally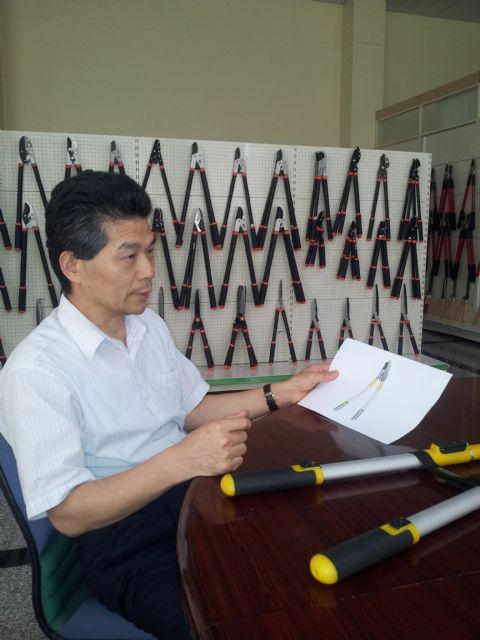 Wise Center's chairman Thomas Lin.
Gardening tool production, as other traditional manufacturing sectors, is one of Taiwan's most globally competitive industries that began and is clustered in the central region covering Taichung and Changhua, but only a handful of operators could rival Wise Center Industrial Group Inc., especially for its truly profound understanding of the importance and application of various corporate management measures. Now Wise Center enters a new stage of growth by not only coming up with game-changing innovations, but also ingeniously carrying out management activities, earning accolade from global buyers and branded vendors in the line.
Founded in 1991 in Taichung, Wise Center specializes in developing and manufacturing a variety of gardening tools for both DIY (do-it-yourself) users and professionals, mainly offering lopping shears, hedge shears, pruners, grass shears, extended tree pruners, water pipe shears, branch pruners and saws, and PVC pipe cutters, as well as conventional and foldable ladders, sprinklers, shovels, flower scissors, rakes, step stools and related gardening accessories.
While working primarily on OEM (original equipment manufacturing) and ODM (original design manufacturing), the company also markets products under its own brands worldwide. Over the past decades, the supplier has built solid reputation among buyers from North America, Europe, Japan, Australia and China. With a well-equipped production facility in the Taichung Export Processing Zone and production lines across Southeast Asia, the firm is undoubtedly an industry-leading gardening tool supplier in Taiwan.
Wise Center's current achievement, particularly the steady and robust growth it has seen over the past few years despite volatility of the market, can be attributed to only two factors: steady investment in R&D for truly innovative, useful and marketable products, and the implementation of various programs to enhance management efficiency and effectiveness.
"Planet Gear" Series Gardening Tools
It is not overstated that excellent R&D capability is Wise Center's secret to success, which has resulted in various innovative tools having been developed, including a shear with irregularly-shaped handles, which, compared to conventional oval- and rounded structure, has proven effective to enhance stronger cutting force with less labor input mainly due to more efficient mechanical advantage via the special handle geometry. Chairman Thomas Lin of Wise Center emphasizes that handles with irregularly shaped structure generally has stronger torsional resistance and less ductility and malleability, to feature higher structural strength and lighter weight than those with structure of other shapes.
Wise Center's latest innovation is the so-called "Planet Gear" mechanism, which is applied in its bypass and anvil loppers, hedge shears and pruners. The Planet Gear is composed of a gear rack on which there is a small, rivet-like unit, to be the world's first for cutting tools to feature superior functionality.
Compared to conventional mechanism, the Planet Gear features more effortless operation of garden cutting tools, and, more importantly, ensures the firmer gripping and easier cutting of twigs, achieved by the jaws closing in from the outside to cause twigs to move inward. This better prevents twigs, especially thick ones, from being squeezed out the closing jaws as seen in conventional mechanisms, Lin stresses.
Excellent functionalities aside, Lin says that tools integrated with the Planet Gear generally have more compact, slim exterior than competing models, mostly thanks to the mechanism having simpler structure so that it can be built into tools without adding to dimensions and bulk.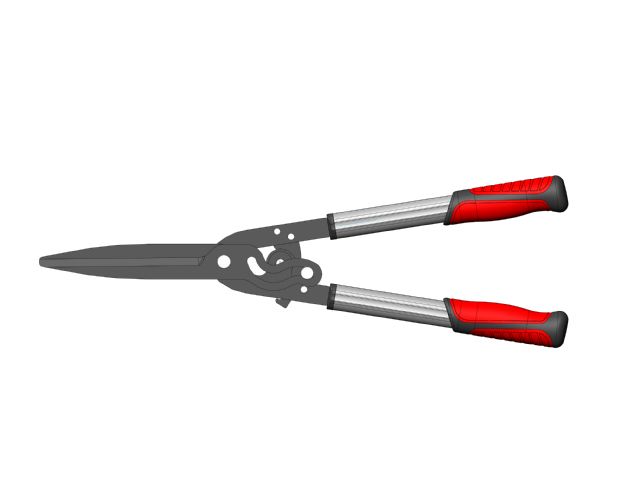 The Planet Gear-integrated hedge shear features double-cut action in one cycle of handle opening and closing.
However, the launch of the Planet Gear not just underpins Wise Center's laudable R&D of gardening tools, but shows Lin's ambition to turn his firm into the world's No.1 maker of gardening and cutting tools, an effort further solidified by the innovative mechanism being patented in China, the U.S., Europe and Taiwan to be an upstart but functionally comparable to the gear technology possessed by a globally known western brand of scissors, axes and knives. In fact, the brand's gear technology has been protected by patents for a long time as the most commonly seen mechanism applied in gardening and cutting tools on market, but the patents, Lin mentions, will expire soon, which will allow more suppliers to adopt such technology in gear-driven tools and intensify competition.
With such logic, Lin therefore began researching and developing the Planet Gear a few years ago, in effort to work out a brand new mechanism to differentiate Wise Center's gardening and cutting tools, and to build a technological lead to leave behind rivals in the years to come.
Another innovative product Wise Center has developed to impress gardeners all around the world is the hedge shear built with the firm's another improved gear mechanism to feature the so-called "double cutting" function.
Lin says that the hedge shear enables double cutting in one cycle of opening and closing the handles. The handles connecting the rivet-like unit control the motion, with the mechanism moving halfway on the track to open and close the jaws once the handles are closed, and then again the jaws are opened and closed when the handles are opened to push the mechanism to the end of the track.
"This amazing feature enables this hedge shear twice the efficiency of ordinary models, and such function in cutting tools is unavailable from other suppliers all around the world," says Lin.
It is safe to say that the abovementioned two new gear mechanisms developed by Wise Center for application in garden cutting tools just underline the veteran maker's time-tested know-how of gear engineering and production techniques, the cutting edges that give the company a leading position in Taiwan's garden cutting tool sector.
Optimized Management
The best technology will be in vain if a firm is under inept management that makes all the wrong calls, a principle that drives Wise Center to focus on setting itself apart from its Taiwanese peers through enhancing management efficiency and effectiveness.
Lin says that while Wise Center has consistently carried out various management measures, including IQC (input quality control), IPQC (in process quality control) and QA (quality assurance), to control quality and become ISO 9001: 2000 certified, the firm had also passed TS16949 certification last July, as part of its effort to stay in step with global trends and to become a world-caliber enterprise that meets recognized management standards.
On the TS-16949 certification, Lin comments that inspired by its customers who have adopted the quality control system into daily operations, Wise Center began working on it several years ago, when the global economy was severely dampened by the financial tsunami. Since then, the company has been closely working with local universities and R&D institutes, in effort to optimize, standardize its production and operations with help of professors and industry experts.
Lin notes that the application of TS16949 in manufacturing industries is increasingly prevalent, primarily because the quality system, involving concepts and implementation of lean production and the Six Sigma Strategy as well as other scientific management tools, can help manufacturers improve yield rates and production efficiency sufficiently to boost their image and capabilities to stand out from the competition.
"Since Wise Center has been a major supplier of the top-3 gardening tool brands in North America, becoming TS16949 certified further consolidates our lead from runner-ups," says Lin.
Besides, the company has spent considerable time and resource learning the TTQS (Taiwan Training Quality System), established by the Taiwanese government as the derivative of ISO-10015 standards regarding personnel education and training. Through the system, Wise Center has conducted a series of essential and marginal job function analysis to evaluate each employee's expertise and knowledge, skills and ability, to then work out the best education and training programs to enhance performance.
BSCI System
The most recent program Wise Center has been working on to strengthen its management capabilities is the introduction of BSCI (Business Social Compliance Initiative) Monitoring System into its factory, a move underlining the firm's attention to employee well-being and corporate social responsibility. The BSCI system is established by the European Union to have enterprises enhance workers' well-being and work safety as part of their social responsibility as corporate citizens.
Lin stresses the reason his firm had decided to improve work conditions and worker's well-being in compliance with the BSCI standards is simply because proper corporate citizenship is increasingly seen as relevant among global branded vendors who care to maintain their brand image amid growing concerns over sweatshop factories and employee exploitation. "Our customers include some globally-famous brands of gardening tools, and every year they send representatives to our factory to inspect the environment and worker well-being. Many of them even see it as the priority over quality control process inspection," says Lin.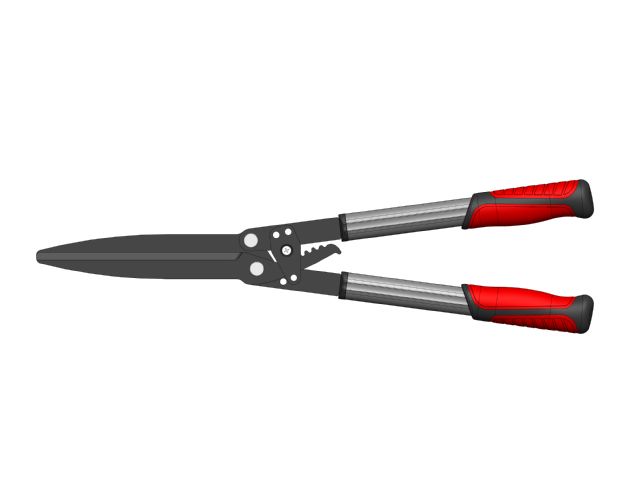 Wise Center's shear series with irregularly-shaped handles have proven popular with end-users for effortless operation and durability since launched in 2014.
After a few years of hard work, Lin confirms that Wise Center's daily operations and management measure up to the criteria of the BSCI system, and are certified by its customers and professional certification institutes from Europe. "Maintaining BSCI-compliant operations is a lifetime duty which calls for strong execution and practice. Through BSCI, we aspire to assure our workers of safe work environment and happiness during work," says the chairman.
Even if the implementation of the BSCI system is unlikely to result in any readily-visible, concrete benefits to Wise Center, adopting such system, however, will help build the firm's success by boosting its image as a socially-conscious, world-caliber enterprise, traits that can truly shore up branded customers' businesses.
Growing Potential of Branding
While its operational efficiency greatly improved, Wise Center has also seen increasingly strong potential in its steadily growing brands.
Wise Center's gardening tools sold under its own brands, including Wiseya, are increasingly sought-after by local consumers in China, and more local distributors are interested in cooperating with us to jointly explore the persistently expanding market for gardening tools in the country, says Lin.
In response to growing consumer preference for its products, the chairman reports that his company will complete setting up a logistics center in China this year, and step up forging formal partnerships with local distributors to focus on different user segments, such as crop and fruit growers, professional gardeners and ordinary DIY users. To be honest, we are relatively optimistic about our growth of branding sales in China, which are forecast to significantly increase to contribute 6 percent to Wise Center's annual turnover this year, stresses Lin.
In addition to China, the company has actively expanded distribution channels of its branded products in other emerging countries for some time, including Thailand, Myanmar, Indonesia, India, Turkey and Iran. Lin is proud that Wise Center is now one of only a few Taiwanese gardening tool suppliers with increasingly prestigious brands in Southeast Asia.