All kinds of performance-tuning auto parts and accessories, special-purpose vehicle parts, aluminum wheels, aluminum pulleys, strut bars, etc.
Founded in 2002, D1 Spec of Taiwan stands firm behind its reputation as one of the world's most specialized makers and suppliers of high-end performance-tuning auto parts, including high-quality coil-overs, brake systems, auto accessories, electronic products, etc. The company globally markets its high-end items under its own "GDL" and "D1 SPEC" brands.

With a savvy marketing team and experienced technical workforce, the supplier is dedicated to creating cutting-edge products through rigorous and dynamic research and development every year. It stresses that its core competitiveness lies in offering the highest-quality performance auto parts at very competitive prices.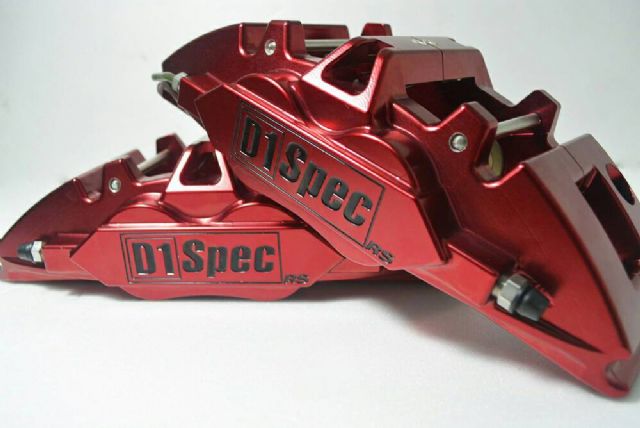 A top-end forged 4-piston brake caliper from D1 SPEC, a maker of high-end performance tuning auto parts.
The firm's wide-ranging product lines include: auto interior accessories, customizing car parts and accessories, super MR voltage stabilizers, knobs, special-purpose vehicle parts and accessories, aluminum wheel axle spacers, aluminum pulleys, auto transmission fuel filters, ground wire systems, oil coolers, intercoolers, aluminum lug nuts, oil catch tanks, quick-releases, oil caps, strut bars, lower control ArmTee joints for heat indicators, oil cooler adapters, oil filter adapters for gauges, ground wires, etc.
D1 Spec says that it has expanded exports to customers in more than 30 countries, especially those in the U.S., Japan, Southeast Asia, Korea, Europe, New Zealand, Australia, etc. Thanks to sound reputation for product quality and functionality, the tuning-parts supplier is very confident to rapidly increase the number of global customers.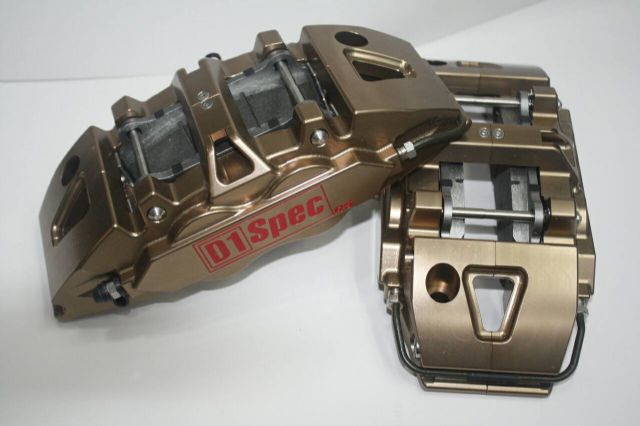 Another high-end caliper made by the Taiwanese company.
A recent example of D1 SPEC's high-end products is a forged four-piston brake caliper featuring superb braking capability, precision, and eye-catching styling. The high-end 4-piston caliper boasts specs as diameter of 330-345mm, thickness of 28mm, piston size of 40/36mm, with 3D CNC machining, and piston material of 7075 forged aluminum. The calipers are available to fit 17- and 18-inch wheels, with titanium pistons being optional.
D1 SPEC
No. 9-1, Lane 314, Changlu Rd., Sec. 6, Fuhsing Township, Changhua County, Taiwan 506
Tel: 886-4-774-8603
Fax: 886-4-777-9303
E-mail: hlh.hung@msa.hinet.net
Website: www.gaudonqlih.com