Chassis-stiffening parts for European makes and models, under-chassis braces, anti-sway bars, etc.
KCDesign Company is a young, innovative company specializing in developing and manufacturing high-end chassis-stiffening parts, such as under-chassis braces, anti-sway bars, etc., for mainly European makes and models. The company's quality products are globally marketed under its own "KCDesign" brand, and widely popular among global car enthusiasts.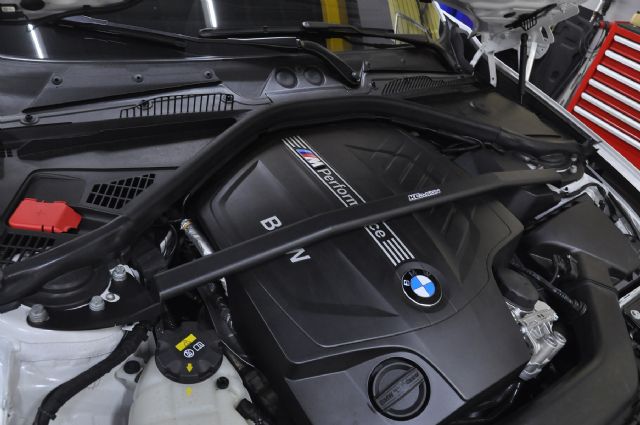 A BMW F20 M135i with KCDesign's strut-tower brace.
The tuning-parts maker says that its under-chassis braces are made of SUS304 stainless-steel, so provide better performance than aluminum-alloy counterparts in terms of chassis-stiffening effectiveness. KCDesign explains that there are less mounting points on European car models than Japanese ones, because the design of European cars generally employs under-body plates to smooth out the under carriage. As a result, the company adds, products geared toward Europeans cars will be larger in dimensions, which help to achieve improved handling from stiffened chassis together with the innovatively designed KCDesign chassis parts.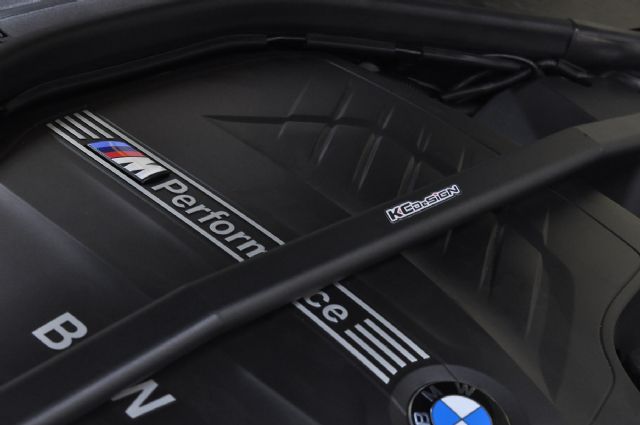 Sophisticated designs of KCDesign's high-end performance parts.
KCDesign adds that it has placed heavy emphasis on reducing weight of parts without compromising mechanical properties of the chassis-stiffening parts to undermine handling performance, with the elliptical tubing of 1.0-1.5 mm thickness being used.
The KCDesign under-chassis braces utilize the existing mounting points on the cars, so the design of the parts does not interrupt factory dimensions to blend in the original whole, which is one of the specialties of KCDesign.
Anti-sway bar made by KCDesign for Volvo S60 /V60.
Another of the innovative maker's item, the KCDesign anti-roll bar, features many characteristics that are superior to typical counterparts:
1. The SAE9254 one-piece hot forged spring steel conforms to the anti-sway bar material on original equipment (OE) models to be able to achieve longer performance cycle.
2. Reinforced rubber material is used so that the anti-sway bar and rubber parts share similar lifespan.
3. Effectively minimizes body roll during sporty driving to largely improve handling characteristics and driving pleasure.
4. The only made-in-Taiwan anti-sway bar with performance-optimizing adjustable mounting points that are similar to other internationally-famous nameplates. 
KCDesign will continue to invest in new product R&D and welcomes inquiries regarding the company and products.
KCDesign Company
Tel: 886-2-8671-9581
Fax: 886-2-8671-9085
Website: www.tw-kcdesign.com
E-mail: kc7133@gmail.com