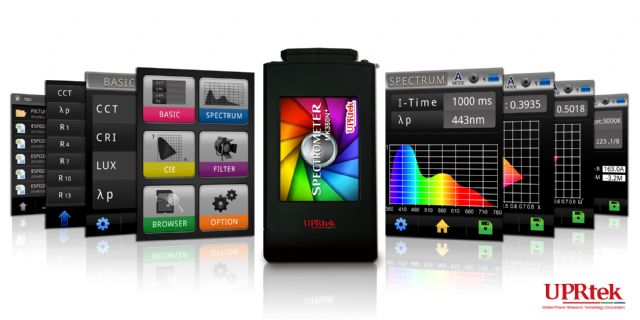 MK350 spectrometer.
United Power Research Technology Corporation (UPRtek), a subsidiary founded by the Phison Group in 2006, is known for its spectrophotometers, which are sold under its own brand "UPRtek".
The company is promoting the MK350 series photometers, which was selected by the organizer Hong Kong Trade Development Council (HKTDC) as one of the eight highlighted products at the Hong Kong International Lighting Fair 2013 (Autumn edition).
The meters, about the size of a mobile phone, measure over 30 LED lighting parameters with very high accuracy as defined by the National Institute of Standards and Technology (NIST) of the U.S. government.
The MK350 series allow lighting manufacturers to create customized interface with multi-functions, among others. To enable easy operation of the wireless meters, the company provides customers with measurement application software downloadable from Apple App Store and Android Google Play to smartphones. Also notable is that the photometers are backed by a 2-year warranty.
To boost recognition of brand and design of the company's products, UPRtek has participated in Taiwan's important design competitions since 2012 and won the Golden Torch 2012, the Aurora 2013, the Taiwan Excellence 2014 and 2015, the Taiwan Outstanding Product Award 2014. In 2013, The MK series was reported in the IES Progress Report.
Showing the maker's degree of R&D, the company has cooperated with Harvard University, Texas Agricultural University, Cornell University, University of Oxford, University of London, Munich University, National Taiwan University, and Osaka University.
The company has signed an agreement to work with Dragon Image Pty Ltd. of Australia, a vendor of photographic and video equipment, to distribute its MK350 series and MF250N flicker meter in Australia and New Zealand.
MF250N has photo-spectrum analytic capability to analyze light flicker and harmonics, which allows it to analyze frequency ranging from 5Hz to 2000 Hz and visible wavelengths from 380 nm to 780 nm.
Both products are versatile photo-spectrum solutions designed for the film and television, laboratory, commercial-lighting, agricultural, and optics industries.
UPRtek meters are designed to enable consumers to achieve eco-friendliness, well-being and energy-saving in smart lighting, being able to tell consumers luminosity and which lights display hazardous flicker.  
The company has built solid technical strength, upheld by precision manufacturing equipment, stringent quality inspection, scientific management, and well trained R&D specialists.
Placing a strong emphasis on research and development, quality, service and innovation, the company has been able to develop innovative products in tune with customers' requirements.
United Power Research Technology Corp.
No.38, Keyih St., Zhunan Town, Miaoli County, Taiwan 35059;
Tel: 886-37-580-885;
Fax: 886-37-580-398;
E-mail: sales@uprtek.com;
Website: www.uprtek.com, www.cens.com/uprtek