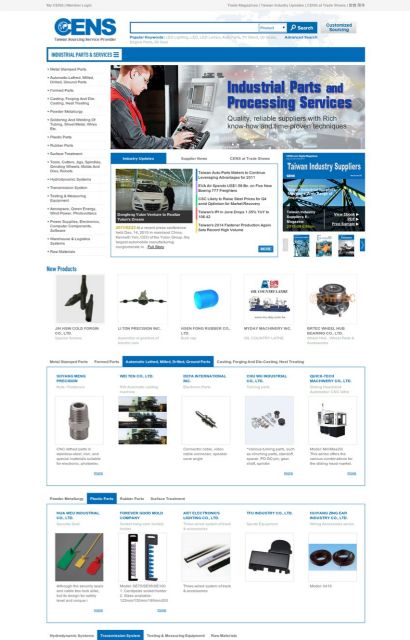 CENS has set up a specific webpage for TIS.
Committed to meeting evolving sourcing trends of global manufacturers and buyers who look for industrial parts and related production processes for wide-ranging applications, CENS (China Economic News Service) will soon launch its new buyer guide,
Taiwan Industry Suppliers (TIS)
.
TIS
will be launched as a hard-copy guide around the end of November, with  the e-edition to be accessible on CENS.com starting September 15.
As with CENS' other publications, buyers will find in this new publication a large number of Taiwanese suppliers of industrial parts and processing services, whose production techniques and dedication to product quality and customer satisfaction is widely recognized by customers from all over the world.
TIS 
offers global buyers and manufacturers convenient sourcing among a full spectrum of industrial parts and services, including metal stamped parts, automatic lathed, milled and drilled parts, wire formed parts, casting, forging, die-casting, heat treatment, powder metallurgy, soldering and welding, plastic parts, rubber parts, tools, cutters, jigs, spindles, grinding wheels, molds and dies, testing & measuring equipment, raw materials, warehouse & logistics systems, power supplies, and many others.
To enable interested buyers and manufacturers to experience the practical content in this new buyer guide before its official launch, CENS has set up a specific webpage, "Industrial Parts & Services," on CENS.com, where the abovementioned parts and services from wide ranging suppliers are available, together with user-friendly functions that facilitate sourcing to help make doing business easier. 
For more information on
TIS
, please go to CENS.com and email us.