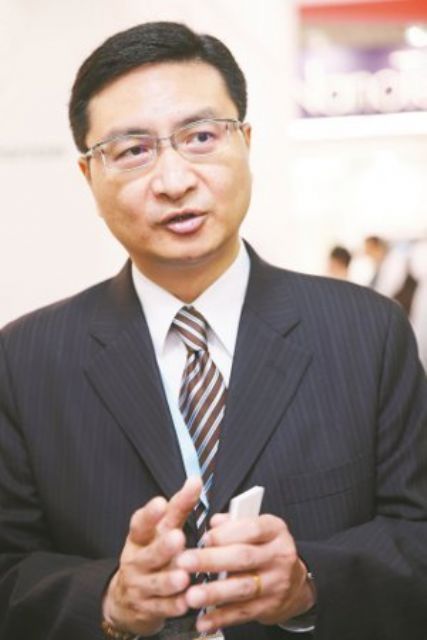 Lin Sheng-chang, president of CPT, a TFT-LCD panel manufacturer focusing on manufacturing small- and medium-sized panels. (photo from UDN)
Lin Sheng-chang, president of Chunghwa Picture Tubes, Ltd. (CPT), a thin film transistor-liquid crystal display (TFT-LCD) panel manufacturer based in Taiwan and focusing mainly on developing and manufacturing small- and medium-sized panels, recently reported to be relatively cautious towards CPT's third-quarter operations, but will try to lead the company to maintain revenue on par to that of the last-quarter.
While conceding that the overall business climate will be rather lackluster in the third quarter, Lin said that CPT has been enjoying expanding shipments of automotive-application panels (whose third-quarter sales are expected to increase by 10 percent to 15 percent from the previous quarter). Thanks to strong demand for automotive, industry control, and tablet PC panels, with order visibility of two to three months, Lin said, CPT's third-quarter revenue is expected to be maintained in the third quarter, with further increase in the fourth quarter.
Lin made the above statements at CPT's exhibit booths at the International Touch Panel & Optical Film Expo (Touch Taiwan) 2015, promoted as the largest touch-panel trade show in the world. He also pointed out that the widely reported slowing growth in the global smartphone market has led to fierce price-cutting competition in the mainstream 5-inch cellphone display segment. Such harsh development in the market has been impacting CPT's operation, a big part of which relies on cellphone-panel shipments.
Currently, the president noted, CPT opts to focus on more valuable customers, likely meaning ones who are less price-sensitive, for taking cellphone-panel orders, so as to achieve optimal balance between equipment utilization and profits. Lin explained that equipment utilization can affect profit margin. Trying to keep third-quarter revenue hovering at the similar level as the second quarter's, CPT is scheduled to ship more automotive, and tablet, and organic light-emit diode (OLED) cellphone panels in the third quarter.
According to Lin, automotive panels are the major focus of CPT's operation this year, as mass production and shipments of such products to several auto brands and pre-market customers will kick off in the third quarter, leading to a 10 percent to 15 percent quarter-on-quarter (QoQ) revenue increase in the product category in the third quarter. For 2015, he added, CPT aims to deliver 12 million automotive panels in different sizes, compared to about 10.57 million shipped in 2014.
At Touch Taiwan 2015, CPT showcased several new product categories, including IGZO (indium gallium zinc oxide) TFT panels, flexible active matrix organic light-emit diode (AMOLED) panels, 7-inch in-cell displays, 4K2K, or UHD (Ultra High Definition), monitor panels, transparent displays for professional tablet PCs, high-brightness panels for automotive head-up display (HUD), among others.
CPT is scheduled to launch market-ready IGZO TFT panels in the fourth quarter, and the company plans to mass-produce the new panels at its fourth-generation (4G) production line in Taiwan.
With inherently huge electron mobility, IGZO transistors can be much smaller to achieve higher pixel densities and lower-power operation. Due to their transparency, image quality is improved with less illumination required — again reducing power consumption. CPT said that its initial-stage IGZO TFT products will be adopted by smartphones; while the company is also planning to concentrate high-resolution panel production at its 6G line on the island.