LED work lights, LED machine lights, LED lights for auto-repairs, mechanic's creepers and stools, LED warning lights, LED snake lights, LED lights for jacks, etc.
Founded in 2002, Hiever Co., Ltd. is an ISO 9001-approved company specializing in designing, developing, and manufacturing wide-ranging quality and innovative LED work lights, as well as and garage equipment, such as mechanic's creepers and stools.

Tony Huang, president of Hiever, points out that his company has been supplying different kinds of high-quality, innovative, and patented LED work lights for various applications, especially auto repair and maintenance, machinery, trades, etc. Most of the firm's LED lights are patented in Taiwan and major export markets, such as the U.K., Germany, the U.S., Japan and China. In addition, all the lamps are certified to CE and RoHS standards.

LED Work Lamps
Most Taiwanese LED lamp makers have moved production to China for lower costs, Huang says, and the few who have stayed on the island insist on fully made-in-Taiwan quality, with pricing that have to be strategically positioned to find niches for their products. "All our products are innovative, unique, patented items with state-of-the-art designs and functions, and they are widely popular among professional users worldwide."

Hiever invents, innovates, improves, or upgrades products, so as to enable professional users access to the most advanced and convenient products available on the market. "In many cases, we are a pioneer in the market, such as when Hiever launched its first LED work light before most people had even heard of LED. In recent years, we have been doing more work to learn regional customers' work habits, so as to upgrade new existing products for higher customer acceptance. Our experience tells us the majority of auto mechanics will choose what is familiar, rather than brand-new, revolutionary items," says Haung.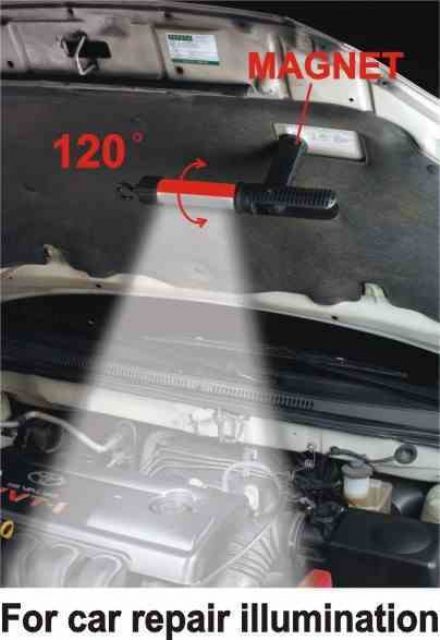 Quality and innovative LED work light developed by Hiever is the best choice for professional users.
Hiever offers wide-ranging LED lamp product lines for various applications. In addition to 30- and 60-LED work light models launched in recent years, the company has been gradually moving upmarket by making all the lighting items using the SMT (Surface-mount Technology) method for the highest quality and durability.
A good example of the firm's innovative products is a 30-LED work light with invention patents in six nations. The innovative product features many advantages over typical counterparts, including energy-efficiency, 360-degree-rotating S-hook, 120-degree swinging LED tube, magnetic base with 180-degree tilt-adjustment, convex-lens-magnified light intensity, extended operation (7-8 hours) per full charge (2000 mAh AA nickel-metal-hydride battery), etc.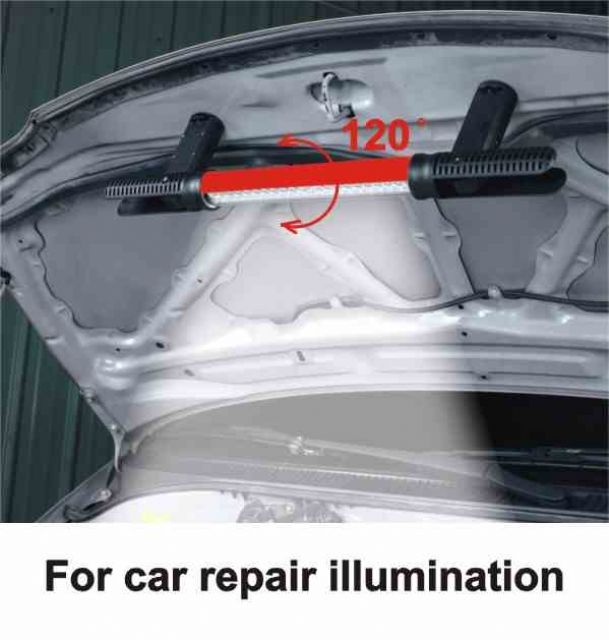 A 60-LED work light made by Hiever for auto mechanics.
Auto Repair Equipment
Thanks to its strong R&D capability, Hiever in recent years has aggressively diversified its product lines into the auto-repair field, having launched another product category for automotive shop or mechanics.
Huang says that the company recently demonstrated an auto mechanic's creeper with six casters. The new creeper model has, like all other products designed by Hiever, many advantages over typical counterparts, including the built-in, battery-powered LED for better under-car illumination; adjustable into a mechanic's stool with four casters; 1-inch square steel tubing for solid structure and EVA foam for user comfort; a built-in hand tool tray for easy storage. The creeper comes in two load capacities of 330lb and 450lb.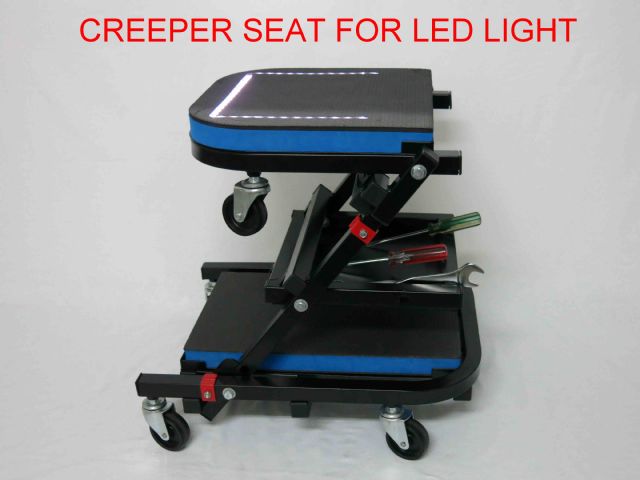 Hiever's auto mechanic's repair creeper/stool features many innovative designs and functions.
Hiever has also developed a patented auto mechanic's stool featuring many outstanding functional designs, which, Huang says, make work easier, more efficient and more enjoyable for auto mechanics.
Division-of-labor Manufacturing
Hiever closely cooperates with a group of quality sub-contractors with their own expertise and know-how in tooling, metal stamping, plastic injection, electronic manufacturing, etc., coupled with its own in-house design, development, assembly, packaging under stringent quality-control standards, to make optimal use of division-of-labor production, Huang says, which results in the highest quality level thanks to each member's expertise, and more flexible and efficient production mode.
In addition to offering standard lighting assemblies in stock, Hiever says that it also offers OEM/ODM services backed by engineers adept in electronics/circuitry design and dedicated project planning. The firm is known for its motto that promises trustworthiness and consistent capacity to fully meet customers' specific demand.
Hiever Co., Ltd.
No. 1138, Xinfu Rd., Taiping Dist., Taichung City, Taiwan 41175
Tel: 886-4-2395-3269
Fax: 886-4-2395-3279
E-Mail: hiever78@ms66.hinet.net
Website: www.hiever78.com