The 1988-founded Tang Yi Industrial Co., Ltd. is a maker of building hardware, including door catches, flush bolts, and stops as well as display cabinet and rack hardware designed for upscale consumers.

The company's product category encompasses full and half-vision showcases, jewelry showcases, cashier counters, display racks, aluminum showcases, and various corner cabinets, all of which are knockdown and suitable for wide-ranging applications, with monthly output of more than 1,000 units. In addition, the manufacturer is able to turn out tens of thousands of units of various fittings, LED pointers, and latches for display cabinets per month.

Following decades of diligent work in improving quality, the company has won genuine trust and built close ties with its customers in the U.S. To secure sustainable development and satisfy customers from different sectors, the supplier consistently engages in R&D.

Besides offering hardware, the company, which has put much effort into improving production process, capacity and quality, also has developed dedicated machines for some of its products in an effort to raise defect-free rate.

With providing customers optimal products and service as the goal, the company has been diligently enhancing manufacturing capacity by adding new production software and hardware. In 2012, the company tooled its factory with automatic panel cutters and peripheral equipment in order to make better display cabinets out of metal and wood panels at lower cost.

Placing a strong emphasis on R&D, quality, service and manufacturing technique, the company has been able to develop striking products in tune with customers' tailored requirements.

The company's primary export destinations include North America, Latin Americas and Asia ex-mainland China.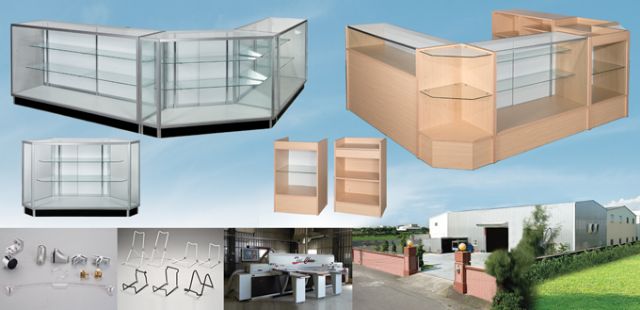 Examples of showcases made by Tang Yi.
Tang Yi Industrial Co., Ltd.
No. 20, Alley 52, Lane 247, Lucao Rd., Sec. 2, Lukang Township, Changhua County, Taiwan 505;
Tel:886-4-776-5718;
Fax:886-4-776-6706;
E-Mail:royko_yen@yahoo.com.tw;
Website:www.tang-yi.com.tw;