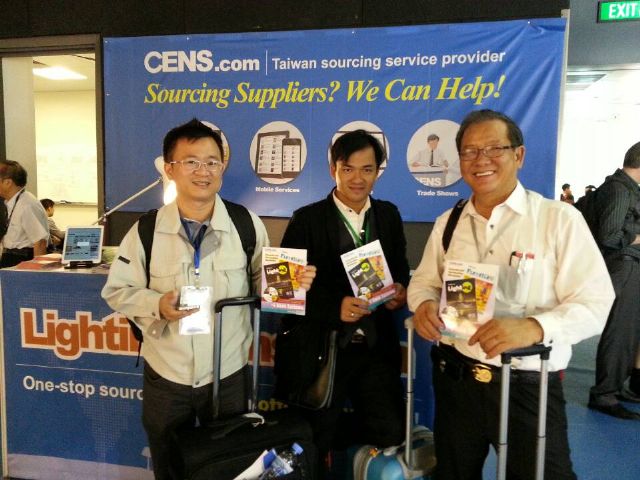 CENS' publications, including "Taiwan Lighting," are proven sought-after among foreign buyers at the show.
The longest-established, most trusted promoter of Taiwan's exports, CENS (China Economic News Service), will be present at the upcoming Hong Kong Int'l Lighting Fair (Autumn Edition), to be held October 27-30, 2015 at the Hong Kong Convention and Exhibition Centre, ready to circulate the newest editions of 
CENS Lighting
 and e-magazines, as well as various practical services to facilitate sourcing for global buyers during and after the trade fair.
Organized by the HKTDC, the Hong Kong International Lighting Fair (Autumn Edition) is the largest of its kind Asia, with exhibits to include a full spectrum of lighting products, including advertising lighting, commercial lighting, household lighting, LED & green lighting, lighting accessories, parts & components, outdoor lighting, smart lighting & solutions, testing, certification & inspection, along with Hall of Aurora for branded lighting.
Widely recognized as an international marketplace for high-quality lighting products, solutions and services for years, the show's last edition in 2014 attracted 2,492 exhibitors from 38 countries and over 37,000 buyers from 135 countries. The turnout this year is expected to stay on an uptrend, given the sustained buoyancy of Hong Kong's lighting industry.
In the first four months of 2015, Hong Kong's exported lighting products totaled US$147 million, with those to the United States showing a 9.8 percent increase, surging 15.3 percent to mainland China, and up 0.4 percent to Japan, according to the organizer. Exports to the abovementioned three destinations together accounted for more than 50 percent of the total.
The exclusive partner of the show, CENS will as usual organize an exhibitor group of 112 exhibitors to the upcoming 17th Hong Kong Int'l Lighting Fair, as well as hold a booth to circulate its latest edition of 
CENS Lighting
, a useful buyer guide containing a wide selection of quality lighting products suppliers across Greater China, and other e-magazines. Backed by more than 40 years of experience in promoting Taiwan's diverse exports, CENS will also provide buyers efficient, considerate sourcing service.
For buyers who may prefer convenient sourcing online of high-quality lighting products before going to the Hong Kong Int'l Lighting Fair Autumn Edition, CENS has also set up a dedicated webpage "Lighting & LEDs" on CENS.com, which offers a showroom of wide-ranging lighting products, parts and accessories, as well as updated news reports on innovative, profitable products from suppliers in Greater China. Furthermore, CENS is always ready to help international buyers who intend to enquire about products from suppliers found on the webpage.
For more information, please go to:
https://www.cens.com/cens/html/en/category/cate_list_L.html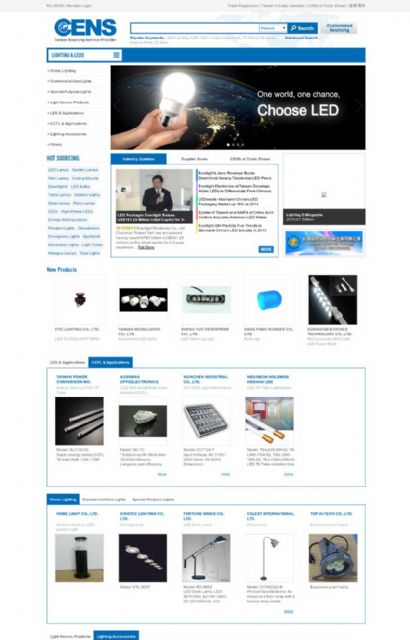 CENS' dedicated webpage "Lighting & LEDs" on CENS.com.