Focus on boutique products pays off as Taiwan brand expands in the super high-end market
Established in Taiwan by a group of talented professionals, Jim Technology Co., Ltd. is the world's leading manufacturer of sophisticated performance exhaust systems. The company has aimed its "iPE" (Innotech Performance Exhaust)-branded products at the super high-end sports car market, counting such distinguished names as Lamborghini, Ferrari, Porsche, Audi, BMW and Mercedes-Benz among its ranks.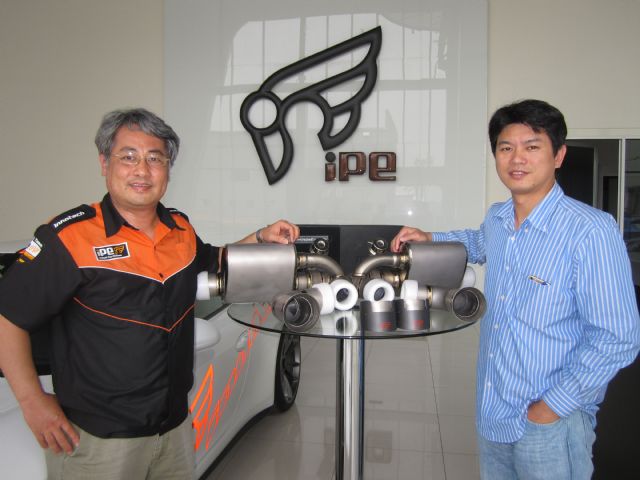 Gary Chien (right), president of Jim Technology, and Gela Wu, vice president of the company, showcase an iPE-branded top-end exhaust system made of titanium alloy for a supercar model.
Gary Chien, president of Jim Technology, says that his company started out in the exhaust system business as an OEM/ODM supplier to major international brands. In 2002, a decade after its founding, the company shifted focus to the high performance market, later launching the "iPE" brand.
Over the years, Jim Technology has developed about 80 top-end performance exhaust system models for supercar makes and models, including Audi (R- or S-series), BMW, Ferrari, Lamborghini, Maserati, McLaren, Mercedes- Benz, Nissan (GTR), Porsche, and Volkswagen (GTi). Chien claims that these systems are market innovators. He is also confident that iPE is the most comprehensive supplier of its kind in the global market.
Today, about 80% of Jim Technology's revenue comes from iPE, with OEM/ODM sales to big international names accounting for the remainder.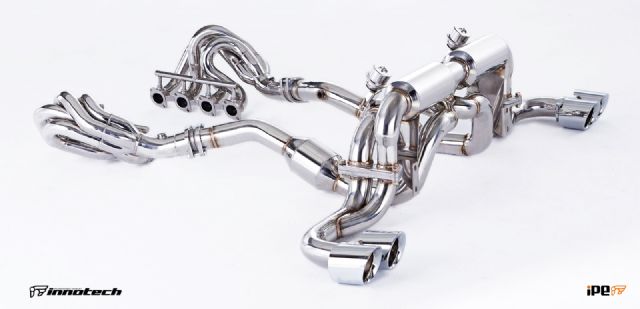 All iPE products are 100% hand-made using the best materials and craftsmanship.
Boutique & Unique
Gela Wu, vice president of Jim Technology, claims that his company is focused on "boutique" exhaust systems for super cars that can effectively upgrade the horsepower, torque, sound wave, driving pleasure, and overall styling. Jim Technology analyzes the full data and index of every detail of the original exhaust on a super car to guide the development of unique iPE products.
"Our products are boutique and unique," claims Wu. "The major difference between a racing car running for race tracks and a super car for affluent car owners is: the latter has to meet most buyers' common needs. However, many owners of super cars will have very different, individualized preferences for their expensive machines. That's what we do--break the limits set by the automaker and achieve what a super-car owner demands!"
Wu also points out that all iPE products are entirely hand-made using the best materials and craftsmanship, making them fine industrial works of art. Every detail of the exhaust system is subject to the utmost care and can be customized any way the customer wants, even including having his or her nameplate welded on. Made in top-end, high-tech materials, the iPE top-end exhaust systems can cut a lot of weight, more than 50% in some cases, from the original vehicle systems. For example, an all-titanium alloy model for Porsche GT3's original exhaust system weighs 21 kgs, while the iPE counterpart weighs in at just 7 kgs.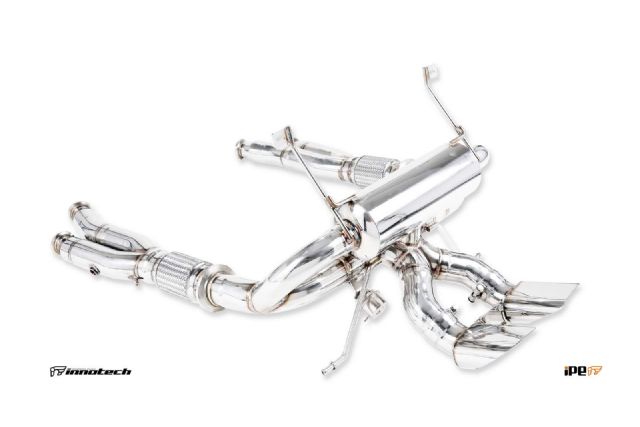 The iPE systems deliver real a performance boost on Lamborghinis.
The vice president also stresses that iPE performance exhausts are known around the world for their attractive sound waves (which can be customized) and real horsepower-performance upgrading, making them the first choice of supercar owners who want to be even more unique. "The bigger the horsepower of a vehicle, the more obvious our exhaust system's performance will be," Wu says. "When you become an owner of a supercar, you better pursue the goal of constant horsepower peak (torque times revolutions per minute, or RPM), and iPE products are the answer!"
Secret Weapon
Jim Technology's exhaust-system models can be optionally equipped with the company's pioneering Valvetronic exhaust system. The company claims this system provides an amazing exhaust sound while increasing the overall performance of super cars. The system has a remote-control command for three different modes: open, close, and auto. In open mode, the valves inside the exhaust system are fully open for maximum flow and power, creating an astonishing sound effect. When the valves are closed, volume is reduced for a low profile and comfortable drive. In the auto mode, the system detects engine RPM and accelerator pedal signals and automatically adjusts valve movements. Each part of the system is individually designed and produced to fit the designated vehicle. Such technology, Wu stresses, can better fits the supercar driver's habits, while cutting fuel consumption (by improving back-pressure). "Our unique design can turn the exhaust system into an intelligent driver helper, offering unexpected driving pleasure and real performance enhancement," Wu says.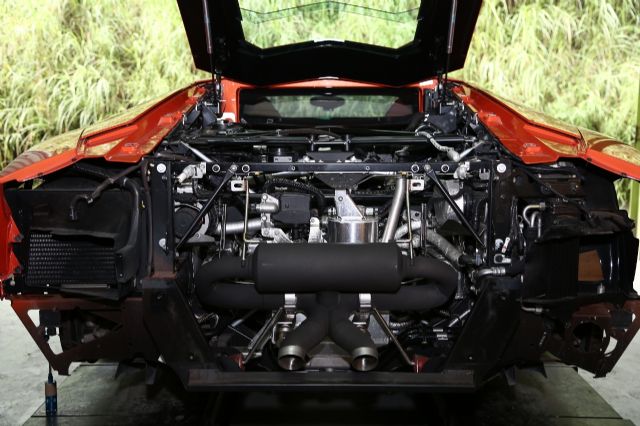 A Lamborghini equipped with iPE's top-end performance exhaust system.
With leader-of-the-pack designs and functionality, as well as more competitive pricing (though still high for general consumers), Jim Technology's performance exhaust systems are very popular in the international market and widely welcomed by supercar owners. "Many of our products are in hot demand. For example, the accumulated global sales volume of the Lamborghini LP 700 supercars in the past few years was less than 1,000 units; however, annual sales volume of iPE's performance systems for the supercar model always outstrips 100. We don't have formal statistics about the global top-end performance market, but without doubt Jim Technology's performance exhaust systems should have the highest share for at least several supercar models."
New Directions
After gaining a very solid foothold in the global top-end performance exhaust system market, Jim Technology is planning the next stage of its transformation to make the company a first-class player in the global arena.
As a key part of the transformation, Chien says, Jim Technology is trying to introduce the top-end titanium-alloy material into production of all types of exhaust systems. In addition, the president adds, his company is also strengthening its R&D division, which now counts 12 talented professionals with expertise in materials, chemicals, air dynamics, and mechanism development. The team accounts for a very high ratio of the firm's total 90 employees.
Jim Technology also aims to make its initial public offering (IPO) in Taiwan within the next three years. Over the past 10-plus years, Chien says, his company enjoyed an average of over-30% revenue growth every year. In the past three years, the ratio has been even higher.
Jim Technology is also constantly upgrading its technical strength in automotive-electronic related fields. Modern cars, especially supercars, employ an increasing ratio of automotive electronic systems onboard, Chien notes, so his company has to match such trend when developing newer and better products.
"When we are fully ready," Chien claims, "We are confident that our iPE product sales will increase strongly year after year, and that all major international top-end performance vendors or even supercar makers will try to seek cooperation tie with us."