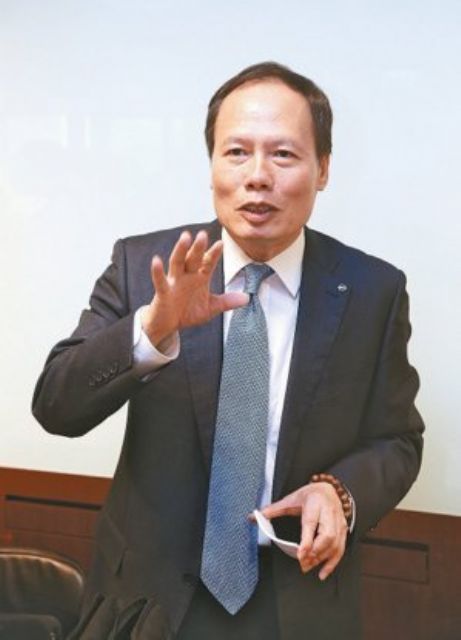 Tsai Wen-rong, chairman of TTVMA and president of auto vendor Yulon Nissan, speaks out to address the issue of imports encroaching on market share of locally-made cars and serious challenges facing domestic supply chains. (photo from UDN)
Tsai Wen-rong, chairman of the Taiwan Transportation Vehicle Manufacturers' Association (TTVMA), recently spoke out to take a firm stand for the trade group's membership or the local automobile assemblers and their domestic supply chains, who are beset by unprecedented challenges that were unimaginable a decade ago.
Years ago imported cars in Taiwan were typically seen as niche, higher-priced, luxury cars for upscale buyers, not in direct competition against locally-assembled counterparts. But fluctuating foreign exchange rates that have made Japanese yen much cheaper, rising labor rates in Taiwan, as well as introductions of entry-level cars by German carmakers priced more affordably have upset the car market share structure in Taiwan, where imported cars continue to rapidly encroach on market share typically occupied by locally-made cars.
Statistics show that imported cars in Taiwan accounted for only about 14 percent of overall new-car sales on the island in 2005; but the share has already soared to 34 percent by 2014 and as high as 37 percent in the first seven months of 2015. The annual new-car sales volume in Taiwan has been hovering at about 400,000 to 420,000 units in the past two years.
Tsai urges the government to help local auto assemblers, most of whom have technical cooperation ties with international auto vendors, also noting that the domestic automobile ownership volume is about 7.5 million units, half of which are older than 10 years. Expecting a wave of replacement purchase that the association chairman aims to tap, he urges the government to accept local automotive industry's suggestion to provide replacement incentives. Such incentives are expected to stimulate consumers' replacement purchase willingness, leading to the increase of more fuel-efficient and cleaner vehicles on the island, as well as the overall development of the local automotive industry.
Market Shares of Imported & Locally Assembled Cars in Taiwan
(2005-2015)



2005

2006

2007

2008

2009

2010

2011

2012

2013

2014

2015*

Imported

14%

16%

17%

19%

21%

23%

26%

27%

31%

34%

37%

Locally Assembled

86%

84%

83%

81%

79%

77%

74%

73%

69%

66%

63%

*: January to July Source: Ministry of Transportation and Communications (MOTC)

In 2005, Tsai says, 14 percent of the total 444,000 new cars sold in Taiwan were imported, but the ratio since has been rising. Starting in 2013, the depreciated euro and Japanese yen have effectively upgraded imported cars' price competitiveness, resulting in locally-assembled cars commanding sub-70-percent market share. Tsai says that the currency-exchange fluctuations have elevated many European auto brands' price competitiveness and their investment strategies in Taiwan, though most carmakers have opted to upgrade equipment instead of cutting prices of cars. 
The sharp deprecation of Japanese yen has also impacted the competitiveness of locally assembled models, most of which are Japanese brands. The imported Toyota RAV4 sport utility vehicle (SUV) is one of the best examples, as the model defeated all SUV counterparts on the island in sales volume; while the imported Mazda 3 (which replaced its locally-assembled predecessor) saw surging sales volume despite fetching higher prices.
F.L. Hsieh, spokesman of Hotai Motor Co. Ltd., agent of Toyota and Lexus as well as No. 1 auto vendor in Taiwan for 13 consecutive years, says that the local automotive industry has proposed two strategies to the government to sway buyers towards buying locally-made cars, including the "tax-cut for scrap" that asks the government to provide commodity-tax deduction when a consumer scraps an old car to buy a new one; and the "export for tax rebate" that offers an owner who exports an old car a commodity-tax rebate (25 percent for passenger cars with sub-2,000cc engine displacement and 30 percent for over 2,000cc) upon purchasing a new car.
Such commodity-tax rebate, Hiseh explains, is expected to result in used-car exporters buying secondhand cars at higher prices, which is expected to encourage consumers to replace their older vehicles.
Both the above proposals aim to stimulate consumers' new-car purchase willingness, Hsieh says, while the increased new-car sales volume would not result in compromised overall tax income.
Impacts on Local Supply Chain
The shrinking sales of locally-assembled cars is leading to limited sales volume of particular car models, resulting in rising production cost shared by each unit sold, which in turn sets up a malicious cycle among locally-produced cars.
Taiwan's domestic automobile market is sizable given the local population, and before the island became a World Trade Organization (WTO) member, the self-content requirement was as high as 40 percent. In recent years, the production volume of some unpopular car models has almost equaled locally-assembled foreign branded auto parts, which is hardly instrumental to cultivate the development of local auto-parts supply chains.
Industry sources say that while over 80 percent of Taiwan's auto-parts production is for exports to the international aftermarket (AM), the development and manufacturing capability for original equipment (OE) auto-parts (supplied to automakers to turn out finished vehicles) is the foundation of a country's automotive industry, likely due to the relatively stable demand for OE parts. 
In recent years, more and more local OE auto-parts suppliers have successfully leveraged their advantages in rapid development and cost-streamlining to tap into international automakers' supply chains, and such trend is a must for local auto-parts industry's future development.
Auto Vendor's Move
TTVMA chairman Tsai, also president of Yulon Nissan Motor Co. and agent of Nissan and Infiniti in Taiwan, is heading off competition from imported cars and trying to further raise sales of imported Infinitis, having announced that Yulon Nissan is scheduled to pour about NT$3 billion (US$100 million) into renewing Nissan and Infiniti showrooms and sales channels by 2018. In addition to anticipating governmental help to stimulate replacement purchase of locally-produced cars, Tsai says that local auto assemblers have to upgrade themselves in the near future.
Yulon Nissan plans to pour NT$400 million to NT$500 million (US$13.3 million to US$16.6 million) into upgrading Nissan showrooms all over the island, to elevate the brand's market share in Taiwan from 11 percent currently to the targeted 12-plus percent. A similar amount will be invested in the Infiniti brand, and Yulon Nissan aims to raise annual Infiniti sales volume by at least 30 percent over the next few years. About 1,000 imported Infinitis were sold in Taiwan in 2014, and the volume is expected to increase by 60 percent to 1,600 units this year, Tsai says.
The remaining investment, according to Yulon Nissan's plans, will be used to introduce more new technologies to facilitate Nissan and Infiniti sales.