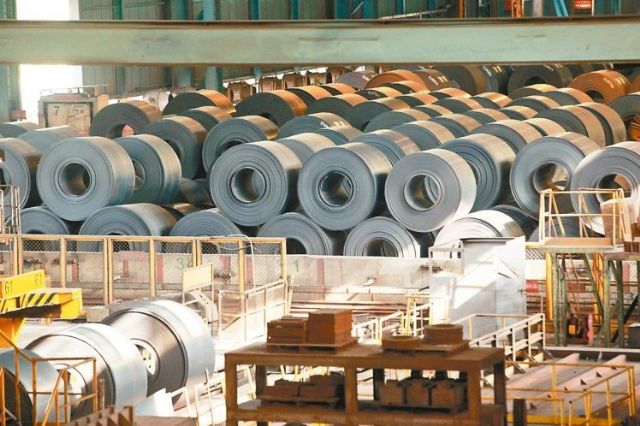 CSC benefits from utilization of cheap raw materials in production to end August with pretax profits of NT$346 million. (photo courtesy of UDN.com)
Mainly benefiting cost savings from utilization of in-stock raw materials procured earlier at lower prices, Taiwan-based China Steel Corp. (CSC), the island's largest steelmaker by size, therefore chalked up a 54-percent growth in pretax profits of NT$346 million (approximately US$10.81 million) in August over July, according to the firm's latest financial statement.
Contrasting the phenomenal profit growth, CSC's revenue for the same month, however, showed a month-on-month decline of 5.48 percent, or 26.46 percent year on year (YoY), to NT$22.628 billion (US$707 million), mainly due to persistently slack global market demand as well as weak steel price. For January-August, the firm's cumulative revenue stood at NT$200.935 billion (US$6.27 billion), down 18.32 percent from the same period of last year.
Institutional investors point out that CSC's raw materials, mainly coking coal and iron ore, used in production during August were bought earlier for around US$100 lower per tonne than those used in July, hence offsetting the impact of low steel prices to greatly drive its pretax profits as result.
Despite such encouraging profit growth, market observers generally opine that the prospects for CSC remains grim for a number of reasons, including slowing economy in emerging countries as China, India's souring investment environment and sustained weakness in the global steel market.
For one thing, India is going to impose a 20 percent duty on imported hot-rolled steels as part of its effort to protect local industries, a disappointment to the Taiwanese steelmaker, especially when it has been planning to expand its manufacturing hub of electromagnetic steel sheets.
The hub was started up this January and cost NT$7.1 billion (US$225.39 million) to construct. Spread over 60 hectares, it can turn out 200,000 tonnes or so of electromagnetic steel sheets yearly, mainly targeting Indian makers of motors and transformers ranging from the low to high end.
At the opening ceremony for the plant, CSC's chairman J.C. Tsou confirmed that the company will step up assessing the feasibility of putting aside about NT$25.6 billion (US$812.69 million) more to set up another plant of cold-rolled and galvanized steel coils with planned annual output of 1 million tonnes at the hub, provided the Indian government lifts duties levied on imported raw materials. Nevertheless, market observers note that India's intention to impose duties on imported hot-rolled steel may force CSC to sideline the expansion project, given that the hub imports all the needed materials from CSC's subsidiaries in Taiwan.
Another disadvantageous factor, industry insiders say, is that CSC's products exported to India are subject to a 10 percent tariff for the time being, compared to less than 1 percent levied on the same products imported from Japan and S. Korea, mainly because Taiwan has failed to forge a free trade agreement with India to further dampen future prospects for CSC in the lucrative market.
CSC's 2015 Revenue by Month
Month

Revenue

Year on Year Growth Rate

Cumulative Revenue

Year on Year Growth Rate

Jan.

NT$29.403 Bn.

-9.01%

NT$29.403 Bn.

-9.01%

Feb.

NT$23.583 Bn.

-17.42%

NT$52.986 Bn.

-12.95%

Mar.

NT$27.816 Bn.

-11.81%

NT$80.803 Bn.

-12.57%

Apr.

NT$25.352 Bn.

-17.58%

NT$106.156Bn.

-13.82%

May

NT$24.191 Bn.

-22.00%

NT$130.347Bn.

-15.46%

Jun.

NT$24.018 Bn.

-20.96%

NT$154.366Bn.

-16.37%

Jul.

NT$23.940 Bn.

-21.87%

NT$178.306Bn.

-17.15%

Aug.

NT$22.628 Bn.

-26.46%

NT$200.935Bn.

-18.32%

Source: Market Observation Post System