Global sales of new cars in the first six months increased only 0.5 percent year-on-year (YoY) to 43.7 million units, according to statistics compiled by Wards Auto, a dedicated automotive website.

Though the overall volume is quite similar to last year's, detailed analysis shows ups and downs across different markets, including obvious growth in Europe, mild increase in North America, and slight drop in Asia. Almost all countries in South America saw clear sales slides, making the region the worst sufferer of volume decrease during the period.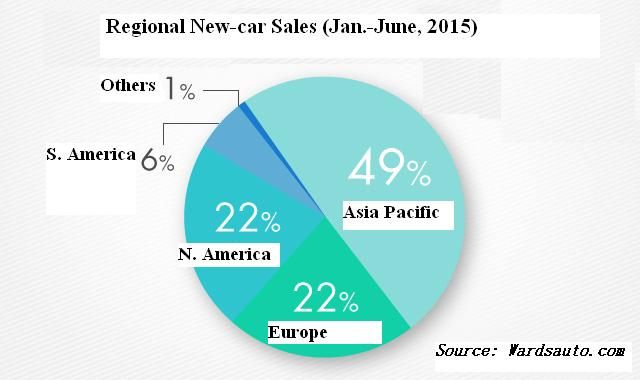 Regional new-car sales Jan.-June 2015. (Source: WardsAuto.com)
Clear Drop in S. America
Due mainly to the clear demand drop in June, new-car sales in South America totaled only about 2.2 million units in the first half, a 16.5 percent drop from a year earlier. Brazil had been the largest automobile market in the region, but sales in the nation saw a 19.6 percent YoY decline, compared to Colombia's 5.7 percent negative growth and Uruguay's 8.3 percent slide. Chile, however, suffered the stiffest YoY volume decrease of 20.7 percent; while Venezuela showed a contrarily impressive sales performance: 33.3 percent YoY growth, albeit with the nation's volume only accounting for 0.5 percent of the overall South American market.
Asia
New-car sales in Asia have been on a downtrend since 2014, but only modestly. In the first half of 2015, Asian new-car sales dropped by 0.9 percent from a year earlier to about 20.9 million units.
Indonesia suffered the deepest YoY new-car sales drop of 18.2 percent in the region, compared to Thailand's 16.3 percent and Japan's 11 percent. China, the world's single largest automobile market by sales volume since 2011, remained on par with about 11.9 million new cars sold in the first half, a little higher than 11.7 million sold a year earlier. Countries in the Asia Pacific region enjoyed the highest volume growths during the period, including Pakistan, Singapore and Vietnam.
North America
New-car sales in North America grew by 5.4 percent YoY in the first half to reach 10.3 million units, with positive YoY growths in each of the first six months. The United States and Canada saw 4.7 percent and 2.8 percent YoY volume growth, respectively, in the first half, with Mexico's being 21.5 percent.
Europe
In June 2015, demand for new passenger cars in the EU was up 14.6 percent, continuing the uptrend that began 22 months ago and marking the largest monthly increase since December 2009.
Auto sales in Europe took the lead over other regions in growth rate in the first half, including a 10.2 percent YoY growth in June, while the volume during the period totaled some 9.9 million units. The growth rate in Germany, the U.K., France, Italy etc. major markets all outstripped 5 percent, being 5.2, 8.7, 5.3 and 14.6 percent, respectively. Unsurprisingly and likely due to the global sanctions, Russia's new-car sales in the period fell by 36 percent YoY.
Judging from the first-half sales performance, Wards Auto forecasts 2015 global new-car sales to reach some 90.6 million units.