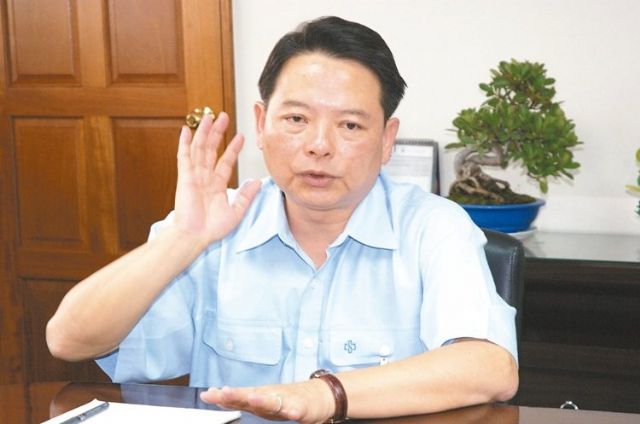 CSC chairman J.C. Tsou (photo courtesy of UDN.com)
Taiwan-based China Steel Corp. (CSC), the island's largest steelmaker by size, signed a memorandum of understanding (MOU) with Indonesia-headquartered AG Network, a conglomerate of financial, real estate, civil engineering, telecommunication and media businesses, to jointly explore considerable business opportunities in civil engineering in the emerging country reportedly with the largest Muslim population.
Chairman J.C. Tsou of CSC inked the MOU with AG Network in Jakarta early September, and mentioned that the firm will pour at least NT$6 billion (about US$187.5 million) initially into setting up a joint-venture steel mill to supply mainly steel bars and H-beams to Indonesia's buoyant civil engineering sector.
So far, the details of the partnership between the two sides are still being ironed out. According to sources with knowledge of the partnership, the two sides have come up with a preliminary plan to first penetrate the downstream side of the local supply chain, and then expand their reach to the upstream side. The sources noted that the two parties will assess factory location and production plan based on results of market surveys to be conducted later.
Justifying potential benefits of the partnership, CSC said that Indonesia is the largest nation across the ASEAN (Association of Southeast Asian Nations) bloc, with a population of 250 million people and robust GDP growth of 5-6% on average over the past years. Incongruous to its considerable influence over the regional market, the country's steel consumption per capita, however, totals only 5.3 kilograms per year, far lower than the ASEAN average of 11.3 kilograms, reports the firm. Such imbalance indicates tremendous business potential in the local market for steel, particularly significant when the Indonesian government has been actively developing the local economy through investing in civil engineering or public works in recent years.
With an eye on the potentially massive market, CSC says that it therefore has decided to put aside at least NT$5-6 billion (US$156.25-187.5 million) initially to develop the market jointly with AG Network. Ideally the abovementioned joint-venture steel mill will be started up as early as next year to produce steel bars and H-beams. If everything goes to plan, the both sides will further invest in setting up electric arc furnaces and blast furnaces locally, states CSC, who said that the two parties won't rule out the possibility of importing the mill's needed steel billets directly from Taiwan or by outsourcing, so as to cut production cost.
More notable is that the partnership enables CSC to build a solid foothold in Indonesia, where it will share the sizeable steel market with its Japanese and S. Korean counterparts. Currently, a few Japanese and Korean steelmakers have effectively tapped the market, with the former focusing mainly on painted steel plates and the latter, including Posco Steel, on thick steel plates. By supplying steel bars and H-beams, CSC can fend off direct competition against those rivals.
Viewing the long-term, CSC indicates that the cooperation with AG Network is key to overcoming tariff barriers to better develop the ASEAN market, especially when Taiwan has failed to be integrated into the regional free-trade bloc. This year, for example, Indonesia has just raised its duty on steel imports from Taiwan from 2.5% to 15-20%, which has seriously impeded Taiwanese steelmakers to enter the market.
Further indication of the southeast Asian regional market potential lies in the many Taiwanese steel firms, starting with CSC, Formosa Plastic Group (plastics and petrochemicals maker with a steel complex in Vietnam) and E United Group, having continually moved to deploy operations in the ASEAN bloc, with cumulative investments there already exceeding NT$370 billion (US$11.56 billion).