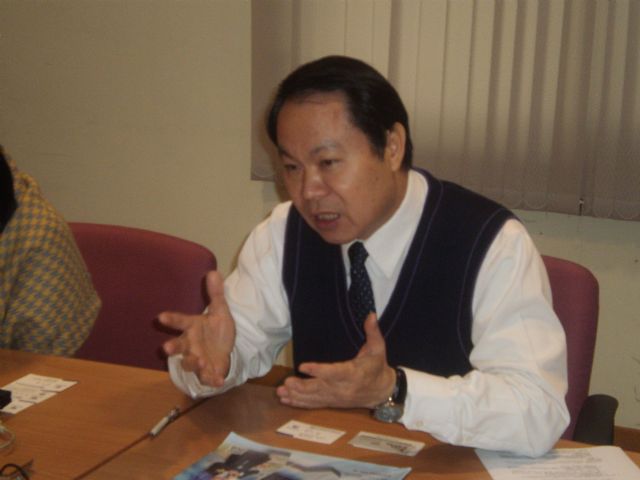 Arthur Wu, chairman of THTMA and Proxene Tools Co., Ltd., Taiwan's top-end wrench maker.
While Taiwan has posted several consecutive months of negative export growths this year to mark its worst export performance ever in the past six years, hence likely to see flat growth in its export-driven economy this year, Arthur Wu, chairman of Taiwan Hand Tool Manufacturers' Association (THTMA) seems unfazed to still express optimism towards sustained buoyancy of Taiwan's hand tool industry in the years ahead at the THTMA annual general meeting (AGM) held mid-September in Taichung, central Taiwan, the hub of the island's hand tool industry due to clustering of many makers and subcontract suppliers in the region.
Affected by persistently weak international oil prices and slowing economy in China and India as well as other emerging countries as Thailand, the Philippines and Indonesia, coupled with greatly devalued Japanese yen, Korean won and euro, Taiwan's exports totaled US$23.93 billion in August, increased US$380 million from the previous month but dropped US$4.14 billion, or 14.8 percent, from last August, according to the report issued by the Ministry of Finance (MOF) in mid-September.
The MOF reported that the figures show a continual fall for the ninth consecutive month on a yearly basis, as well as a sustained double-digit drop for the third consecutive month, being Taiwan's worst export recession since the 2008 financial crisis.
For the first eight months of 2015, Taiwan's cumulative exports shrank by 8.8 percent to US$189.89 billion compared to the same period of 2014.
Based on such export performance, Taiwan's GDP growth, which relies mainly on exports, is hence expected by economists and market observers to sizably slow to sub-1 percent in 2015, compared to over 3 percent forecast earlier in the year.
Despite the lackluster economic prospects, under which most of Taiwan's major manufacturing industries, including precision machinery, ICT (information and communication technology)-based devices, petroleum, chemicals, etc., will likely suffer declines in 2015, chairman Wu of THTMA optimistically stressed at the AGM that Taiwan's hand tool sector will likely remain in comparatively good shape for a couple of reasons.
The AGM attracted a large number of industry insiders, executives and personalities with close ties to Taiwan's hand tool industry, including CENS' general manager Tommy Ni, who was seated in the VIP section at the venue.
Positive Growth Achieved
In his opening speech at the AGM, Wu noted that Taiwanese exporters from different industries have widely encountered new challenges in the global market since international oil prices began to spiral downward in the second half of 2014, coupled with the lingering impact of the Greek debt crisis, which caused the euro to have continuously depreciated, once to a nadir of one euro to US$1.056. In contrast the New Taiwan dollar had appreciated 21.55 percent year on year until early 2015 to severely dampen Taiwanese suppliers' price competitiveness. Meanwhile sub-US$50 per barrel crude oil prices have resulted in downsizing of operations by smaller, less-cost-efficient oil explorers to impact downstream equipment suppliers. In addition geopolitical risks as ISIS-related unrest in the Mid-East, the fallout from the Russian annexation of Crimea and the ongoing conflict in the Ukraine also dampen global economic prospects. Furthermore, Taiwan suppliers seem to be perturbed by the rise of the so-called "Red Supply Chain" (a term coined by market observers to indicate China's determination to step up developing local tech industries to reduce dependence on imports), as well as threats resulting from continuously depreciating Japanese yen and Korean won.
Quoting the latest report issued by the Ministry of Economic Affairs (MOEA) on August 19 to emphasize the current uphill battle for Taiwanese manufacturers, Wu furthered that Taiwan's exports have continuously dropped since this February, leading to a 9.21 percent decline in Taiwan's overall manufacturing output of about NT$3.3 trillion (approximately US$103.12 billion) in the second quarter of this year, which was the steepest single-quarter drop in the past six years. This resulted in Taiwan's quarterly GDP growth significantly slowing to only a 0.52 percent in the quarter from 3.37 percent seen a quarter ago.
Notwithstanding such formidable challenges, Wu said proudly that Taiwanese hand tool suppliers generally have achieved robust sales, as reflected by the industry's buoyant exports that hit NT$101.67 billion (US$3.17 billion) in 2014 for a 6.2 percent growth over 2013, with a 2.6 percent increase in the first five months of 2015 over the same period of 2014 (Data sources: Taiwan Institute of Economic Research and Metal Industries Research & Development Centre, respectively).
Reporting additional good news to consolidate his optimism for the industry's sustained growth, the chairman stated that some of THTMA's members have even chalked up 20 percent growth in cumulative exports for the January-July period, underlining unparalleled adaptability and fortitude of Taiwanese hand tool manufacturers in the face of market volatility.
Backed by the abovementioned traits, coupled with hard work on continuous improvement of quality and value, Wu believes that Taiwanese hand tool suppliers will likely finish the year with positive growth in exports, which has been made possible partly by the collective efforts of government and THTMA, who have engaged in projects to aid the industry upgrade and explore overseas markets over the past few years.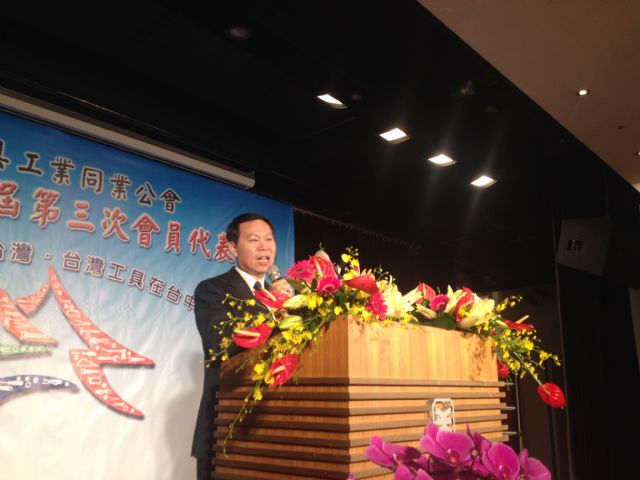 Wu stresses that Taiwan's hand tool industry remains in good shape despite the island's worst export recession ever in the past six years.
Governmental Support
Giving credit where it is due, Wu expressed appreciation particularly to the Taichung City Hall, which has sponsored for three consecutive years the Taiwan Hardware Show (THS), organized by Kaigo Co., Ltd., to be held in Taichung, which has effectively helped build links between the industry and the city to have achieved positive results.
For instance, Wu said, THS saw its turnout further grow in 2014, when more than 320 exhibitors and 25,500 visitors and buyers from all over the world were recorded, up 6.7 percent and 7.3 percent, respectively, from the 2013 edition, mostly thanks to financial support from the Taichung City Hall to turn the city through the exhibition into the hub of hand tools for global buyers.
Emulating the Productivity 4.0 project promulgated by the central government, Taichung City Hall has recently mapped out a program designed to assist local traditional manufacturing industries, including hand tools, to upgrade and automate production, so as to help address manpower shortage and enhance added-value, said Wu. To coordinate with the effort, the chairman said that THTMA will step up aiding hand tool makers to continuously upgrade R&D capability; improve production efficiency through advanced concepts, such as lean production; and introduce state-of-the-art automation technology to achieve "smart production."
Wu also praised the Bureau of Foreign Trade under MOEA for sponsoring THTMA to organize exhibitor groups to go to eight trade fairs worldwide and hold several forums and seminars in Taiwan this year, as well as the Industrial Development Bureau for commissioning the Metal Industries Research & Development Centre (MIRDC) to carry out an industrial development project specifically for the hand tool industry. Such programs and support, the chairman noted, will certainly drive the industry to develop sustainably in the global market in the near future.
THTMA AGM 2015, held mid-September in Taichung, central Taiwan, attracts a considerable number of industry insiders, officials and industry personalities.
THTMA's Own Efforts
Without neglecting its duty to the membership, THTMA has also invested ample resources on its own to build the industry's image and capabilities over the past few years.
For example, Wu reported that THTMA worked with China Steel Corp., Taiwan's largest steelmaker by size and the major supplier of carbon steels and alloys to local hand tool makers, along with Taiwan Steel & Iron Industries Association and the Chinese Institute of Mining & Metallurgical Engineers, to hold a seminar titled "Techniques and Practices of Thermal Treatment for Hand Tool Materials" in late 2014, an event that was almost fully booked and helped hand tool makers to enrich knowledge and techniques required for further enhancing durability and quality through thermal treatment. 
To build the industry's presence abroad, Wu reported that THTMA has also set up a partnership with Japan's TsubameSanjo Regional Industries Promotion Center, an organization that promotes industries within Tsubame and Sanjo in the Niigata Prefecture that is known as the hub of Japan's metalworking and metal product industries, by mutually sending representatives to enhance exchanges between hand tool manufacturers in Taiwan and Japan, in an effort to create symbiosis in the long run.
Besides, THTMA has joined hands with local universities and R&D institutes, including National Yunlin University of Science and Technology, and MIRDC, to either set up an R&D center for the development of next-generation hand tools, or research, develop new production and testing technologies to add value to Taiwan-made hand tools. So far, Wu confirmed, the industry-academia synergy created has gradually resulted in positive results to pump growth momentum into the industry.
Wu concluded to say that despite Taiwan having lagged behind China and Korea in signing free trade agreements and hence suffered export declines, Taiwanese hand tool makers can still fare well in the global market mostly thanks to operators' diligent pursuit of excellence in quality and service. He stressed, "While the global market has become increasingly volatile amid economic instability, Taiwan's hand tool industry still has strong growth potential. The THTMA is always aspired to do its best to turn Taiwan-made hand tools into boutique products known and recognized among global buyers."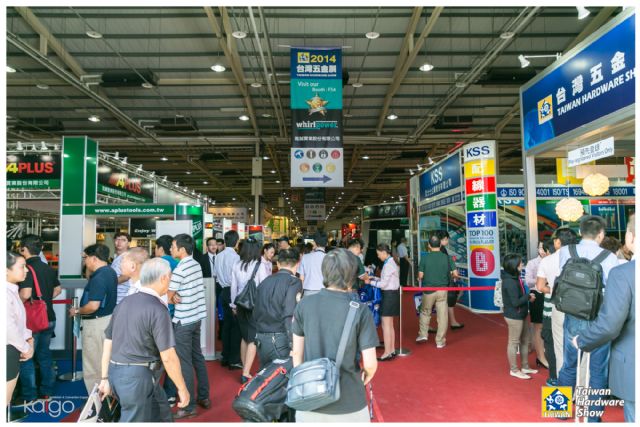 THS 2015, scheduled October 12-14 in Taichung, will again feature plentiful hand-tool exhibitors mostly led by THTMA (photo courtesy of Kaigo Co., Ltd.).
Export Value of Taiwan's Hand Tools in Jan. Thru Apr., 2015, by Destinations and Categories Unit: NT$10,000
Destination

Socket

Wrench

Plier

Vice

Screwdriver

Hammer,Axe, Pickaxe, Shovel

Saw

Scissor

Tool Sets

Garden Tools

The U.S.

99,175

57,392

47,887

9,253

15,337

17,046

8,764

11,152

71,536

43,110

Canada

4,523

43,796

1,757

1,080

877

919

250

1,049

2,188

2,864

Japan

8,451

14,420

3,786

3,446

1,968

1,842

1,019

3,472

2,188

2,864

Hong Kong

309

1,688

1,589

60

419

10

560

383

749

195

China

32,402

9,106

6,775

666

2,306

1,257

2,680

1,551

3,329

4,370

Germany

17,666

18,235

7,891

2,984

1,338

2,623

2,470

887

23,216

21,374

France

20,641

17,375

5,874

1,477

1,301

1,301

949

1,936

2,332

2,348

The U.K.

8,357

9,386

4,649

1,359

2,268

837

745

1,082

12,340

7,359

Italy

2,547

7,009

3,590

756

1,952

301

564

2,222

3,178

6,001

Australia

6,784

16,557

4,564

896

2,871

1,318

1,698

818

5,065

8,853

Africa

3,848

3,127

1,674

531

835

132

235

430

3,249

2,026

Others

102,811

73,622

33,788

12,655

15,836

9,639

12,512

9,532

66,834

42,247

Total

307,513

241,710

123,824

35,166

47,308

37,227

32,445

34,513

196,661

146,163

YoY Growth

1.4%

2.0%

7.6%

-0.9%

-9.8%

11.2%

1.7%

-7.7%

3.5%

-4.6%

Source: Taiwan Hand Tool Manufacturers' Association