Ratchet wrenches, gear wrenches, bolt cutters, 72-tooth ratcheting combination wrenches, combination wrenches
Chang Loon Industrial Co., Ltd. is a leading Taiwanese supplier of ratchet wrenches, gear wrenches, 72-tooth ratcheting combination wrenches and bolt cutters, with over 37 years of experience. Today, the firm's is widely recognized as the island's largest ratchet wrench supplier by exports.

With particular emphasis on product quality, each hand tool made by Chang Loon boasts higher torque rating and stronger structure than those of competing models that already meet international standards, such as ANSI and DIN. Such achievement is realized by the company's effective production system and rigid quality control. 

To secure quality-dependable raw materials, Chang Loon adopts steel only from Taiwanese suppliers, and pays special attention to heat treatment, which is a key process to achieve sturdy structure and prolonged service life. Also, the firm employs advanced testing instruments, including precision projectors and tension testers, in house to make sure quality controlling standards measure up.

To enhance the overall added-value, the firm designs packaging with eye-catching looks and functions for optimal appeal, and offers ready-to-display packaging options to buyers due to rising cost of raw materials in recent years, as well as to meet the needs for cutting labor input for buyers who can simply deliver pre-packaged goods to retailers.  

With ratchet wrenches marketed under its own "Pro-ratchet" brand, Chang Loon's hand tools have become very popular worldwide, including in the U.S., Japan, the U.K., Germany, France, and so on.

In addition to offering innovative design and eye-catching packaging, the company has also taken concrete steps to differentiate its hand tools. For instance, Chang Loon makes the heads of all its ratchet wrenches thinner than those of competing models, as well as lighter, which make them readily recognizable. 

Another patented, considerate design on its ratchet wrenches is the colored circle embossed on the head that clearly shows the size of the wrench in Imperial or metric units. 

Despite having built a solid reputation globally for hand tools, especially ratchet wrenches, Chang Loon still keeps sharpening its R&D capability to become the world's best hand tool maker on the OEM and ODM (original design manufacturing) basis.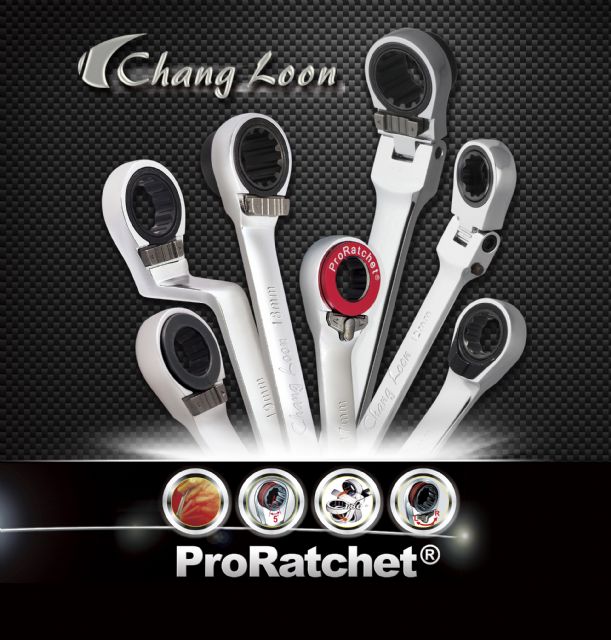 Colored ring embedded in heads have proven to be a successful design of Chang Loon's ratchet box-end wrenches.
Chang Loon Industrial Co., Ltd.
No. 349, Maming Rd., Shioushuei Township, Changhua County, Taiwan 504
Tel: 886-4-768-8568
Fax: 886-4-768-8528
Email: proratchet@chltool.com
Website: http://www.chltool.com