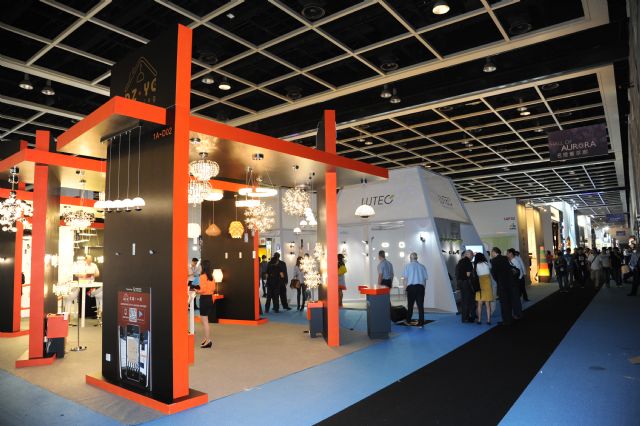 More exhibitors expected at the 17th Autumn Edition of HKTDC Hong Kong International Lighting Fair.
The 17th Autumn Edition of HKTDC Hong Kong International Lighting Fair (LFAE), to be staged October 27-30, 2015 at the Hong Kong Convention and Exhibition Centre, will accommodate over 2,530 exhibitors from 38 countries, an increase from 2014 event's 2,492 exhibitors.
First-time exhibitors at the 2015 show mainly come from Chile, Cyprus, Saudi Arabia, Seychelles, and the UAE.
The LFAE is recognized as an ideal platform for high-quality lighting products, solutions and services, not to mention a prominent forum for global lighting buyers and exhibitors to exchange views on global lighting trends, to discuss business and network.
Last year, the show drew over 37,000 buyers from 135 economies to source the latest lighting products among the exhibitors, which laid expectations that more buyers would attend the 2015 event.
On the floor of the 2015 lighting fair, highlighted zones include Hall of Aurora, LED & Green Lighting, Commercial Lighting, Smart Lighting & Solutions, Household Lighting and Small-Order Zone, which offer innovative, functional, and customized lighting designs and solutions.
With energy efficiency still one of the world's urgent issues, every year exhibitors race to come up with the newest energy-conservation designs at the Hong Kong lighting fair.
For instance, Nokero International Ltd. (Booth No: 1C-D34) will exhibit the N222 Solar Light Bulb with Phone Charger, which is particularly designed for developing economies. It is ideal for off-grid lighting and can charge both flip and bar phones widely used in developing economies. The bulb also comes with a yellow lens that filters light wavelengths visible to insects and a red lens that transmits light visible to humans in the dark.
AZ E-Lite (HK) Ltd. (Booth No. 5B-C02) will present the Mono LED Lamp, which is dimmable with one touch and removable from its base. It can double as a mood light for living room or a table lamp for romantic al fresco dining. It boasts lifespan of up to 25,000 hours. With built-in Qi wireless charging technology, the user can charge Qi-enabled smartphones simply by placing them on the lamp base.
Smart lighting is another striking technology at the 2015 show. The German exhibitor, Vossloh-Schwabe Deutschland Gmbh (Booth No. 1B-C10) for instance, will display the LiCS Light Management System, which is developed to string multiple light controllers together via TCP/IP to form a network that is centrally accessible by a server. The foremost advantage of the system is its almost unlimited integration with control devices such as PCS, laptops, tablets and smartphones, which can be easily configured to control the luminaires.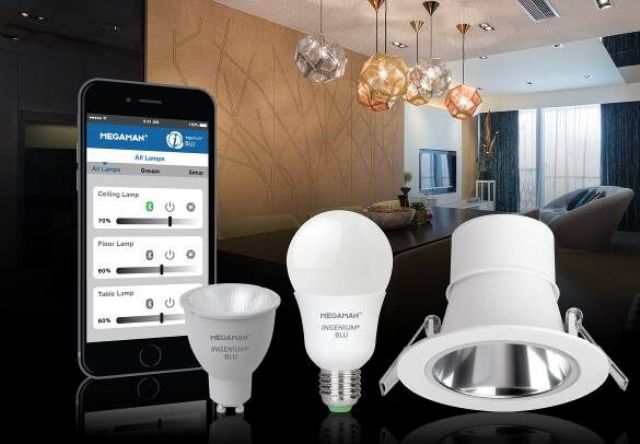 Neonlite's BLU Smart Lighting Solution.
Neonlite Electronic & Lighting (HK) Ltd. (Booth No. 1D-B02) will launch the INGENIUM® BLU Smart Lighting Solution Series, a brand new series of LED lamps integrated with the Bluetooth 4.0 technology. The lamps give off light up to a diameter of 10 meters, coming with value-added functions including dimming, programmable scene setting, grouping lamps for easier control, and time preset. The user can simply install MEGAMAN® Bluetooth LED lamps, download INGENIUM® BLU App and gain access to lighting control through the smart device.
A series of seminars, forums and networking activities will take place on the sideline of the fair. Local and overseas lighting executives will share insights on lighting's role in the Internet of Things, the development of the global lighting market and so on. My Favourite Lighting Products 2015 will feature exceptional lighting products from exhibitors and online voting is open to buyers from now through October12. Winning products will be on display throughout the fair in Hall 1A Concourse.
To maximize sourcing opportunities and exhibitors' exposure, Hong Kong Trade Development Council (HKTDC), the organizer of the lighting fair, this year removes the outdoor lighting, lighting accessories and parts and components product zone from the lighting fair to open "World of Outdoor Lighting & Lighting Accessories" at Asia World-Expo for the first time to host the components and accessories exhibitors.
The new event will be held alongside the HKTDC International Building and Hardware Fair and the Eco Expo Asia at Asia World-Expo October 28-31, 2015 in consideration that lighting products are also a key element in architectural design. This new arrangement will generate a synergistic effect and create cross-sector collaboration opportunities for both lighting and building-materials industries.
In the first seven months of 2015, Hong Kong exported HK$ 5.9 billion (US$766.23 million) of lighting products, with the shipments increasing 12.1% year on year to the United States, 8.9% to mainland China, and 53.5% to India. The top-five markets for the city's lighting products are the U.S.A. mainland China, Japan, Germany and France, with the U.S.A, mainland China and Japan together accounting for over 50% of its total exports.