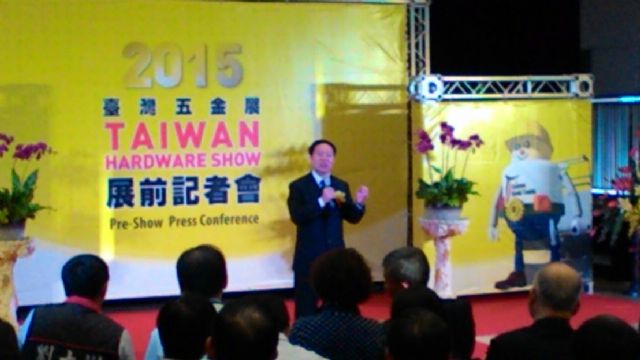 THTMA Chairman Arthur Wu, at a pre-show press conference, says THS has expanded after moving to Taichung.
A total of 382 exhibitors displayed their latest products and technologies on 15,100 square meters of venue at the Taiwan Hardware Show (THS) 2015, held September 12-14, 2015 at the Greater Taichung International Expo Center in central Taiwan, increasing from 2014's 340 exhibitors and 12,571 square meters to hit a three-year high since 2013, when it was moved to Taichung after 12 consecutive years in Taipei.
Chairman Arthur Wu of the Taiwan Hand Tool Manufacturers' Association (THTMA), the island's only trade group representing local hand tool manufacturers, points out that this show has drawn increased number of visitors every year since it moved to Taichung partly thanks to the convenience for buyers to tour exhibitors' factories, which are mostly clustered around Taichung.
Wu, whose association represents around 500 hand tool makers and related subcontractors island-wide, says that a survey conducted by the Taichung City Government, which financially supports this trade fair, shows 81% of the exhibitors at the 2014 event had said they received more orders in 2014 than at the 2013 show, with 76% saying they would come back to the show this year.
Kaigo Co., Ltd., the show organizer, estimates this year's THS to have attracted over 27,000 visitors from all over the world and created hefty business opportunities during and after the show. Last year, the turnout of 25,589 visitors, including the 3,658 foreign buyers, represented an increase of 7.3% from that of the previous year.
The annual THS is Taiwan's only trade fair specifically for the hardware industry, serving as the most specialized business platform for global buyers looking for high quality hand tools from local suppliers.
This year, the organizer set up eight exhibition zones, namely Tools & Equipment, Locks & Fittings, Fasteners & Fittings, Building Supplies, Garden & Outdoor Equipment, Automotive Supplies & Accessories, Machinery and Plant Equipment, and Safety Equipment & Products.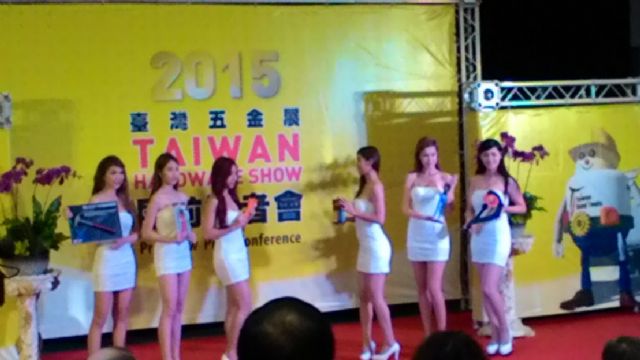 Showgirls present hand tool samples at the press conference.
What made the 2015 edition of this show different from the previous editions is the Plumbing Hardware section being set up the first time within the Tool & Equipment zone. The newly added section aims to promote the island's plumbing industry, which is mostly clustered in Chunghua County, also in central Taiwan, compared with the island's hand-tool industry that is mostly concentrated in Taichung.
THS 2015 was purposefully promoted as the dedicated hardware show in Asia focusing on "upscale hand tools" in an effort to underscore the high-performance materials and specialized designs of Taiwan-made tools, especially when local manufacturers have lost some market share to low-end competitors from mainland China.
To impress global buyers with Taiwan's superiority in hand tool production, the THTMA organized a big exhibitor group composed of its members, who displayed their newest, best products in distinctly decorated booths, which, sponsored by the organization, had a shared "THTMA" image to be easily identified at the venue.
According to Wu, Taiwan's hand tools now go to market at average unit price of US$11 per kilogram, double the average price of China-made tools. Tools integrated with digital technology, he notes, even fetch US$50 per kilogram. He attributes such achievements mostly to the China Steel Corp., recognized as Taiwan's largest steel maker, for helping the trade group develop special-purpose alloys for tools. 
The CSC-developed special-purpose alloys, the chairman stresses, are qualitatively equivalent as that from Japan but less expensive.
Citing statistics from the non-profit Taiwan Institute of Economic Research, Wu points out that Taiwan exported NT$101.67 billion (US$3.17 billion) of hand tools in 2014 alone, up 6.2% from the previous year. The Taiwan industry's exports still increased 2.6% year on year in the Jan.-May period of this year regardless of the tough macro economy, which inspires hand tool makers on the island to remain optimistic toward performance in 2015, says Wu.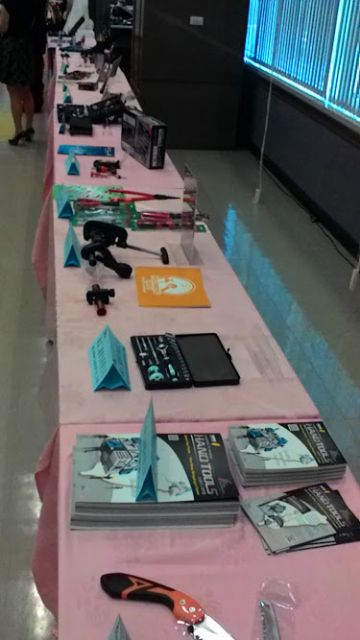 Hand tools displayed at the press conference to underscore high added-value of Taiwan's hand tool industry.
Although some exhibitors feel that market outlook for their business remains uncertain for the rest of 2015 because of weak demand, they say the weakened NT-dollar, which has devalued to nearly 33 for one US-dollar from 31-plus in recent months, coupled with the fall in steel price to have made their products more competitive on the global market.
The show also held a series of supplementary events, including industry forums, one-on-one meetings between exhibitors and buyers, new product presentations and factory tours, with an aim to enhance exchanges among industry insiders attending the exhibition, also to help them stay updated with market trends.