Bell Taih Corp., a leading Taiwanese manufacturer of decorative lanterns and shades, is promoting a unique pendant lamp set with an exterior crystal ring, a design based on the theme from "Lord of the Rings".

The lighting fixture is made up of three inter-connected rings, on which are mounted crystal-like acrylic prisms, which colorfully refract the light from an E27 lamp. The lamp can use an incandescent, a compact fluorescent lamp, or an LED bulb.

Founded in 1981, Bell Taih is a dedicated maker of bathroom lighting products, including mirror lights, cabinet mirror lights, new G9 Halopin mirror lamps, and LED lamps in addition to bathroom accessories and furniture. Its accessories are mostly made of PP and acrylic and its lamps are mostly of poly-resin in artistic design coupled with ceramic vases or figurines.

The company has grown into a sizable operation ever since it began drumming up outsourcing orders from foreign buyers few years after its establishment. Now it supports many leading lighting factories in Asia and supplies the markets across the world. In the first few years, the company supplied decorative lanterns and lampshades, mostly to the United Kingdom.

Bell Taih is now a leading supplier of decorative lighting products and bathroom accessories in Taiwan, with customers spread across the world.

The company is a popular supplier mostly thanks to its production of high quality products at extremely competitive prices, which it achieves by mostly dealing directly with big stores, integrating products with the latest trends, and adhering to well established quality control system.

Bell Taih believes that the key to success in its industry is constant innovation, and achieves such motto by steadily converting new ideas into concrete designs. Always pursuing the objective of providing customers with optimal products and services, the company persistently enhances its manufacturing capacity by adding new production software and hardware.

With abundant experience in lighting industry and advanced lighting technology, the company is confident to offer the best lighting solutions.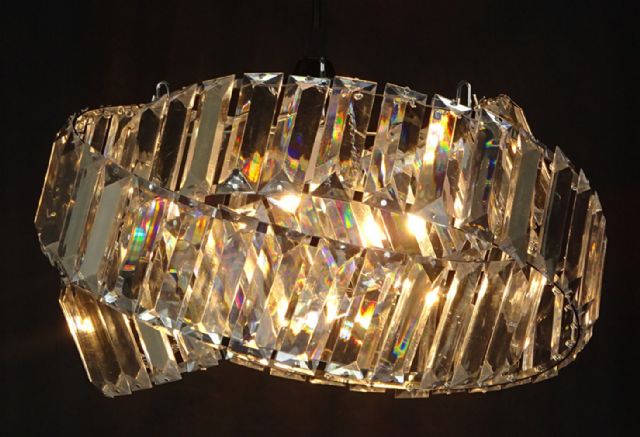 Bell Taih's "Lord of the Rings" pendant lamp.
Bell Taih Corp.
2F, No. 222-1, Sec. 5, Nanjing E. Rd., 105 Songshan District, Taipei City, Taiwan;
Tel:+886-2-27660016;
Fax:+886-2-27660034;
Email:btcorp@belltaih.com;
Website: www.belltaih.com