Taiwan Oasis Technology Co., Ltd., one of Taiwan's leading light emitting diode (LED) makers, is promoting its Satellite Pendant Lamp.

Measuring 200mm long, 200mm wide, 140mm high and weighing 0.55 kilograms, the lighting fixture consumes 9W of power to deliver 600 lumens of warm white light with color rendering index (CRI) greater than 80.

The pendant lamp is an ideal lighting fixture for family and other indoor places that need ambient lighting to create inviting atmosphere.

The company, otherwise known as Oasistek, was founded in 1974 in Taiwan. With years of diligent effort in setting up vertically-integrated capability, the company now makes LED displays, LED lamps, surface mounted device (SMD) LEDs, high power LEDs and LED lighting fixtures, including pendants, troffers, recessed lights, panel lights, and streetlights.

In recent years, the company has transformed itself into a system developer from a mere manufacturer of components.

Thanks to its dedication to R&D of components crucial to LED manufacturing, such as plastic molding, plastic injection, printed circuit board (PCB) manufacturing and LED casing, the company has complete and diversified manufacturing services.

Taiwan Oasis has built solid technical strength, which is mainly upheld by precision manufacturing equipment, stringent quality inspection, scientific management, and well trained R&D specialists.

Cutting-edge LED technologies, well trained R&D talents, and advanced manufacturing techniques have together laid solid foundation for the company to consistently offer quality products. Placing strong emphasis on research and development, quality, service and innovation, the company has been able to develop innovative products in tune with customer requirements.

Following the belief that the key to success in the LED industry is to stay innovative, the company has never stopped converting new ideas into tangible designs.

Backed by innovation and advanced manufacturing technique, the company has become the first manufacturer in Taiwan to provide LED products to several well known Japanese companies.

Over the past three decades or so, the company has grown into a manufacturer of eco-friendly electronic products with its advanced LED technologies and strong commitment to ecological protection.

Headquartered in Taipei and running an operation center in Taoyuan, northern Taiwan, Oasistek runs two manufacturing sites in Dongguan, Guangdong Province, mainland China.

Since the company was founded over 30 years ago, the company has always valued its staff, believing business growth and progress in a company rely on diligence of employees. Such motto is carried through its employment policy of "Placing right person in right position." Also the firm provides employees with continuing career development and training to further sharpen skills.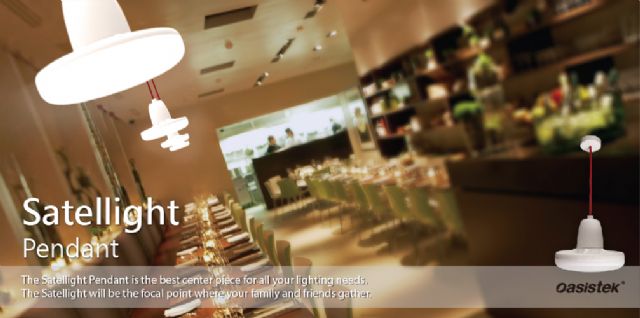 The Satellite Pendant Lamp from Taiwan Oasis.
Taiwan Oasis Technology Co., Ltd.
11Fl., No.306, Sec.4, Sinyi Rd., Da-an Dist., Taipei City 10679, Taiwan
Tel:+886-2-2706-6258
Fax:+886-2-2325-0029
E-mail: service@oasistek.com.tw;
Website: www.oasistek.com.tw