With ever more electronic safety features being installed in cars to minimize accidents from human error, one of the recent developments that will change sales, production structures in the U.S. automotive sector is that 10 major vehicle manufacturers have committed to making automatic emergency braking (AEB) a standard feature on all new vehicles, according to the National Highway Traffic Safety Administration (NHTSA) and the Insurance Institute for Highway Safety (IIHS).

With such notable move, industry experts say that the industry is entering a new era of vehicle safety, focused on preventing crashes from ever occurring, rather than just protecting occupants when crashes happen. Before this decision, technologies such as AEB were only available as options on more expensive models to result in extensive benefits that pervade among car owners. 

The commitment, more specifically, also represents a major step towards making crash-prevention technologies more widely available to consumers. The 10 companies–Audi, BMW, Ford, General Motors (GM), Mazda, Mercedes-Benz, Tesla, Toyota, Volkswagen and Volvo–will work with IIHS and NHTSA in the coming months on the details of implementing their historic policy, including the timeline for making AEB a standard feature. The Department and IIHS encourage all other light-vehicle and trucking manufacturers to bring automated vehicle technology to all vehicles on U.S. roadways as soon as possible.

AEB, also known as forward collision avoidance, uses a combination of radars, cameras, lasers, and sensors to track the distance from a vehicle traveling ahead. If the system detects that a driver is not applying the brakes hard enough–or at all–to avoid an imminent crash, it will automatically engage the brakes to attempt to avoid a collision or mitigate its severity.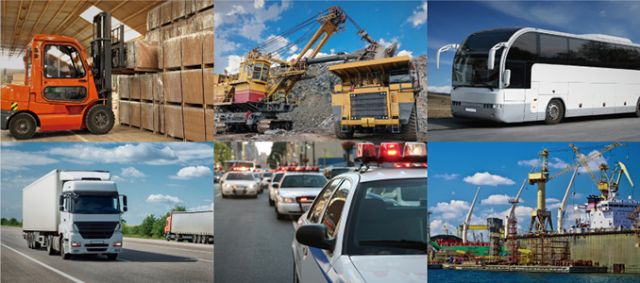 Innodisk offers comprehensive range of in-vehicle storage solutions. (photo from Innodisk)
According to an IIHS' study, the AEB technology has been shown to reduce insurance injury claims by as much as 35 percent. The 10 automakers that commit to this change represent 57 percent of vehicles sold in the U.S. in 2014. Equipping the large majority of new vehicles with this standard feature will create safer roads for everyone. It also raises the bar for other carmakers to match this standard feature—all without government regulations—and helps prime the market for autonomous vehicles, industry experts say.
In January, NHTSA announced its proposal to add AEB to the list of recommended advanced safety features included in its New Car Assessment Program. In May, the U.S. government announced a series of steps the Department of Transportation (DOT) and NHTSA will take to accelerate the development of advanced safety technologies such as vehicle-to-vehicle communications and autonomous driving.
ADAS
The AEB issue again stirs interest as a hot topic of the Advanced Driving Assistant System (ADAS), which has been gaining popularity on new cars, with AEB being a key part of such system. Each sub-system in the ADAS requires its own memory storage system, and developers and manufacturers of related equipment are expected to greatly benefit from such developmental trend in the global automotive industry.
In addition to the AEB, different international automakers have been installing increasingly more various types of ADAS on new models, such as Toyota, Mercedes-Benz, Audi, Ford, etc., with the new technologies including automatic vehicle distance detection system and automatic lane- and traffic light-recognition system on Lexus models; traffic-sign recognition, night vision and automatic parking system on Audis
Industry experts say that the increasing installment of ADAS on vehicles has created strong demand for high-efficiency processors and microcontroller units (MCUs) for algorithms, while safer Internet of Vehicle (IoV) systems need to feature high-capacity, low power-consumption memories. For example, they add, an AEB utilizes complementary metal-oxide-semiconductor (CMOS) camera, radar or lidar (laser radar) for high-speed algorithm, thus the wideband DDR3 and eMMC vehicle-application memory modules have become a new necessity.
The experts also say that each sub-system of an ADAS operates on its own and is matched with different types of DRAM or NAND flash memory modules; so memory-module makers with automotive-application certifications can reasonably expect to see clear sales growth over the next few years.
Innodisk Corporation of Taiwan, for example, is expected to benefit from the foreseeable strong demand for automotive-application memory products. The memory-module maker has launched a series of automotive-application NAND flash and DRAM products; while it is the only certified supplier (by multiple automotive standards worldwide) of electromagnetic interference (EMI)-resistant storage products in Taiwan. The firm says that it has obtained the ISO/TS 16949 certificate, while its automotive-application storage products are approved by E-Mark of Europe, SAE J1113 of the U.S., and ISO 7637-2 standards. The Taiwanese company had also developed a comprehensive range of memory products fully supporting related telematics applications.
Innodisk concedes that there are many challenges when it comes to designing products for in-vehicle computing systems. The power supply for a vehicle can be affected by many factors, so power supply instability and power shortage are common issues. To effectively operate outdoors, these systems need to work under high temperature, strong vibrations, highly humid and dusty environments. Most in-vehicle systems use ARM architecture that requires specialized storage solutions to ensure stability.
According to the company, its in-vehicle computing storage solutions use its exclusive iCell technology to save data during sudden power failures, and its low- power consumption design can prevent problems caused by power fluctuations in vehicles. In addition, Innodisk's products are compliant with the United States Military Standard MIL-STD-810F/G, so that the storage system remains fully operational during violent impacts.