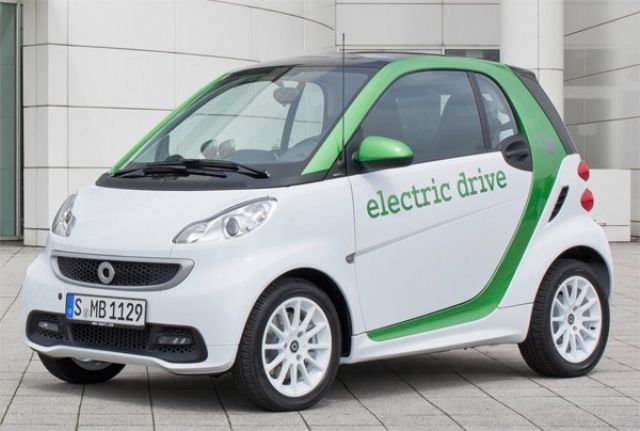 Hon Hai has been aggressively eyeing the EV business in recent years, having recently set up an EV venture with Chinese partners Tecent and China Harmony. (photo of a pure-electric car, from Internet)
Hon Hai Group of Taiwan, recognized as the largest private manufacturer on the island and one of the world's largest EMS (electronics manufacturing services) providers, has been aggressively developing electric vehicle (EV)-related business in recent years, and expects to see some initial results soon.
Industry sources said that an EV production venture set up this year by Hon Hai, Chinese Internet giant, Tencent Holdings, and Chinese luxury-car dealer, China Harmony Auto Holding, reportedly is scheduled to kick off EV production in 2018, with different subsidiaries and affiliates of Hon Hai to join the project as parts suppliers.
Hon Hai, Tencent and China Harmony jointly announced the establishment of an EV venture in June this year, to be headquartered in Zhengzhou, Henan Province of China. With participation by parties each with expertise and know-how in specialized fields, the venture is expected to design and produce smart EVs with uniqueness.
The venture is initially capitalized at 1 billion renminbi (RMB, or Chinese yuan), with shares held by China Harmony, Hon Hai and Tencent at 40 percent, 30 percent and 30 percent, respectively. The latest news report says that a new EV factory of the venture is expected to be completely constructed by 2016 or 2017, and will start mass production in 2018. The venture reportedly will try to become "Apple of the EV industry", focusing on developing and producing EVs based on "boutique concept". Its future business model will see Hon Hai handle electronics-related parts and systems for EVs, with Tencent to leverage its established strength in Internet platform, and China Harmony to be the distributor by utilizing its expertise in automobile vending.
Several Hon Hai affiliates will also join the project to supply parts, including Foxconn Technology Co., Ltd. (system integration and mechanical parts), Innolux Corp. (Taiwan's largest maker of thin film transistor-liquid crystal display (TFT-LCD) panels), ESON Precision Engineering Co. Ltd. (precision tooling development and already a supplier to American premium EV maker Tesla), etc.
To further strengthen its EV business development, Hon Hai has been stepping up its efforts, including the recent increase in its shareholding in China Harmony through Q-Run Holdings Ltd. (a subsidiary of Foxconn Technology), which acquired 14.71 million shares in China Harmony from Eagle Seeker (a major shareholder of China Harmony). Such move, according to industry insiders, is a measure adopted by Hon Hai to strengthen partnership with China Harmony.
To establish strong assembled-EV production capability, China Harmony has completed acquisition of leading Chinese EV maker Green Field Motor Co., Ltd., which has launched China's first homegrown pure-electric sport utility vehicle (SUV), the e-X5. Many market observers said that the acquisition is expected to effectively help China Harmony tap into automobile manufacturing, to enable it play a more important role in the EV venture with Hon Hai and Tencent.
Lin Dong-liang, president of Hon Hai's automotive business division, previously told Chinese media that the group will focus on building an automotive platform integrated with telematics, e-commerce and related technologies, as well as plans to step into the autonomous automobile field or the sector of self-driving cars. The platform is expected to become a new frontier for Hon Hai's considerable, integrated manufacturing capability, as well as new means to win more customers.
Lin also said that Hon Hai has tied up with Chinese automaker Beijing Automotive Group (BAIC) to set up a new-energy vehicle leasing company in April, 2014. The venture will first survey consumers' needs and opinions, with such data to be used as basis to develop the best EV platform. Hon Hai is building its start in the automotive platform with telematics, Lin said, and the group aims to incorporate all the major elements into autonomous-driving, including e-commerce and other technologies being developed as self-driving and EV-related.