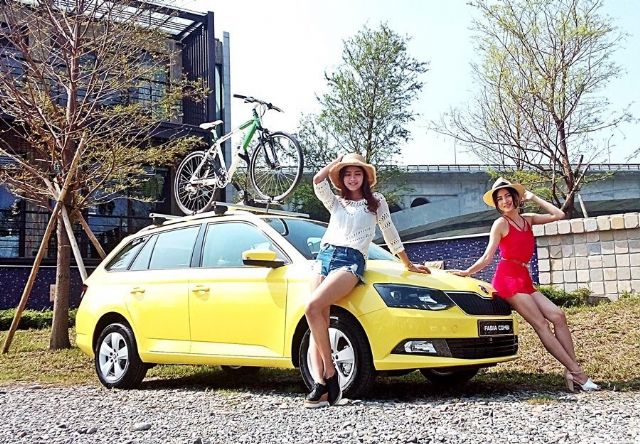 Skoda Taiwan's recently introduced new Skoda Fabia Combi wagon, a very popular model globally, to try to further elevate sales volume on the island. (photo from UDN)
Skoda Taiwan, the wholly-owned local subsidiary of Volkswagen Germany, recently said that its annual sales in Taiwan is expected to outstrip 3,000 units in 2015, a 30-plus percent growth from the previous year in its first year of direct operation under the German headquarters. Next year, the subsidiary aims to challenge a new milestone of 4,000 units.
The wholly-owned Skoda Taiwan was established in 2014 to elevate the Czech brand's sales on the island. Y.L. Lee, Skoda Taiwan's president said previously that 2,248 new Skodas were sold in Taiwan in 2014, and the company had originally aimed to raise the volume to some 2,900 units in 2015.
To promote local sales, Skoda Taiwan introduced a new model, Fabia Combi, to consumers; while at the demonstration Stefan Timmermann, sales director of Skoda Asia and Middle East, said that the Taiwanese subsidiary targets two-digit volume growth over the next few years.
Timmermann said that Skoda's global sales volume in 2015 is expected to outstrip one million units, making it a major European car brand on the international stage. To achieve the brand's volume goal of 1.5 million units by 2018, he hopes that Skoda Taiwan would sell some 5,000 in the same year.
To promote local sales of the relatively unfamiliar nameplate among local consumers, Skoda Taiwan launched a series of promotions with the key slogan: "Why wait any longer if you've always wanted to drive a European car?" The slogan has successfully met warm response from many local younger-generation new-car buyers; while the depreciated euro and more luxury equipment onboard have also upgraded Skoda's competitiveness in Taiwan. Some industry insiders said that Skoda's 2015 sales volume in Taiwan has been "surprising."
Skoda remains a marginal brand and one that is all but absent from coverage in well-known car magazines as Car & Driver and Road & Track.
Skoda Taiwan pointed out that its cumulative sales volume exceeded 2,300 as of October-end, while orders for the new Fabia Combi has already outstripped 70 in the first pre-sales week. Including the urgent orders, the local subsidiary is very confident in selling more than 3,000 units on the island this year.
After setting up the local subsidiary for direct operation, Volkswagen Group has been injecting more resources into its lineup. Local sales of both Volkswagen and Skoda have been quite smooth and synergistic since early 2015, when Volkswagen Group took over the local agency rights of all its affiliated brands, industry sources said.