A total of 31,956 new cars were sold in Taiwan in October, up 26.7 percent from the previous month, or month-on-month (MoM), but down 6.9 percent from a year earlier, or year-on-year (YoY).

Accumulated new-car sales volume in the first 10 months of 2015 reached 344,104 units, a 1.1 percent YoY drop, according to statistics compiled by the Ministry of Transportation and Communications (MOTC).

Various factors affected the overall market in October, especially that the Taiwan Cabinet reportedly plans to subsidize replacement purchases, with related details still under planning. The news mostly likely has delayed some new-car purchase decisions, pushing consumers to wait for further policy development. In addition, Volkswagen Group of Germany's emissions cheating scandal in September has prompted the Taiwan Environmental Protection Administration (EPA) to ask local agents to recall sold vehicles on the island. The issue might affect local consumers' willingness to buy new diesel-engine cars, industry sources said.

To cope with the wait-and-see mindset of potential new-car buyers, many local automobile vendors decided to offer unprecedented preferential terms and incentives to stimulate sales last month such as gifts of home appliances and optional equipment, leading to the 26.7 percent MoM growth in the overall market.


Top-6 Automobile Vendors* in Taiwan (October 2015)

Ranking

Vendor

Brand

Oct. Volume

YoY

MoM

Market Share

1

Hotai Motor

Toyota, Lexus

8,780

162.8

76.1

27.5

2

CMC

Mitsubishi, CMC

3,641

146.9

106.2

11.4

3

Yulon Nissan

Nissan, Infiniti

2,838

124.5

87.2

8.9

4

Honda Taiwan

Honda

2,650

143.3

108.1

8.3

5

Mazda Taiwan

Mazda

2,155

149.8

232.0

6.7

6

Ford Lio Ho

Ford

1,889

132.5

98.8

5.9

Overall Market

31,956

126.7%

93.1%

100.0%

* Including both locally-assembled and imports.
Source: MOTC, U-Car News

Hotai Motor Co. Ltd., the local agent of Toyota and Lexus, unsurprisingly, retained the No.1 auto vendor position in October by selling 8,780 new cars, up 62.8 percent MoM but down 24 percent YoY, representing a market share of 27.5 percent. Market observers attribute Hotai's relatively-low market share (typically over 30 percent) to a product vacuum period in October, as the new version, hot-selling Toyota RAV4 (imported) and restyled Lexus RX-series models (imported) will be introduced to local consumers in November.
China Motor Corp. (CMC), local assembler and agent of Mitsubishi and its own CMC lineup, sold 3,641 new cars in October, up 46.9 percent and 6.2 percent YoY. CMC, in fact, has been lacking sufficiently competitive passenger-car products for years for relying on its Japanese partner's product-development progress; but it launched the CMC Zinger commercial/recreational van in September to have won hot market response. CMC was the No. 2 auto vendor in October by winning a market share of 11.4 percent.
Yulon Nissan Motor Co., the local agent of Nissan and Infiniti, sold 2,838 new vehicles, up 24.5 percent MoM but down 12.8 percent YoY, translating into market share of 8.9 percent.
Trailing sub-200-unit in sales, Honda Taiwan Motor Co. ranked the No. 4 by selling 2,650 units in October, up 43.3 percent MoM for also an 8.1 percent YoY increase.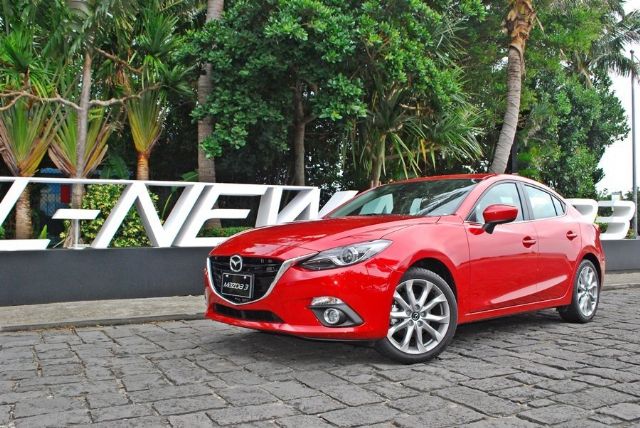 Mazda Taiwan ranks the No. 5 auto vendor in October by selling 2,155 new cars, of which the imported Mazda 3 subcompact and CX-5 SUV account for the majority. (photo of Mazda 3)
Having successful turned from vending locally-assembled models to imported ones, Mazda Taiwan became the No. 5 auto vendor by selling 2,155 new cars, of which the Mazda 3 subcompact and CX-5 sport utility vehicle (SUV) accounted for the greatest majority. The October volume was a 49.8 percent MoM and 132 percent YoY increase, representing market share of 6.7 percent.
The imported-car segment was reshuffled in October, because the German brand Mercedes-Benz yielded its long-term No. 1 position to Mazda. Mercedes-Benz ranked the No. 7 auto vendor by selling 1,808 units, down 1 percent MoM but up 6.4 percent YoY, with the other German brand BMW being the No. 8 with monthly volume of 1,569 units, up 3.4 percent MoM but down 3.7 percent YoY.  
Sales of imported cars in Taiwan have been increasing in recent years, while the market share of imported models has steadily climbed to hit record highs of nearly 40 percent of the overall market. More and more international brands have succeeded to enter the top-5 auto-vendor ranking list, such as Mazda, Mercedes-Benz, BMW etc., outperforming auto brands with local production.
Sales of Imported Cars in Taiwan (October 2015)
Rank

Brand

October
Volume

MoM (%)

YoY (%)

Market Share (%)

1

Mazda

1,931

164.1

648.0

16.1

2

Mercedes-Benz

1,808

99.0

106.4

15.1

3

BMW

1,569

103.4

96.3

13.1

4

Toyota

1,154

107.0

69.1

9.6

5

Lexus

809

114.3

60.6

6.8

6

Honda

792

195.6

1494.3

6.6

Overall

11,967

109.0

104.2

37.4

Source: MOTC, U-Car News