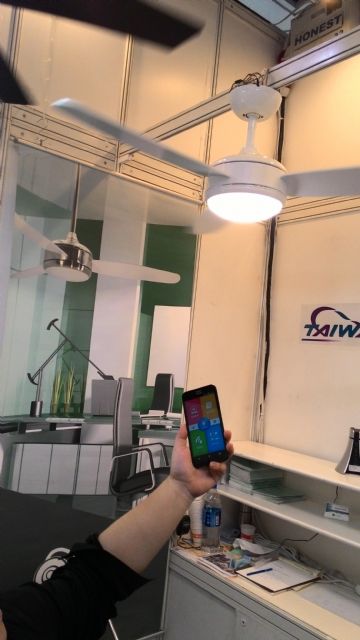 JPI's ceiling fan lights is remotely controlled with smartphone.
Jaguar Precision Industry Co., Ltd. (JPI), an ISO9001: 2008 supplier approved by TQCSI, demonstrated its Internet-connected ceiling fan lights driven by direct-current motor, which is more energy-efficient than using an AC motor, at the HKTDC Hong Kong International Lighting Fair (Autumn Edition), staged Oct. 27-30, 2015.
The fan is controlled by a smartphone or a tablet PC, installed with the company's dedicated app hosted in the cloud.
Basically, the fan comes with a sensor, a wireless gateway built on the Zigbee/Wi-Fi technology, and a traditional remote controller. The sensor detects ambient temperature, humidity, and people in motion around the fan to transmit the data to the controlling smartphone through the gateway. The remote controller is used when the fan is not controlled through the Internet.
A user uses a smartphone to adjust the tonal intensity and color temperature of the light and rotational speed of the fan, with the life of the sensor's battery also displayed on the phone.
The DC ceiling fan light marks JPI's diversification from brushless motors, coreless DC motors, and fans for radiators, condensers and blowers used in evaporators.