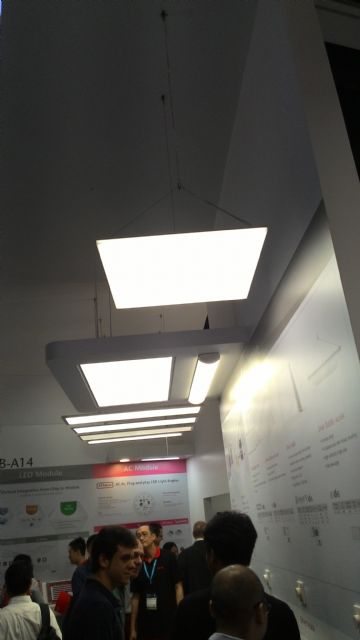 Lextar's LEAFIA LED pendant light is only 8mm thin with smooth exterior.
Lextar Electronics Corp. mostly promoted LED commercial lighting, including a series of unique panel lights and high color rendering index (CRI) luminaries that enhance tonal effect on merchandise at the 2015 Autumn edition of Hong Kong International Lighting Fair, running from Oct. 27 through 30.
Among the panel lights the company displayed at the show was the 8-millimeter LEAFIA, which is reportedly the industry's thinnest LED panel light. Unlike most LED panel lights available on the market, the Lextar light is equipped with a one-piece aluminum frame which provides a smooth exterior.
Both the one-piece frame and the thinness are challenging to achieve for most manufacturers, which shows Lextar's superior technology it exclusively owns, reported Louis Lu, the senior associate vice president for marketing and sales of Lextar's marketing & sales business group.
He ascribed the advantage mostly to Lextar's identity as the LED backlight subsidiary of LCD panel maker AU Optronics Corp. (AUO), which enables tapping the well developed capability to build Taiwan's No.1 LED-panel lighting manufacturing capacity.
Also, Lextar is currently Taiwan's only LED maker with integrated manufacturing capability encompassing almost every production process, from epi-wafer and chip making to module and lighting fixture production.
The ultra-thin light drew intense attention from buyers at the show, especially from earthquake-rattled Japan and the West, because its smooth exterior and lightweight make it less dangerous should it fall in an earthquake.
The panel light measures 60cm x 60cm, exactly the size of an office ceiling tile, making it an ideal replacement for the standard fluorescent troffer lighting fixture. Also, the patented panel is suitable for pendant applications.
The seamless-frame lighting fixtures come in 34W and 50W models that generate 3,200 to 5,000 lumens. For all of the white-light LED lighting fixtures, the color rendering index (CRI) is 80. Rated below 19 in unified glare rating (UGR), LEAFIA gives off visually comfortable light.
Lextar ships 90 percent of its panel lights to Europe, where consumers are more inclined to accept such panel lights than their counterparts in America, according to Lu.
Lextar is likely to continue to grow since the market for panel lights is promising as incandescent lights are increasingly replaced with LEDs. 
The company has also integrated Internet technology into some of its high-end panel lights to enable users to control the lights using their smartphones.
In addition to panel lights, the company exhibited commercial lights that enhance vivid, saturated color on displayed merchandise with their high CRI (usually higher than 90) and a special formula of red phosphor spread on LED chips.